"I could never again approximate the profound joy and satisfaction of creating alongside my greatest teacher, my greatest foe, and my greatest friend. I am blessed beyond measure."

-Drew Harper
When I was sixteen or seventeen, my Dad was looking through our internet search history and stumbled upon some bisexual porn. The conversation that followed was one I never expected and will never forget. It was just the two of us in the basement that evening and my Dad spoke to me in the most gracious tone I ever remember him using.
He said, "I just want to talk to you about what I found and I want you to know that even if you are gay, we will always love and support you. You can tell me the truth and talk about it if you want to." It was a strange experience, to feel the most humiliated and the most loved I had ever felt by my dad all at the same time.
The truth is, I wasn't bisexual. I was curious, my hormones were in overdrive, and I lacked self-control. But as friends have come out to their parents through the years and had less than gracious experiences, I have often thought back on that talk with my dad with such pride and thankfulness. As awkward and embarrassing as it may have been for both of us, in that moment, I knew beyond a shadow of a doubt I was loved by my father.
My experience with my dad that day was quite a shock because I was raised an evangelical Christian, believing that homosexuality was an unforgivable sin, one that would cause a child of God to be spewed right out of His mouth in utter disgust. In the tier of sins, the only thing that could come close to being gay would be having an abortion or participating in witchcraft. Then again, we had self-proclaimed wiccans in my youth group, and even they were allowed to find Jesus.
These days, I am a son and a father. I'm still (barely) evangelical, but now I fully affirm, support, and believe in my LGBTQ brothers and sisters. And reading the book Space at the Table has been enlightening, inspiring, entertaining, and challenging. It had me hooked from the opening chapter. I had a lump in my throat, tears in my eyes, and a smile on my face throughout. Reading Space at the Table just one week after the Orlando shooting was incredibly powerful. Now, more than ever, evangelical Christians have the opportunity to make space at their table.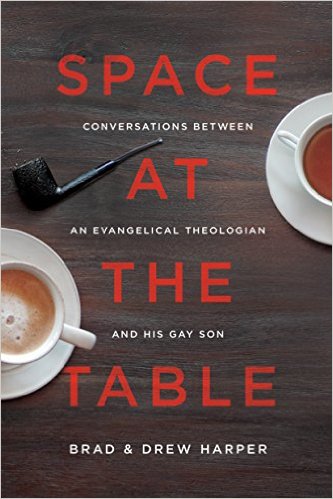 The stories throughout the book are absolutely wonderful. This is a father/son duo who obviously adore one another, even if they completely disagree on the issue of homosexuality. They prove Drew's point that you can disagree without being homophobic.
It was fascinating, seeing myself in both Brad and Drew at various points. Like Brad, I am still (mostly) the evangelical Christian father, engaging with and raising my children in the church. But like Drew, I was the musical kid, who loved books and poetry and theatre. I never understood sports, but I always longed for genuine male bonding. I just never found it.
Drew's description of grieving the church is a conversation I've heard from several friends:
How could I have invested so much of myself into a place, into a community, only to wake up one day and realize I was an orphan? Why have I gone so many years without admitting how important this world and its people were to me, and how much it hurt when I found I no longer had a home there?
Some of my closeted friends are still engaging the church and have confessed these things in strict confidence. Others, I fear, may never engage or be embraced by the church again. The following words by Drew have been echoed by countless other gay Christians in some form or another:
I felt, for the first time in my life, hatred and brokenhearted fury at God, the friend who had walked with me in every lonely moment from the time I was first aware that I didn't belong where I was supposed to.

Some help you've been all these years. I've done everything you've asked. I've given you all that I have, and it hasn't been enough. I kept myself pure as I could, searched for the healing of my brokenness through your Church and everywhere I was supposed to, and still you let me fall in love–which I never wanted!–and now he's gone and I"m unable to pretend that I don't know what I've lost, or that I wouldn't give anything to have it back, even if that condemned me to hell forever. THIS is hell. This has been hell, all along. I'm done feeling pain now. I'm done feeling shame and fear of being found out. It's over between You and me.

I shouted now.

"F*** you. You're not worth it."
This book is not about arguing which side is right. It is a vulnerable, transparent love letter between father and son. Check out these words by Brad:
My kids would tell you that as they were growing up, the one thing I said to them more than anything else is that life is about relationships. If that is true, then it applies even to families torn apart by battles over sexuality. The only way to stay in relationship is to come to the table again and again.
As I read, I couldn't help but think back on my experience with my evangelical father. The firefighter. The mechanic. The pierced, tattooed, Harley Davidson riding, handlebar moustached, most masculine man I have ever known. In light of (and in spite of) all those descriptors, that day in the basement, my Dad was making space at the table for me.
*Get your copy of Space at the Table here.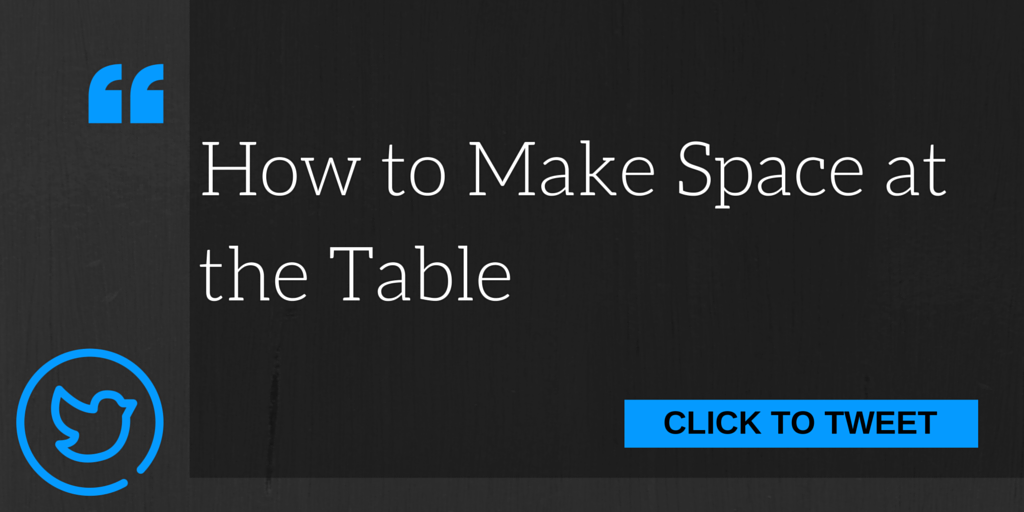 ---
Consider supporting Steve Austin and Grace is Messy to ensure you continue to receive great Progressive Christian content. Even one dollar a month makes a difference. Click here to learn more.