It's been four years since my suicide attempt. For the longest time, I thought my week on the psych ward was pointless. I saw it as a frustrating waste of time. Now, I can recognize the value of what we did during those days.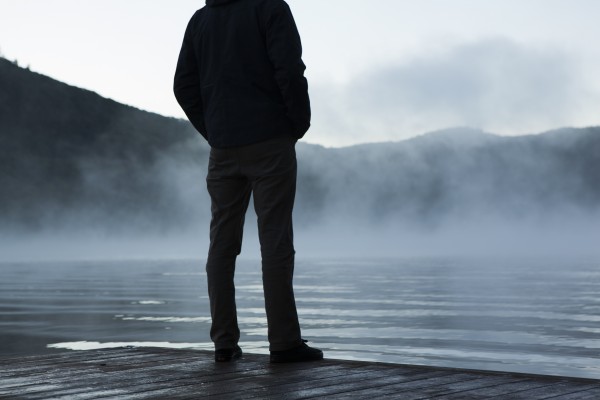 As a first-timer on the psych ward, it appeared that we were focusing on basic things, like eating right, getting plenty of rest, and talking with a professional. In retrospect, I see that we were working on a much deeper level. We were engaging with a community of people with similar struggles and similar goals, setting boundaries, and learning about self-compassion.
Boundaries
The biggest part of self-care during my time on the ward was disconnecting from outside distractions and detractors. Before my suicide attempt, I was addicted to connection: phone, text, email, social media, blogging, radio. You name it, I was there. I had no clue what boundaries were or how they applied to my life.
On the psych ward, we couldn't have our cell phones and had specific times when we could made phone calls to our approved "safe people." We were only allowed to engage with our support system during those days. They were teaching us to reconnect with our true self.
In my twenties, I thought I needed to be 100% accessible 100% of the time. Because I had no boundaries, I had built walls that separated me from my family. I allowed the ever-present distraction of busyness to keep me from the ones who matter most. But in my time on the psych ward and in the years of therapy that have followed, I have learned that boundaries protect us all and help point us in the direction of things that truly matter.
Respect Bad Days
In one particular community session, I learned that when emotions go up, rational thinking goes down. This was part of my problem. In the past, when the really bad days showed up, I would engage anyone willing to listen, digging at old wounds instead of dealing with the actual cause of the pain. I would vent, shout, and cry, but failed to seek practical steps to work through my problems.
After my time on the psych ward, I learned that timing is not the most important piece of the recovery pie. Sometimes, in order to get help, I first need to feel better. I also need to work through my problems in a safe place, where my emotions are protected and respected.
Five minutes after someone hurts me or an external stimulus triggers an internal response may not be the best time to work through my feelings. I may need a little time and space to breathe and feel better. Allowing my emotions to come down and my rational thinking to increase is often the smartest move I can make. Once that happens, I can prepare to work through the issue.
Self-Compassion
In the safety of community on the psych ward, I also learned the value of self-compassion.
Folks with mental illness tend to be extremely compassionate toward others, but we often do not show ourselves the same grace.
But self-compassion is absolutely necessary to have a whole, healthy life. We must be kind to others, and we must also be kind to ourselves. As a part of my recovery, I am working through
Brene' Brown's
teachings, learning to speak to myself the same way I would speak to someone I love. It is making a big difference in healing my own shame.
---

---
More great recovery content is just a click away!
Subscribe to get our latest content by email.