The Sheriff's Office for Columbus County, North Carolina, posted on Facebook that it was wishing a "Happy Birthday to our lord and savior" on Christmas, even as it braced for a potential lawsuit over a Bible passage displayed in its office.
Earlier this week, WECT News 6 reported on the controversy surrounding the Bible quote on the wall of the Columbus County Sheriff's Office, which reportedly reads (in large black font): "I can do all things through Christ which strengtheneth me."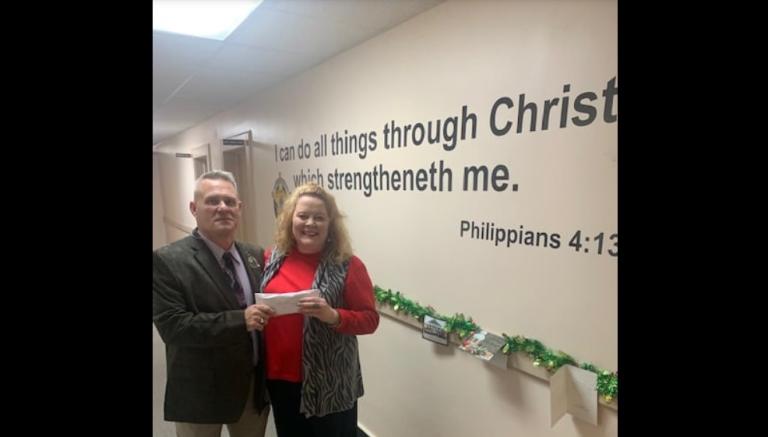 The Freedom From Religion Foundation (FFRF) has already asked Sheriff Jody Greene to remove the quote, according to Investigative reporter Michael Praats.
The FFRF argues by posting such an overtly Christian message on the walls of the sheriff's office, it shows a clear preference for one group of people. It's not the first time the FFRF has taken issue with the actions of the Columbus County Sheriff's Office.
Greene responded to the FFRF request by claiming that the Bible verse was "paid for with private funds, not with county funding."
The verse is one of my favorite Bible verses, and it seemed fitting for all the adversity I have had to endure. It is very motivational to me and my staff. Here at the Sheriff's Office, we work hard in everything that we do. Before we execute a search warrant, or any service that puts our people in immediate harms way, we ALWAYS go to the Lord with a group prayer. ALWAYS!
Greene made it clear that he isn't taking down the inspirational Bible verse, and that group prayers are a regular part of working at the county sheriff's department. He also implied the verse was only an "issue" because it is an election year.
Then, on Christmas, the Columbus County Sheriff's Office posted, "Merry Christmas to all and Happy Birthday to our lord and savior. To everyone that is working today, we thank you."
This is not only historically inaccurate (the Dec. 25 date of Christmas does not come from Jesus' birthday, but from the popular Pagan celebrations that were prevalent in that time), but it is also a repeat of what the FFRF has warned them against already. Last Christmas, the office wrote the exact same message on Facebook and got a letter from FFRF that the sheriff's office was promoting Christianity through official communication channels, according to reports.
This is what I wrote in response:
Do you think it's proper to write "Happy Birthday to our lord and savior" on an official government account, even after facing backlash for the Bible verse on the wall of the Columbus County Sheriff's Office? I respect your right to have your beliefs, but when you intertwine those beliefs with government itself, you are spitting in the face of the separation of church and state that was created by our founders in order to help protect both parties. If you are comfortable doing this, what's to stop a Muslim-run precinct from spreading nonsense from the Qur'an? This is the exact same thing. All I ask is that you look inward and ask yourself if this is really what you think a secular government is all about.
There is no telling how this will all end, but I'll update you all as I learn more. Thank you for reading!
David G. McAfee