46 And Mary said:
"My soul glorifies the Lord
47 and my spirit rejoices in God my Savior,

48 for he has been mindful
of the humble state of his servant.
From now on all generations will call me blessed,
49

for the Mighty One has done great things for me—
holy is his name.
50 His mercy extends to those who fear him,
from generation to generation.
51 He has performed mighty deeds with his arm;
he has scattered those who are proud in their inmost thoughts.
52 He has brought down rulers from their thrones
but has lifted up the humble.
53 He has filled the hungry with good things
but has sent the rich away empty.
54 He has helped his servant Israel,
remembering to be merciful
55 to Abraham and his descendants forever,
just as he promised our ancestors."
56 Mary stayed with Elizabeth for about three months and then returned home. -Luke 1:46-56
Everyone is searching for good news.
At least, according to Google. And Google would know. Forget Santa– Google sees you when you're sleeping, and knows when you're awake. That great invisible engine in the sky knows exactly what the world is looking for. Whether to distract us from the truth that we have far less privacy than we think–or in the true spirit of some warm holiday inspiration– they put together this beautiful video, showing some of the top search terms, and the resulting videos, stories and images, from the past year.
It shows that, over and over again, people searched for good.
People searched "good things in the world," and were rewarded with an entire boys soccer team emerging from a cave, alive; or a young boy dressing up like a super hero, giving food to homeless people. We searched for "how to be a good singer," and "how to be a good dancer," and there's a lot of joy and hilarity in those results. The world wants to know 'how to be a good kisser,' and 'how to be a good listener.' (Maybe these two skill sets are related? But what do I know…) "How to be a good role model" yields clips of Stephen Hawking; George HW and Barbara Bush; and a video of Sen Tammy Duckworth, riding in a wheelchair with a new baby in her arms. 'Good friends, 'good vibes,' 'good things in life…' the video montage shows lots of hugs, a woman proposing to another woman in front of a cheering crowd, and many tearful reunions. It ends with a shot of the night sky, and the caption: Good things are worth searching for. Search on.
Everybody's looking for some good news.
The angel tells Mary that she will give birth to the son of God. Her response is a hymn of praise that we call simply: Magnificat. Which is Latin for 'magnify,' as in my soul magnifies the Lord. It is a short song, possibly the first ever Christmas carol; sung in a moment so filled with joy there was no other way to respond. Mary had just heard some news that was… well, magnificent. What else could she do but sing?
Last week, we heard the song of Zecharaiah, father of John the Baptist. When the angel told him that his wife would deliver a son in their old age, he couldn't believe it. His stunned moment of unbelief cost him nine months of silence. For the duration of his wife's pregnancy, the priest could not speak. He couldn't say a word until after his son was born, at which time he sang a psalm of his own.
I've read his story, and Mary's, every December of my life for as long as I can remember. But I noticed with new eyes this year that Mary's song falls during the silence of Zecharaiah. Both stories appear in Luke chapter 1, with Mary's song filling the 'meanwhile' kind of space between the moment when he loses his voice, and the point at which he gets it back again.
The longest passage of scripture spoken by a woman comes at a point when a man has gone silent. GO FIGURE. Surely there's a lesson there about those with privilege learning to create space for marginalized voices; to go silent, for a season, and listen to words spoken from the edge of the wilderness.
It also goes to show that Mary's song–and in fact, the life that she is bringing into the world–will be good news. But it will also mean a re-ordering. An upheaval of the status quo and the current power structures of the world.
Western Christianity, as it so often does with women, has tamed Mary's voice. We've relegated her to a silent role in the nativity play; Mary, pure and lowly. Mary, meek and mild. These are the songs we sing. Most artist's renderings show her… well, first of all, white. Not just 'pure as the driven snow' white, but super Anglo, European white. Surrounded by a saintly, heavenly glow. And after she gives birth in a barn, withOUT drugs, she re-appears just in time for the final verse of Silent Night… with not a hair out of place. And certainly not a word spoken against the patriarchy.
I don't know who that silent, shining woman is… but I don't think she's the same girl who sang this song about sending the rich away empty and throwing the mighty down from their thrones. This girl is fierce. This girl is not here for any nonsense from those who oppress the poor to maintain their own status. This girl is on fire.
In that spirit, an artist named Ben Wildflower carved a new Mary out of a piece of wood that he found at a construction site. His Mary is not sitting silent, with eyes downcast, her face awash in heavenly light. She stands tall, her fist raised to the sky, and her foot stomping on the head of a snake. That's more like it. [THIS Mary could be a meme for every woman in the world right now… fist held high, crushing a serpent, and a caption that just reads "current mood."]
I know folks come to church at Christmastime for a sweet baby and animals in a stable; maybe not so much for lessons in getting woke and smashing the patriarchy. But there you have it– Mary was a radical. Possibly a feminist. Definitely a change agent. And a prophet, called by God to take part in a revolution. Yes, she did that by giving birth to the messiah, a bodily sacrifice to deliver God's love to the world. But it wasn't just a function of her body that changed the world– it was her voice.
Today, this fourth Sunday of Advent, we are here to remember that we all have a voice. And using it may be the most powerful act of love we can offer.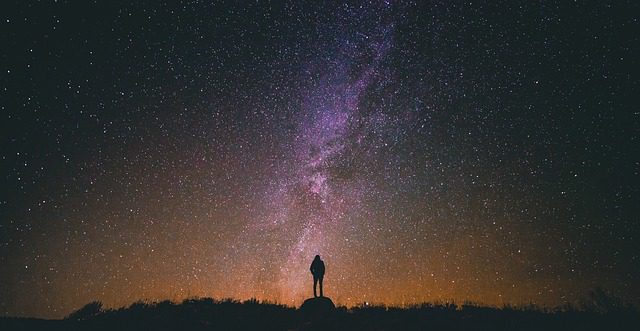 You may not get an angel visitation in the night (I mean, if you do, report back; those are always great stories). But heavenly host or not– you've got a voice for sharing good news. Go tell it.
Maybe God never chooses you to be an agent of divine birth–but you've got a voice to be a change agent. Go tell it.
Maybe you never get named a saint; maybe there is no heavenly glow around your head in your annual mess of a family Christmas card picture. But you've got a voice that can make space for lesser heard voices; go tell that.
Maybe your words will never be placed in the canon; but you've got a voice. You know that God comes, not in power but in great humility; in a love that upends injustice, and makes more room at the table. Go tell that too.
This congregation shares its collective voice in many ways. We advocate for racial and economic justice; we speak (and practice) welcome of the immigrant and refugee. Through so many of our ministries, we proclaim the good news that God comes, not for the already rich and powerful, but for at-risk children; for the poor and vulnerable; for the silent masses, waiting to be heard above the noise of privilege.
I've got a powerful testimony that shows how Saint Andrew is using its voice to give life and bring good news; and how that voice sometimes reaches people that we don't even know.
Last week I wrote a blog post about the importance of inclusive and welcoming congregations; especially at this time of year when many who have been hurt by the church might find the courage to venture back into a worship space, giving us another chance to be the body of Christ. A few days after I wrote that–by far the most widely shared thing I've written this year– I got this letter:
Dear Rev. Wathen, all staff and members of Saint Andrew Christian Church,
We are members of a private Facebook group* with more than 4,000 moms of LGBTQ kids.
Our group was created in June 2014 especially for open-minded Christian moms who have LGBTQ kids and want to develop and maintain healthy, loving, authentic relationships with their LGBTQ kids.
We are signing this letter to express our support and gratitude. We want you to know we are encouraged by your wholehearted affirmation and inclusion of LGBTQ people, and we commend you for following Christ's example of radical love and hospitality.
Many of us have left our local faith communities because we no longer found them to be safe places for our family. Hearing about churches such as yours gives us hope about the future for our families.
We understand it can be difficult to take a fully inclusive position and want you to know we are praying that God will protect, strengthen, guide and bless you, your staff and your congregation.
We believe that the celebration and inclusiveness of ALL God's children reflects the idea that Paul put forth in Galatians 5:6 when he wrote "the only thing that counts is faith expressing itself through love" and are hopeful that other followers of Christ will imitate your example of living a life of faith expressed through love.
We believe that communities like yours are helping to change the world into a kinder, safer, more loving place for all LGBTQ people to live and for that we are forever grateful.
May God keep you and bless you abundantly!
With sincere gratitude and affection…
And then these pages that follow are filled with more than a thousand signatures. The names of over 1200 people who you have never met, but who have heard the good news of love and mercy spoken by this church.
And so we remember… that good news isn't all cute babies, or animals in a stable; it's not always shining stars and singing angels; and quite often, good news comes from not-so-silent women. Sometimes, the good news of Christmas is in welcoming a stranger; making more room at the table for voices we haven't heard yet; or bringing a lost one home again. At all times, it is God's love made known in the flesh– not for the rich and the powerful, but for those most desperate to hear it.
Google says everybody is searching for good. Good news, good moves, good reviews… Well. You've got a voice. And you've got so much good news. Go tell it.
*send me a message if you want the name of this group and I'll be happy to connect you.