Here is one of the most powerful posts I've read in a while. Brian Zahnd's comments are probably relevant to almost every person who reads this blog.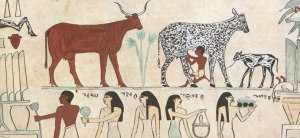 His post is called "My Problem with the Bible." Here is how he begins….
"I have a problem with the Bible. Here's my problem…

I'm an ancient Egyptian. I'm a comfortable Babylonian. I'm a Roman in his villa.

That's my problem. See, I'm trying to read the Bible for all it's worth, but I'm not a Hebrew slave suffering in Egypt. I'm not a conquered Judean deported to Babylon. I'm not a first century Jew living under Roman occupation.

I'm a citizen of a superpower. I was born among the conquerors. I live in the empire. But I want to read the Bible and think it's talking to me. This is a problem. . . . ."
For the rest, click here. I urge anyone serious about reading the Bible to reflect on Zahnd's words and consider the implications.
Leave a comment below and let me know what you think.
---
Photo Credit: CC 2.0/wikimedia