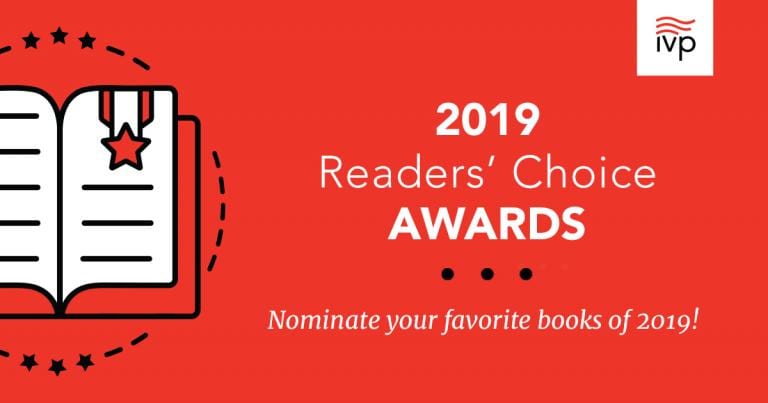 What were your favorite books from 2019? Here's how you can help others to read them and get a 30% discount on a future IVP purchase.
Just click here to nominate your favorite IVP books for the 6th annual Readers' Choice Awards!
Of course, if you've enjoyed it, I would be grateful if you'd take a moment to nominate Reading Romans with Eastern Eyes. By spreading the word, more people can see the ways that honor and shame shape Paul's message and mission. As a result, we can expand the conversation and discern more applications for our contemporary ministry.
A Few Important Dates
The deadline to nominate is Friday, January 24 at 12:00 pm. The finalists will be selected and voting will go live starting on Monday, January 27, until February 7th.
Winners will be announced on Monday, February 10 on our website and social media. The winning books will be 30% off on IVP's website through March 31.
An Quick Update
In case you missed the announcement, Christianity Today graciously selected Reading Romans as the recipient of the "Award of Merit" in the Biblical Studies category.
Also, a few formal reviews of the book have been published. I'm told that several more are on the way. For those of you who have not seen them, a couple of noteworthy reviews include:
one from China Source (from July 22, 2019)
a recent review article by The Gospel Coalition (written by Elliot Clark and Jonathan Worthington). It's titled "Have We Missed the Honor-Shame Focus in Scripture?" I plan to respond to their thoughtful comments in a coming post.
As you come across other reviews, whether formal publications or on blogs (like this one), please do let me know.
And, of course, don't hesitate to send any less-than-flattering reviews. I certainly don't expect everyone to like or agree with all my ideas. Who knows?… Perhaps I won't even agree with all my own ideas in a few years. ;)
Ok…. enough for now.
---
Take 2 minutes and click here to nominate Reading Romans with Eastern Eyes (assuming you liked it) and other books you liked from 2019.