The Othismos Declaration: "If we do not stand up and speak for the honor of our Lord Jesus Christ and for the authority of the Bible, who will?"
The Traverse City Record Eagle published an editorial by an Episcopal clergyman.
The Michigan Pastors Alliance is purchasing a full page advertisement to oppose this, highlighting the Othismos Declaration.
There are over 60 pastors involved. "If we do not stand up and speak for the honor of our Lord Jesus Christ and for the authority of the Bible, who will?"
Yes, it's time to begin to start taking a stand.

Othismos.org
The article in the Traverse City Record Eagle is disparaging to those who do not buy in to certain lifestyles we used to consider deviant.
The Othismos Declaration is something like the Nashville Statement. This particular declaration assists churches who want to band together, especially those who do not have something in their governing documents.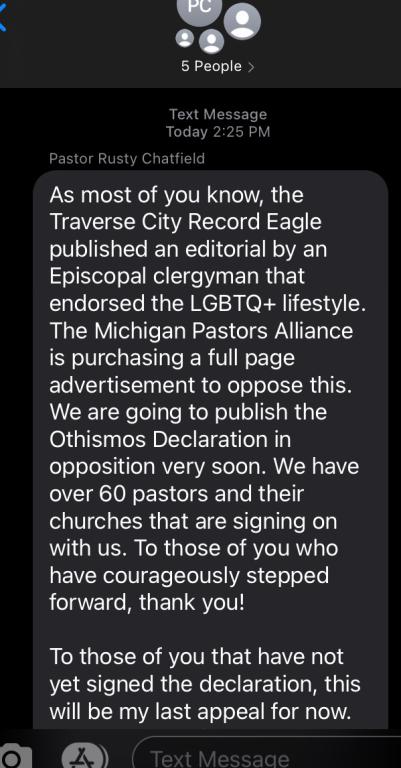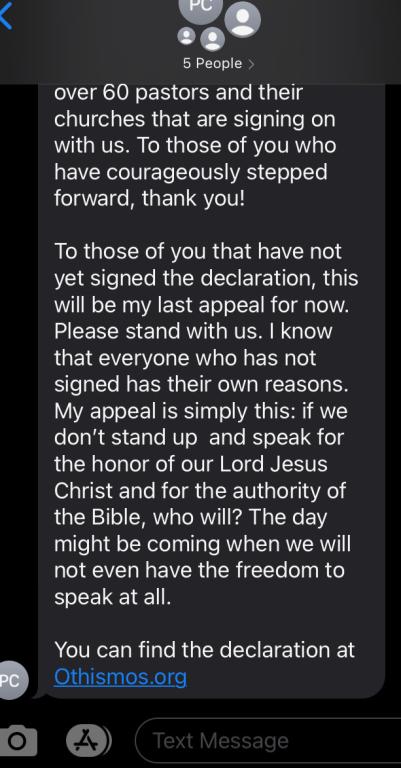 I recently shared with the Michigan Pastors Alliance about an African Bishop, or great leader, with the Anglicans in Africa. I talked to him in about 2011 at a banquet.
He was expressing great concern about the Episcopal church in the U.S. as somebody would talk about an estranged sister, an estranged lady, who is part of the family who has wandered off and done her own thing.
And I wondered how grieving it was for the greater Anglican Communion. I was thankful to him. I actually thanked him on behalf of Episcopals. I'm not an Episcopal, but I thanked this great African Christian leader because the Anglicans have started about three missions to America. Many Episcopals have found a home with their faith again and were not forced to deny certain aspects of their faith that they believed in.
When I thanked him on behalf of Episcopals I have known who have been true lights, despite all they have faced, he responded with an authority that you only find among those who speak for our Lord, especially in higher realms of church leadership. He simply looked me in the eyes and said:
"The African Anglicans say 'You're welcome!'"
I am on the record already. If you choose to join and sign, I can say on behalf of the Michigan Pastors Alliance, "Thank you! There are a lot of independent Baptist churches. Something like the Othismos Declaration serves as an umbrella doctrine, a common ground for ecclesial communities to forge connections, and is also something a local congregation can add to their governing documents."
Remember, there are over 60 Michigan pastors involved.
"If we do not stand up and speak for the honor of our Lord Jesus Christ and for the authority of the Bible, who will?"