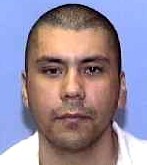 When Jesus declares I was in prison and you did not visit me…and goes on to declare what you have done to the least of these you have done to me…Jesus directly binds his passion with the passion of those in prison.  It is important to notice that Jesus does not say I was not guilty and in prison and you did not visit me…rather Jesus binds his self to all who are in prison.
In the midst of this Holy Week, Jose Luis Villegas Jr. is scheduled to be executed by the State of Texas at 6pm tonight.  There is much evidence that Villegas murdered Alma Perez, Erida Perez Salazar and her son 3-year-old Jacob…but for the follower of Jesus evidence is not the point.  Love is.  Jesus' words in Matthew 25 remind us that we will be judged by how we treat the least of these amongst us…whether there is guilt or not…and further reveal that Jesus is incarnated into the lives of those we execute.
The Via Dolorosa or "Way of Sorrows" is the path in Jerusalem that Jesus carried his cross to his execution.  In the economy of God, Jesus will be incarnated in Jose Luis Villegas Jr. and I have chosen to travel to Huntsville, Texas to stand along the Via Dolorosa in protest of an execution that will do nothing but further destroy consciousnesses and lives through the perpetuation of violence and hate.  In Texas, the way of the cross ends in Huntsville.
Where will you stand?  Will you be amongst those shouting to crucify him?  Or will you get in the way?
Amen.