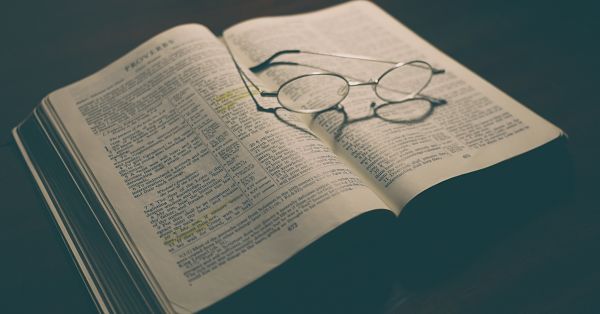 We've now come to the end of Psalm 119, the taw section. Like much of the psalm, there is an interchange between pleading with God for deliverance and publicly confessing the psalmist's commitment to God. In this section, that commitment shows up as praise.
In 119:169-171 we read of the plea:
May my cry come before you, O Lord;
give me understanding according to your word.
May my supplication come before you;
deliver me according to your promise.
This very common use of parallelism between the verses leads us to see line 1 and 3 as largely the same and lines 2 and 4 as complementing. His cry is a supplication; his understanding is as needful as his deliverance. He doesn't just want God to make clear to him what is going on, he wants God to deliver him.
This reminds me of John the Baptist sending two disciples to Jesus to ask if Jesus was or was not the "one who is to come." I doubt John was "googling" Jesus for information; he wanted a specific answer (yes) so he could then make a plea — get me out of prison.
So the psalmist: he pleas — as he's done throughout the entire psalm — for deliverance.
He seeks for insight from God's Word; he expects deliverance because, knowing that Word, he knows God is faithful to his promises.
In the final paragraph of Psalm 119, in v. 171, the psalmist erupts into praise and he describes before God what his experience is (or will be) like.
"May my lips overflow with praise for youi teach me your decrees."
It seems the second part assumes the reality of the first part: he knows the experience of learning from God.
He knows what it is like to sit with the Torah and meditate and wait upon God. He knows what it is like for God to visit him, to teach him, to enlighten him, and to make clear his paths as he seeks to walk the way of Torah.
V. 172 largely repeats the point: "May my tongue sing of your word for all your commands are righteous."
He delights in God as God speaks through the Word and he sings praise for what he has learned.
The psalmist often declares his commitment to God and to God's Word and therefore he believes the Lord should deliver him. Notice these lines:
May your hand be ready to help me,
for I have chosen your precepts.
I long for your salvation, O Lord,
and your law is my delight (119:173-4)
We see commitment; we see request. It is not so much justification of himself as it is overt confidence that, since he has observed the Torah and since God promises blessing to the Torah-doer, he believes God ought to deliver him out of God's faithfulness.
This is an old theme in this psalm; it is one that tends to make Protestants nervous; it is a theme, however, that has more merit than we might admit. He is not claiming self-righteously that he's superior to others, but instead of his utter commitment to God and that God promises blessings. His declaration of commitment, then, is not simply an observation but a window into a system: I've done my part, You are faithful, now do yours.
The second to last verse of Psalm 119 brings to fruition the center of the entire psalm:
Let me live that I may praise you,
and may your laws sustain me (175).
First, he wants to live so he can praise God or he wants to be delivered so he can praise God when he is delivered.
Second, it is his Torah that gives the psalmist the desire to live so he can praise God or he prays that God's Torah will sustain him as he awaits God's deliverance.
Either way we have the same: the psalmist wants to live a life that is shaped by praising God that emerges from dwelling in God's Torah and living out that Torah. A life of praise; a life of learning and living Torah. That's the entirety of this psalm.
The last verse of Psalm 119, which marks the end of this series, surprises:
I have gone astray like a lost sheep; seek out your servant,
for I do not forget your commandments (119:176).
For the first time in the entire psalm — that I recall — the psalmist admits that he's messed up. Or does he? Samson Raphael Hirsch, a rabbinic commentator, translates like this: "If I have strayed." Not "I have gone astray" but if I have strayed.
Even if we make the last verse conditional, the central themes continue to emerge: "seek out your servant, for I do not forget your commandments." Seek me out God — the psalmist seems to be saying — when I wander away. Why? Because, even if I wander, I have not intended to wander.
Perhaps there's a better explanation: perhaps the wandering is not moral but geographical — that is, I've gotten myself caught in the middle of those who deny your Torah. Find me, God, and deliver me. Why? Because I've been faithful.