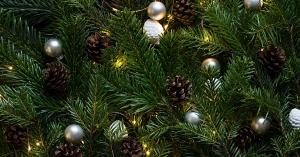 We are knee deep into winter around here; the term is all but over and I'm looking forward to classes this next term. Enjoy these meanderings!
Lawyer and former gymnast Rachael Denhollander has been selected as Sports Illustrated's Inspiration of the Year.

Denhollander was the first woman to publicly accuse former Michigan State and USA Gymnastics doctor Larry Nassar of sexual assault.

Denhollander filed a federal lawsuit against Nassar at the U.S. District Court for the Western District fo Michigan. Two-hundered and fifty-one other former gymnasts, along with 23 husbands of gymnasts, also brought up claims consolidated into her suit.

Following Denhollander's lead, more than 300 women in total have said they were sexually assaulted by Nassar.

Denhollander was the last to confront Nassar during his hearing for criminal sexual misconduct and delivered a powerful rebuke of the serial predator.
Love these "Secret Santa" stories:
You might just need to walk into a Walmart to experience a Christmas miracle.

In recent weeks, anonymous good Samaritans have paid off all layaway items in four Walmart stores in different parts of the country — a total of more than $130,000.

Julie Gates got an unusual surprise in early November when she walked into a Walmart in Derby, Vermont. A man waiting at the register offered to pay for everything she had bought and had on layaway — and did the same thing for most customers in the store.

This mystery man, who called himself "Santa," was apparently the first in a string of similar random acts of kindness in Walmarts across the United States. Since then, Walmart customers at stores in New York, Colorado and Pennsylvania discovered that their bills were taken care of and their layaway items had been paid for.

All the mysterious Santas have chosen to remain anonymous — and each has been generous in their acts of kindness.

A Walmart spokesman confirmed to CNN that an anonymous donor paid for $57,000 in layaway items at a Uniondale, New York, store while another spent $44,000 in a Longmont, Colorado, store and a third shelled out $29,000 at a Walmart in Kennett Square, Pennsylvania. Secret Santas have visited Walmart in seasons past, too. In 2016, a Santa paid for almost $50,000 in layaway items at a store in Everett, Pennsylvania.
AP: To speed or not to ticket?
RALEIGH, N.C. (AP) — Here's one way to get out of speeding ticket: A North Carolina state trooper helped deliver a baby on the side of the road after pulling over a speeding van on the highway.

WRAL-TV reports that State Highway Patrol Sgt. Brian Maynard pulled over a van going 85 mph (135 kph) late Saturday.

The couple in the van, Jimmy and Laura Baker, were headed to the hospital so she could give birth, but the baby had other plans and started coming before they could get there.

Maynard helped deliver the baby at roadside, calling the experience both "scary" and "rewarding."

Baby Halyn was later taken to a hospital. Jimmy Baker says his wife and their newborn are both doing well.
David Moore's excellent list of Books of the Year, many of which were interviews on this blog.
WASHINGTON — New York City's 40,000-member Christian Cultural Center is planning to build a $1.2 billion affordable housing development project on its 10.5-acre campus in Brooklyn, pastor A.R. Bernard said Thursday.

Speaking to Christian leaders from over 45 countries at the 100 Cities Summit hosted by Movement Day at the Museum of the Bible in Washington, D.C., Bernard told the crowd that the Christian Cultural Center will partner with various government and private entities to build a community of 2,100 mixed-income housing units.

The community, which Bernard expects to be finished within the next seven to 10 years, will also include an education center, retail space, and a performing arts center.

"We are a 50/50 partner with the developer — not land that [the church] sold or gave up," Bernard explained.  "In New York, it is not just land but air rights that is worth millions of dollars. We are in it together to reap all that comes out of that development and to address gentrification issues that are happening in the communities there in New York City."

Bernard elaborated on the project in an interview with The Christian Post.

"In cities like New York, there is gentrification taking place. Gentrification could be racial, it could be economic. For us it is economic. Individuals who are working class or in a certain income range are being squeezed out," he stressed.  "We wanted to respond by creating affordable housing. We didn't want to do what has typically been done over the last 70, 80 years in America and that is warehousing people with one income, which perpetuates poverty and perpetuates inner city condition."

"What we want to do is create a community and a model that is sustainable," he added.  "It is creating community and we want to do it in such a way that is sustainable long-term and a model that we can replicate in other cities across the country."
A clever act but
revealing of human nature
:
A mini-runway, lined with stiletto heels, glistens in bright fluorescent lighting. Shoes of various types sit neatly in individual glass shelves. A statue of an angel carrying several shopping bags stands in the middle as Los Angeles fashionistas mill about, trying on shoes, posing on the red carpet, drinking champagne served in tall, slender glasses.

It was a private launch party of a new luxury brand of shoes called Palessi, designed by Italian designer Bruno Palessi.

"I would pay $400, $500. People are going to be like, 'Where did you get those? Those are amazing,' " a woman said as she tried on a pair of bright-gold sneakers with leopard prints.

The woman was not actually buying a Palessi because there's no such brand, and there's no Bruno Palessi.

There is, however, Payless ShoeSource, a discount shoe retailer hoping to shake things up through an elaborate — and expensive — advertising prank to attract new customers and change the perception that the company sells cheap, unfashionable shoes.

"We felt like this campaign would be a great way to get a lot of people to consider Payless again, and to realize it's more than just a shoe store in the mall," said Sarah Couch, Payless's chief marketing officer.
Tinseled trees and snowy landscapes are not the only signs of the upcoming holiday season. Red kettles, staffed by men and women in street clothes, Santa suits and Salvation Army uniforms also telegraph Christmastime.

The Army is among America's top-grossing charities. In 2015, its 25,000 bell-ringers helped raise an all-time high of US$149.6 million. That was part of the year's almost $3 billion revenue from bequests, grants, sales, in-kind donations and investments as well as direct contributions.

William Booth, an English evangelist, founded the Salvation Army in 1878 as a religious outreach to London's poor. How a British evangelical church became an American icon is an ongoing interest of mine.
SPRINGFIELD, Vt. (AP) — A Vermont woman whose family peacock ran off with a flock of turkeys says she's hopeful to get close enough to catch it with a net.

The peacock belonging to Rene and Brian Johnson has been on the run for six weeks.

On Wednesday, the Johnsons posted a message on the Vermont Fish and Wildlife Facebook page: "My peacock has run off with the turkeys. Do you have any suggestions on how to catch the little twerp?"

Rene Johnson told WCAX-TV she thinks the bird she calls Pea was lonely so it sought turkey companions.
LAKE PRESTON, Australia (AP) — Knickers the steer is huge on the internet — for being huge.

The black-and-white Holstein Friesian won social media fame and many proclamations of "Holy Cow!" after photos surfaced of the 194-centimeter (6-foot-4-inch) steer standing head and shoulders above a herd of brown wagyu cattle in Western Australia state.

Owner Geoff Pearson said Knickers was too heavy to go to the slaughterhouse.