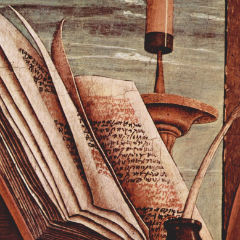 In all the discussions about digital publishing, enhanced ebooks, and the future of publishing, let's not forget that we publish books. We don't design games, produce movies, or animate features. We publish books.
By "books" I do not mean a bunch of printed pages between covers, what is technically known as a codex. That format has been in wide use for the last nineteen hundred years or so. Before that the format of choice was the scroll. Today we have more format options—primarily audio and ebook—but the essence of what we do, regardless of format, is publish (to be necessarily redundant) books.
By books I mean sustained discussions or stories. The delivery mechanism is minimally relevant to what a book is. Tom Wolfe published Ambush at Fort Bragg as an audio book three years before it made its way to print, but it was still a book. In whatever format it comes, a book engages the mind and emotions in a rewarding and thoroughly unique way. God only knows why, but people in the publishing business seem increasingly intent on ignoring or dismissing this fact.
I sat through a recent trade event that featured several engaging speakers, one of whom said that traditional ebooks will be gone in two years. Apologies, but this is nonsense. We'll still be printing books in twenty-four months, and there will be plenty of simple, unenhanced ebooks sold then too. Why? Because readers want books—sustained discussions and stories that immerse their hearts and minds in ways that only books can. Fragmented texts with splotches of audiovisual enhancement may make headway in the marketplace, but they will never replace books, nor will they provide the foundation for success in the future of publishing. But the speaker nonetheless advised us to move forward and innovate relentlessly.
In what direction? To what end?
What worries me is that publishers are losing touch with what God put them on earth to do. I have actually heard people say that we are no longer book publishers; we are "content providers." I've heard this hundreds of times and spoken with all of the self-authenticating assurance of gospel. I recognize that statements like this come from the need to make sense of the tremendous change happening around us, but this language is unhelpful in the extreme.
Think about this: A company has a strategy to focus its efforts. Calling ourselves content providers is an unstrategy. It's like Patton's Third Army saying they're about munitions instead of Berlin. It generalizes our efforts. Content is generic. Books are specific. Content is meaningless. Books have meaning. Content is data. Books are prose and poetry. As my wife likes to say, talking about content is like talking about ingredients. Any cook knows that cooking comes down to garlic, tomatoes, and onions. "Ingredients" is too vague to be useful. But that's where we are headed.
Let me state the obvious. Bell South is content provider. So is Comcast, Wikipedia, Rick Warren, Sony Pictures, EMI, the
San Diego Union Tribune
, and Facebook. That's a wide field. Can publishers compete with Jerry Bruckheimer, Xbox, Jimmy Wales, and Twitter? Forget about it. It's a stupid question. But it's the question we have to start asking if we insist on seeing ourselves as content providers instead of publishers.
It's about books. Forget all the other crap and focus on books. Print, audio, electronic? Yes, sure, definitely—but don't forget what it is that we are doing. We talk about the need to know our customers. We have it easy. They're readers. We know that much. And we know something else. Readers don't want content. They want books.
In conversations about this subject, the analogy of the music business is brought up time and again. The music business went through comparable disruptions, and publishers like to think of these colleagues as the first frog to cross the street. The comparisons are mostly unhelpful (there is, for instance, nothing truly comparable about listening to a song and a reading a book). But here's one that actually means something: books are like symphonies or concertos—lengthy compositions, usually highly integrated with repeating themes and ideas, designed to carry the listener aloft by creating tensions that mount and release and intensify as the piece develops and grows. They represent sustained concepts, elaborate trains of thought that require attention and focus—attention and focus that are rewarded for their use.
Analogizing books to pop songs is wrong. Ditto for comparisons involving YouTube, video games, blogs, and magazines. They are not mutually exclusive, but the audience for one is not the same as the audience for the other.
We live in an age when data is abundant and content is free. Synthesis and analysis are not. A book provides a reader what they cannot get for free. It provides a symphony of words. The composer/author arranges an argument or story in way that is engaging, pleasing, infuriating, fascinating, and in a way that can only be truly or effectively delivered as a book. Various enhancements might supplement this experience, but they will not supplant it.
Fragmented information is everywhere. Elaborate, composed, immersive information is not. It's in books. As publishers, we are about books.