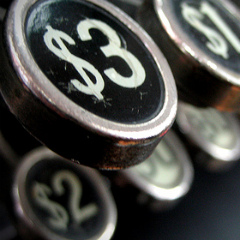 Marriage has the power to make you better or worse as a person, and nothing proves the point as quickly as money.
You can become the very worst version of yourself while looking over bank statements with your spouse. (Been there.) Disagreements and rifts build over issues like overspending, hidden habits, unequal responsibilities, and overwhelming debt. No surprise that financial discord is at the root of many divorces. But what if a bank statement could make you the best version of yourself, particularly in your marriage?
Christian marriage assumes unity and mutuality. The goal is harmony and communion as the couple edifies and sanctifies each other.
Unfortunately, marriage in our culture today often looks more like a union negotiation in which disharmony is assumed from the outset. This is especially so when it comes to economics. Modern marriage looks, as Wendell Berry suggests, like divorce itself:
Marriage, in what is evidently its most popular version, is now on the one hand an intimate "relationship" involving (ideally) two successful careerists in the same bed, and on the other hand a sort of private political system in which rights and interests must be constantly asserted and defended. Marriage, in other words, has now taken the form of divorce: a prolonged and impassioned negotiation as to how things shall be divided.
It doesn't have to work this way, of course. Following Berry's lead, imagine instead that the pronoun "ours" trumped the pronoun "mine." I have come to see that finances can actually bring couples together in pretty powerful ways, particularly as they pool and plan their finances together. Having been divorced and now remarried, what I now know to be true I learned all by accident, God's grace, and the care of a loving wife.
Megan and I started jointly planning our finances as we saved for our wedding. It was deep-end-of-the-pool stuff. After short inspection, we realized that we had debts and commitments that needed immediate attention.
We started a spreadsheet to list all our debts and built a biweekly budget to track every expense. We learned a lot about priorities, discipline, and sacrifice; that was needful for us both. But we also began to experience a sense of shared vision for the future as we planned and brought our separate lives into alignment.
After we were married, our biweekly budget sessions became a place to discuss our values, our hopes, our ambitions and find agreement. We brought order to our finances, paid off our debts, and, by starting with the one of the hardest subjects, also developed and improved our communication skills. It wasn't quick or easy—believe me—but it was the best possible thing for our marriage.
I have a picture in mind that perhaps best explains it all. Rather than sitting across from each other, trying to carve up mine and hers, we sit side by side looking at a screen. On that screen there is a spreadsheet which contains our past expenses (now over two years' worth), a snapshot of our present moment, and projections about our future. We sit together. We face our life together, our finances transformed into a means through which we express the unity of our desires and plans for our family.
It's much more than joint checking. It's turned into an icon of harmony, mutuality, and love—in other words, of marriage itself.