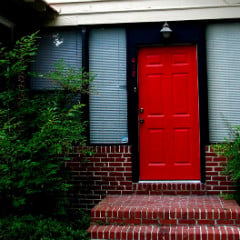 G.K. Chesterton said that a person's house is the one place in the world where they can still be unruly and do whatever they please.
A homeowner "can put the carpet on the ceiling and the slates on the floor if he wants to," said Chesterton, and barring modern contrivances like neighborhood covenants and restrictions, that's still about right.
In the streets, there are the police. At work, there is the boss. But at home, there is just you. Don't forget the connection between the words domestic and domain. At home you are the lord.
So what are you going to do with all that power?
In the biblical vision, every Christian has a priestly role. God says as much in the Old Testament and repeats the sentiment in the New. Our whole lives, public and domestic, are in this sense sacramental, and we offer them up to God for his use and glory.
"Every family is … a kingdom," says Alexander Schmemann, "and therefore a sacrament of and a way to the Kingdom."
I thought about that line after our house-blessing this year. Following Epiphany, as it happens all over the world, our priest goes through the parish and blesses homes. There is a rich theology behind the practice that a short piece like this can barely address, but as Fr. Stephen told us, it has to do with God's blessing on our person and possessions as a family and our dedication of our person and possessions to God.
It's priestly: We acknowledge everything that God has given us, and we offer it back to God. A house-blessing answers the question raised by Chesterton's assertion. We take the lordship we have over our possessions and we surrender it to God for his use and glory.
In a house-blessing, the family processes through the entire home with the priest as he blesses and prays over each room—not just the main areas, the bedrooms, living room, etc., but the little ones as well. We offer even the laundry room and the bathrooms to God. The garage and automobiles, too. All is God's, and all is for God.
Our little kingdoms, says Schmemann, "can be something like the true Kingdom." Our priestly calling is to take the dominion that God has granted, even in the smallest and humblest of places, and turn it him.
As a priestly people, we use God's gifts as a means of communion and growing in relationship with him.