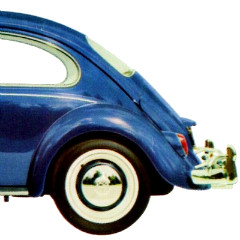 My son Fionn and I play the drive-time game Slug Bug. The idea, if you're unfamiliar with it, is to identify as many Volkswagen Beetles as possible while out and about and thereby rack up points against your opponent. Right now I'm creaming my kid, I'm proud to say.
Don't feel sorry for him. He used to win all the time.
One thing I've noticed is that since playing, I see Bugs everywhere — all the time. Red ones, blue ones, silver ones, yellow ones, avocado-green ones, white ones. They're inescapable for me now.
Of course, it's not like there are actually more Bugs on the road than a month ago. It's just that I'm paying attention to them now. You get more of what you focus on, at least qualitatively if not always quantitatively, though I suspect that's also true in some areas.
Doesn't this offer a powerful tool for improving our view of life — our interaction with our kids, our jobs, our spouses, our churches?
Just take children for a moment. I recently listened to Dr. Karyn B. Purvis talk about the difference between being a coach or a warden to your children. I think I default to warden very easily.
I catch them in one infraction or another, which is easy enough, but then a funny thing happens. It's like a downward cycle of rule-breaking begins. If it goes on long enough, my kids can't do anything right, creating just more bad behavior to ding them on.
To make matters worse, the longer it goes, the more defeated they feel. They lose heart and don't even want to try.
There's a difference between morality and moralism. One guides. The other suffocates. The warden becomes a moralist, policing every bad behavior. Consequently, he gets more bad behavior. The coach encourages and directs; he inspires and connects. The more good he sees and underscores, the more he gets in return.
I'm sure I should stop saving for college for my children and start saving for their counseling. But one thing that would help my kids is to focus more on their virtues — their good hearts, their creative initiative, their goofy ambitions, their praiseworthy conduct — than their vices.
Fionn's got enough to worry about with me beating him at Slug Bug.