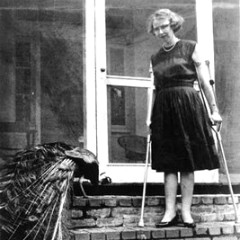 In her essay "The Grotesque in Southern Fiction," Flannery O'Connor writes that readers desire and even need something uplifting in the books that they read.
"There is something in us," she says, "as storytellers and as listeners to stories, that demands the redemptive act, that demands that what falls at least be offered the chance to be restored."
At Thomas Nelson, where I work, we strive to publish stories that are in some sense redemptive. It's a priority at the acquisitions and editorial levels. It might be accomplished by telling stories that show heroism and courage, or that share human pain and suffering, or that deal with setting wrongs right, or that reveal the providence of God at work in human lives. The ways are endless. The sense and scope of redemption is broad because that's how God operates in the world, broadly, in ways we sometimes see fully and in many more ways that we do not.
But here's the problem with being broad: Some people's expectations and experiences prepare them look for redemptive acts in particular areas and not in others. Looking toward only one region on the map of grace means that some will miss redemption that is situated elsewhere. Some will even reject something as redemptive because it comes from a direction they do not expect.
This isn't so much regrettable as merely expectable. People are infinitely various and have infinitely various appraisals of the world around them. A story can conceivably be all things to all people, but not in the same way or in the same relationship.
This is an obvious but important thing to recognize because a critic or reader may decide that a book and its meaning is not redemptive. And maybe they're right. Maybe the author and publisher funked it. But maybe the reader just didn't get it. Flannery O'Connor tells about receiving a letter from a reader who informed her that she experienced nothing uplifting in O'Connor's stories. "I think that if her heart had been in the right place," O'Conner commented, "it would have been lifted up."
Similarly, in an essay on writing short stories O'Connor deals with frustrated readers who felt her stories ended poorly or meant things they did not like or agree with. I love her counsel to storywriters: "When you write a story, you only have to write one story, but there will always be people who will refuse to read the story you have written."
Such is life. In the theological sense, redemption may be an objective fact. But in the literary sense, redemption is a subjective experience for the reader. And to close with one final simple but inescapable observation from O'Connor: "It takes readers as well as writers to make literature."