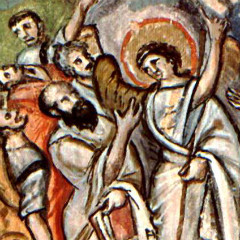 Jacob wasn't hanging around long. After scheming his brother out of the family blessing, he had to get some distance from his vengeful sibling. His mother arranged a pretext for his departure, and Jacob lit out. The roads were rough, and after several hours the weary traveler arrived at a place called Luz just as the sun dipped beneath the horizon.
Jacob's mind must have been churning over the recent events. He had deceived his dad and arguably defrauded his brother, who now wanted to kill him. Meanwhile, mom was busy plotting behind everyone's back.
The man's family was in pieces, and now here he was, far from home, exhausted, and alone.
The ministry of angels
Jacob's restless mind surprisingly found restful dreams as he slept. A ladder came into view and he saw angels moving up and down the rungs, traversing the distance between heaven and earth. Just how he envisioned them no one knows, but then God's voice suddenly flooded his mind.
"I am the Lord God of Abraham your father and the God of Isaac; the land on which you lie I will give to you and your descendants," said the Lord. "[Y]our descendants shall be as the dust of the earth . . . and in you and in your seed all the families of the earth shall be blessed" (Gen 28.13-14).
The angels and the promise were not separate. Despite Jacob's failings—of which there were many—God loved him, and the company of angels were a sign of it, a token of God's provision and protection. "Behold, I am with you and will keep you wherever you go, and will bring you back to this land; for I will not leave you," he said (Gen 28.15).
This sort of angelic ministry extends to all believers. The letter to the Hebrews tells us that God's angels assist those who will be saved. "Are they not all ministering spirits sent forth to minister for those who will inherit salvation?" it asks in the opening chapter (1.14). As with Jacob, the text assumes that angels work for our benefit and serve for our sakes.
Curiously, many Christians today seem reluctant to accept the companionship. Whether put off by the New Age emphasis on angels or goofy ideas from popular culture, Christians are often uncomfortable about focusing on these heavenly ministers. Perhaps we feel as if such attention might lead us into error or detract from Christ.
The result of these concerns is that we avoid the subject of angels or downplay their significance in our lives. But, as I detail in my book, Lifted by Angels, if we believe the Bible, this is not the way God would have it.
The company of angels
Scripture treats angelic companionship as a standard part of our relationship with God. "The angel of the Lord encamps all around those who fear Him, and delivers them," says Psalm 34.7. And the Psalmist also declares that God "will give His angels charge over you, to keep you in all your ways. In their hands they shall bear you up. . ." (91.11-12).
The life of Jacob provides several instances of this sort of angelic companionship and aid. After a lengthy sojourn, Jacob's angel instructed him about returning home to his family. When Jacob was later frightened about an armed showdown with his brother, a whole troop of angels appeared before him, revealing the protection that God provided. Jacob then wrestled with an angel in something of a test and received God's blessing through the encounter. Finally, at the end of his life Jacob credited the Lord's angel for saving him from trouble, speaking of "The Angel who has redeemed me from all evil. . ." (Gen 48.16).
Scripture swells with such examples.
Take this scene from the life of the prophet Elijah: On the run from the vindictive and evil queen Jezebel, Elijah despairs. Alone in the wilderness, he is tired and utterly demoralized; all he wants is to die and be done with it. But then an angel appears, tenderly touching him and bringing food and water. After the prophet wakes and eats, the angel lets Elijah rest further and then wakes him to eat again, this time leaving him restored.
The evident kindness and concern of the angel is mirrored in the story of Hagar, who found herself desperate and alone. An angel came and calmed Hagar's fears, offering her the necessary strength and encouragement to survive a challenging situation.
Comfort and protection, advocacy and insight
Throughout these and other biblical stories, angelic companionship manifests in several different ways.
As with Elijah and Hagar, sometimes it manifests as comfort. The Apostle Paul benefited in the same way. In the midst of a shipwrecking storm on the Mediterranean, Paul's angel appeared to allay the apostle's fears and assure him that he and his fellow voyagers would be safe from harm.
Sometimes the companionship of angels manifests in physical protection. Surrounded by the Syrian army, Elisha faced the threat with calm and poise while his servant shook in his sandals. Elisha prayed that his companion's eyes would open. Suddenly he saw what Elisha already did—an angelic army ringing the entire Syrian force. If the hostile army moved a muscle against God's prophet, they were done.
Then there's the Apostle Peter, who found himself in prison upon the order of the corrupt King Herod. The apostle was sure to lose his head, but God sent his angel to rescue Peter, freeing him from jail and leading him away from harm.
Still other times, this companionship manifests as advocacy, as we can see in the books of Job and Zechariah. In the former the angel pleads man's cause before God. In the latter, the angel rebukes Satan as he accuses God's faithful servant. Jesus's warning in Matthew 18 about harming children similarly assumes the advocacy of angels. "Take heed that you do not despise one of these little ones," he says, "for I say to you that in heaven their angels always see the face of My Father. . ." (v. 10).
Zechariah also points us to another manifestation of angelic ministry. Throughout the book, an angel explains visions and mysteries to Zechariah, who only understands what he sees because the angel explains and unpacks it for him. The same thing happens to Daniel, who is at a loss to understand certain visions until given the key to understanding by the archangel Gabriel.
Perhaps these stories seem distant. After all, none of us is Elisha, Daniel, or Paul. But does that matter? Remember, the Epistle to the Hebrews says that angels serve on behalf of all those who will inherit eternal life. That's you and me, by God's grace.
Angels in worship and prayer
Hebrews also points us to one place in which we regularly encounter angels: in worship. None of us likes being late for church, but Hebrews says we're always coming in after things have started. "[Y]ou have come to Mount Zion and to the city of the living God," it says, "to an innumerable company of angels. . ." (12.22). When we assemble to worship we join the host of angels who are already worshipping.
How many times does the Psalmist implore the angels to praise? He only does so because our heavenly friends are already singing "Holy, holy, holy," as they do in Isaiah 6.3 and Revelation 4.8. It's the natural disposition of angels to worship, and it is our honor to stand shoulder to shoulder together before our Lord in adoration and acclamation.
Another place we meet angels is prayer. I've always been struck by the angels attending the prayerful Christ after his wilderness temptation and in the garden of Gethsemane. They attend us as well.
The book of Revelation provides a glimpse of this as it unfolds in heaven. In chapter 5 "golden bowls full of incense" are identified as the prayers of the saints (v. 8). Then in chapter 8 an angel offers these prayers before God—but not before something astounding happens: "[A]nother angel, having a golden censer, came and stood at the altar. He was given much incense, that he should offer it with the prayers of all the saints upon the golden altar which was before the throne" (v. 3) The prayers of the saints were enhanced by the incense—the prayers—of the angels!
The fact that angels add their prayers to ours—along with all the other imagery of service, comfort, protection, advocacy and prophetic insight—provides a powerful picture that we, people and angels, are in this together.
Friends on the path
God has provided angels for our assistance. The whole of Scripture tells us they are, and Hebrews 13 says that some believers have even entertained angels without realizing it. We may not always sense their presence, but they are indeed present.
It's natural to object when we face unsound and unbiblical examples of angels in the culture; if for no other reason, it's like encountering lies about a loved one. But we shouldn't back away from belief or consideration of angels because others get them wrong. We should instead work to restore a better vision of these helpful and loving companions who aid us attentively on our journey with God.
For more, check out Lifted by Angels: The Presence and Power of Our Heavenly Guides and Guardians.