I'm excited today to feature a guest post by my friend and fellow Patheos blogger Bill Blankschaen. Bill looks at a question provoked by Brad Lomenick's new book, The Catalyst Leader: 8 Essentials for Becoming a Change Maker. Brad's book releases April 14 from Thomas Nelson.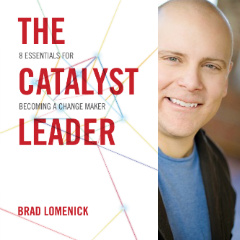 We all know the church should help you grow in your understanding of the Holy Scriptures. We all know that the church should be known as a house of prayer. We all agree as Christians that the Church should be a place of service and of modeling sacrifice.
But should the Church help you find your life calling? I suspect that question might strike some as a bit odd. Unless, of course, we're talking about the calling into full-time ministry (which I think means a clergy bumper-sticker and a love for fundraising).
We could write at length on the semantic history of the word calling, but I'm using it in the broadest sense. I'm referring to how God has wired you differently from others, your natural talents, your strengths and weaknesses — but mostly your strengths — and how you could best employ those strengths to intentionally grow the kingdom of God.
What If the Church . . .
In church settings, it's easy to dismiss such talk about life calling as not all that spiritual. After all, most of our strengths don't fit tidily into the spiritual gifts inventory used in many new members classes.
For example, I was shocked to learn a few years ago that one of my strengths was what Marcus Buckingham calls Input. I naturally seek out, absorb, and process vast amounts of information — all the time.
I never saw that ability as a strength. I had just assumed everyone could do that if they wanted to. I confess I often wrongly concluded they didn't do so because they were lazy. Nope. God didn't wire us all the same. Yet how many adult Sunday School programs are designed to work well for people who can absorb a lot of information within a brief hour of instruction?
What if the Church helped Christians dig down to discover how each of us is wired by our Creator and find our life calling? Imagine the kingdom impact! The wisdom of Proverbs says, "The purpose in a man's heart is like deep water, but a man of understanding will draw it out" (20.5).
In other words, why we do what we do or what we do best, can and should be discovered. It takes intentional effort to get the deep water out of the well. And it takes wisdom and understanding — two things that should be the church's specialty.
Brad Lomenick on the church and calling
And yet the church is often AWOL when it comes to life calling. I agree with Brad Lomenick, CEO of Catalyst and author of the book The Catalyst Leader: 8 Essentials for Becoming a Change Maker, releasing April 14, 2103. In a recent interview with me on this topic of calling, he voiced these concerns:
[T]he church, unfortunately, has dropped the responsibility on this one. I mean in terms of releasing leaders in their congregation into the marketplace and into the general world of work or vocation and saying, "Hey, we want to be as passionate about helping you understand this as we are in understanding it ourselves as the pastor or the minister or the head of the church." My challenge to a lot of church leaders is not only do you need to figure it out but you need to help your congregation figure it out. They're sometimes confused because we don't talk about it enough within those contexts.

I would love for the church to really get back into the seat of being the ones who are leading this leadership world in general and Christian leadership in particular and see that flowing out of the church versus, "Well, we've got to go find that somewhere else."
Read the rest of my interview with Brad Lomenick here.
Why we avoid the conversation
One reason I think we avoid talking about our strengths in church is that, at first listen, it sounds selfish to talk about how one can function at his or her best. We are, after all, sinners in desperate need of grace. We quite understandably tend to focus on our utter moral inadequacy before the holy God who made us. And that's good, provided it doesn't blind us to the regenerating miracle now at work within us.
God didn't execute his masterful plan of redemption so that we could run out the clock glorying in how little Gatorade has been supplied for us courtside.
He gave us talents, strengths, imagination, and a calling to pursue — not for our own selfish gain but so that we can discover new, Spirit-empowered ways to revitalize and replenish the rest of the team.
God gave us talents, he redeemed them, and he expects us to use them. It's not about greedy gain but a humble question of sound stewardship. Somehow I don't think God is going to be delighted in our handing back a pack of potential to him, unused and unopened.
My wife is fond of saying that potential doesn't buy peanut butter. Nor does it move forward the kingdom of heaven. Mark Batterson makes the case that what we do with our life calling is an act of worship: "Potential is God's gift to us; what we do with it is our gift back to God."
How to get started
I've spent some time over the last few years drilling down into my own life calling. I haven't figured it all out by any means. But here are five statements that I think each Christian should be encouraged to complete — with help from pastoral leaders, with or without titles:
I'm at my absolute best when I'm ________.
If money were no object, I would ________.
If I could create my ideal day, it would look like ________.
My life calling is to ________.
I want to be remembered as ________.
What do you think: Do you think the church should be doing more to help Christians discern their life calling? What statements or questions would you add?
Bill Blankschaen is a proven non-profit leader, writer, speaker, and ministry consultant who equips Christians to think, live, and lead with abundant faith. Visit his FaithWalkers blog and find him on Twitter and Facebook.