Mastering Magick: A Course in Spellcasting for the Psychic Witch
by Mat Auryn
published by Llewellyn – October 2022
296 pages
Trade paperback: $18.99, Kindle: $13.99
Don't have time to read the whole review? Just want to jump to the conclusion? Here it is:
Mastering Magick is the perfect follow-up to Psychic Witch, Mat Auryn's best-selling first book from 2020. If you liked Psychic Witch and you're ready to take the next step on your magical journey, read Mastering Magick and work through the exercises. Truly mastering magic is the work of a lifetime, but this book will help you make substantial progress on this path.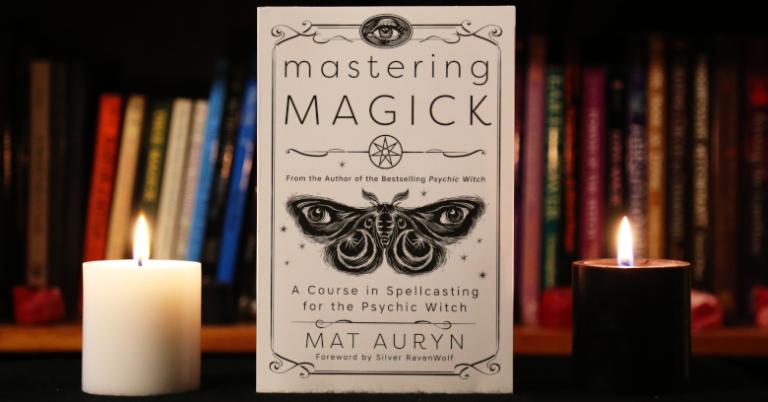 Any discussion of Mastering Magick must begin by looking at the phenomenon that was – and is – Psychic Witch. Publishers and authors are reluctant to release hard numbers (and as an author I understand why) but this much is known: Psychic Witch is the best-selling book in the witchcraft and Pagan section in several decades. It was the perfect book with the perfect title at the perfect time.
As I said in my review in 2020, "Psychic Witch teaches psychic skills and operations in a straightforward, hands-on, non-religious way." It's the perfect book for people who just want to learn the basics of magic and energy work. That's what the title promises, and that's what the book delivers.
It came out in February 2020. We all know what happened shortly after that. The inability to go out made reading a popular activity. The inability to control our lives through ordinary means made magic a popular activity.
The success of Psychic Witch made me very happy – and it wasn't even my book! There's so much garbage floating around on the topic of magic and witchcraft – I like it when good, helpful material makes it into the public consciousness. Plus Mat is a friend and a genuinely good person. I can't think of anybody I'd rather see write the best-selling witchcraft book of the past 30 years.
I wondered what his next book would be like. I knew it would be good – Mat's a good writer and he works harder than any Pagan author I know. But could it meet the expectations created by Psychic Witch?
Short answer: yes.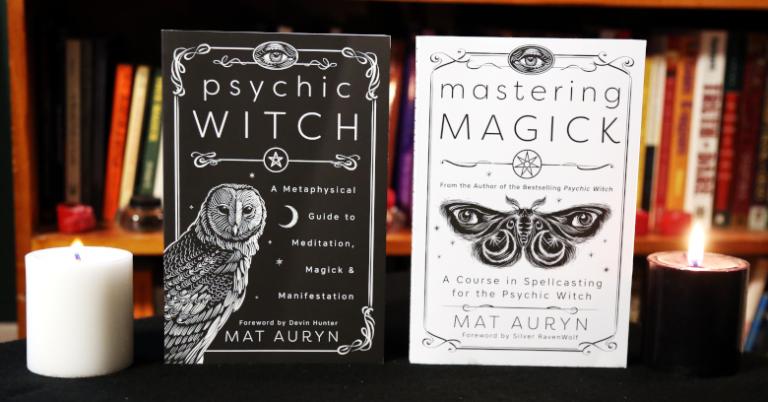 The first chapter is titled "Embracing the Power of the Witch." It begins with a story of childhood abuse that is painful to read. But in the words of Peter Grey, "witchcraft is the recourse of the dispossessed, the powerless, the hungry and the abused." Unable to obtain justice from without, Mat turned within – and found what he needed.
Our mainstream society tells us that magic is an illusion, a fantasy. But there's nothing like results to convince you it's real.
The exercises in this chapter may not bring you results as dramatic as Mat's – or the ones I've experienced over many years. But they'll get you started, and that's the most important step.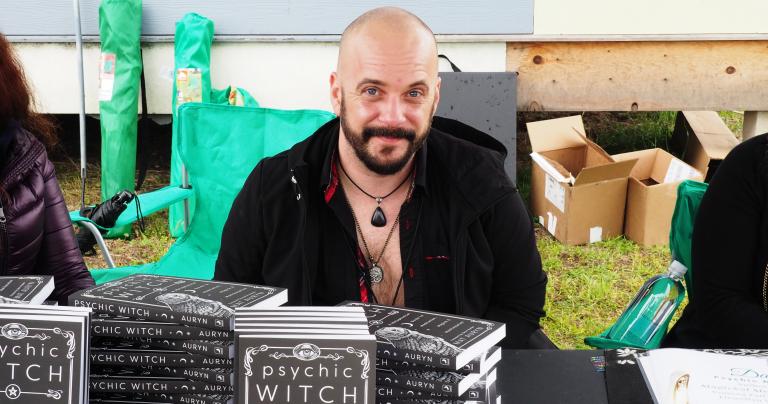 Chapter 2 "Understanding Spellcasting" is light on theory and heavy on practical application. It begins with Aleister Crowley's classic definition of magic: "the science and art of causing change to occur in conformity with Will." I'm not a Crowley fan, but I've yet to find a better definition. Mat adds a second line from Crowley: "why should you study magic? Because you can't help doing it, and you had better do it well than badly." What follows is how to do it well: the right frame of mind, the right approach, and the right techniques.
Mat Auryn is one of the most skilled witches of his generation. He was trained by some of the most skilled witches of the last generation. And he draws from Crowley and even earlier witches and magicians. You're not just getting the cool new stuff – you're also getting time-honored techniques that have proven useful over and over and over again.
This chapter includes a section on dealing with aphantasia – the inability to visualize. I intuitively used visualization long before I began practicing magic (or at least, what I recognized as magic). As a teacher, I often have difficulty translating my methods for students who can't visualize. The techniques presented here look promising – I'm going to recommend them to those with aphantasia going forward.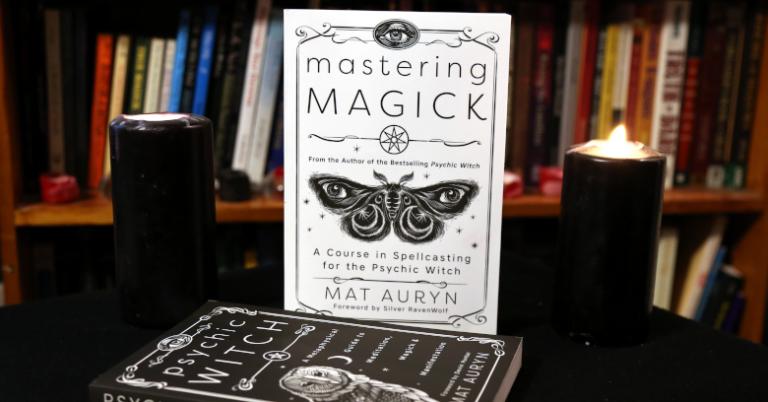 Chapter 3 "Approaching the Mysteries" explains some of the principles of modern magic. "Cleansing and Protection" has instructions for twelve different ways to perform these basic practices, featuring spells and exercises written by other practicing witches including Christopher Penczak, Lilith Dorsey, Devin Hunter, and Benebel Wen, who presents a method that uses Chinese characters.
Another chapter is "Spiritual Shapes and Spiritual Spaces" which deals with circles, triangles, and crossroads. "Inner and Outer Tools" deals with magical tools, the four elements, and their correspondences. "Synching with the Sun, Moon, and Seasons" tells you what you need to know to find the best time to work a particular spell. "The Planetary Energies" does the same thing with astrological correspondences, but at level suited to a beginning level book – it doesn't get bogged down in astrological minutiae. I like that. While I respect astrology – sometimes because it smacks me in the face if I don't – I've had good success just working magic by the moon.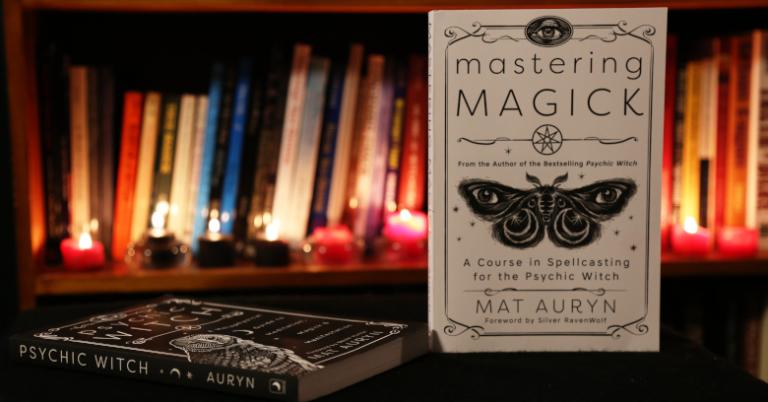 Mat begins the conclusion by recalling the opening story of abuse, and how with magic he was able improve and eventually escape a terrible situation. He says "with magick I have developed the tools to not only cope with life but also to change my circumstances. I want that for you as well."
There is nothing like a deep emotional need to motivate someone to pick up the practice of magic. But at the end of day, why you do it doesn't matter nearly as much as the fact that you do it.
Do you want to learn magic? Do you want to master magic? Read Mastering Magick, work through the exercises, and then keep working. If you do the magic, the results will follow.
Who should read this book?
If Psychic Witch is Witchcraft 101, Mastering Magick is Witchcraft 102. Begin with basic energy work, then move to basic spellcasting. Or do Mastering Magick first and Psychic Witch second. I think the process works better in the order they were written, but you can do it either way.
Experienced witches and magicians don't need to read Mastering Magick, but if you do you'll probably learn something you didn't know before. I certainly did. And this way I can recommend it to students and others with first-hand knowledge of what's in it.
---
For those who care about such things, Llewellyn sent me a review copy of Mastering Magick. Mat Auryn is a friend and a colleague and I hope this book sells as many copies as Psychic Witch, though as much for the readers who'll benefit from it as for my hopes for Mat's success. That said, this is my honest opinion of the book. If the impossible (or at least, the highly unlikely) had happened and this book didn't live up to the high standards Mat set with Psychic Witch, I would conveniently forget to review it.
---
Mat spells it "magick." I spell it "magic." Both are correct. I'm not interested in arguing about which is better.