It seems like we just finished the Winter Solstice, but Imbolc will be here in two weeks. Imbolc – on February 1st – is the first holy day on the modern Pagan Wheel of the Year… first on the secular calendar, anyway.
Imbolc has several themes. It's a time of cleansing and purification. It's the earliest you can do spring cleaning in much of the Northern hemisphere. It's also a full month into the new year – it's time to sweep away any of the residue from the old year, especially those things we'd like to leave behind.
Imbolc is also the promise of Spring. On Groundhog Day we'll see if Spring will be here soon or if we'll have six more weeks of Winter. We are likely to see some more bad weather (the Winter storm that destroyed the Texas electric grid was in the middle of February in 2021), but by now the days are noticeably longer and we know that Spring will be here before too many more weeks.
These are ancient and important traditions. But for me, Imbolc is first and foremost a time to honor the Goddess Brighid.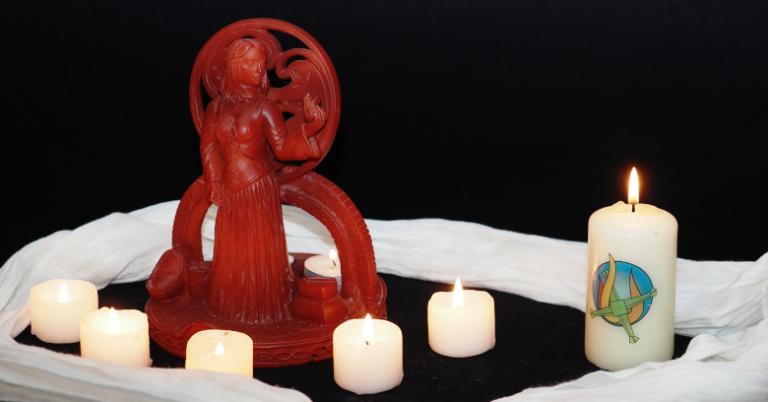 Goddess of Poetry, Smithcraft, and Healing
Brighid (Bridget, Brigid, Brid, or any one of what seems like a million variations of Her name) is an Irish Goddess who is generally associated with poetry, smithcraft, and healing. She may or may not be an earlier incarnation of the Christian Saint Brigid. She is one of the more active deities of our time, though She's generally more quiet about it than some others.
Cernunnos has been with me all my life. Danu came to me early on my Pagan journey and is still here. I've told my story with the Morrigan before.
I met Brighid in a rather common way – through Her followers.
Meeting Brighid in Denton
The Pagan and polytheist communities are fighting a near-constant battle against those who argue that religion is transmitted by blood, and only those with the "right" DNA can worship certain Gods. This idea is factually wrong and often promoted with harmful intent. Rather, religion is transmitted by human interaction – and of course, by the workings of the Gods. Parents pass their religion down to their children through practice.
But also, they pass it to neighbors and strangers who gather around their fire and while they're there, have an experience so powerful it stays with them when they return home.
There's a local group of Pagan and Pagan-adjacent people in Denton who celebrated what they call the Brigidantia Bardic Bash for over 30 years. It was a celebration of the bardic arts by bardic folks. A party, yes, but a party that honored Brighid as their patron, in Her role as a Goddess of Poetry. I was honored to attend a few times and shared a couple pieces from the modern Druid tradition. Covid and then the complications of life ended their streak – they're hoping to restart next year. I'm hoping to be there.
Several of my friends are priests or priestesses of Brighid (there's no functional gendered difference, but some call themselves priests and others call themselves priestesses and I want to call them what they call themselves). I've learned a lot from them.
Brighid was always the Deity of the Occasion at the Texas Imbolc Retreat, which I attended annually from 2014 through 2019. Her presence was unmistakable and strong.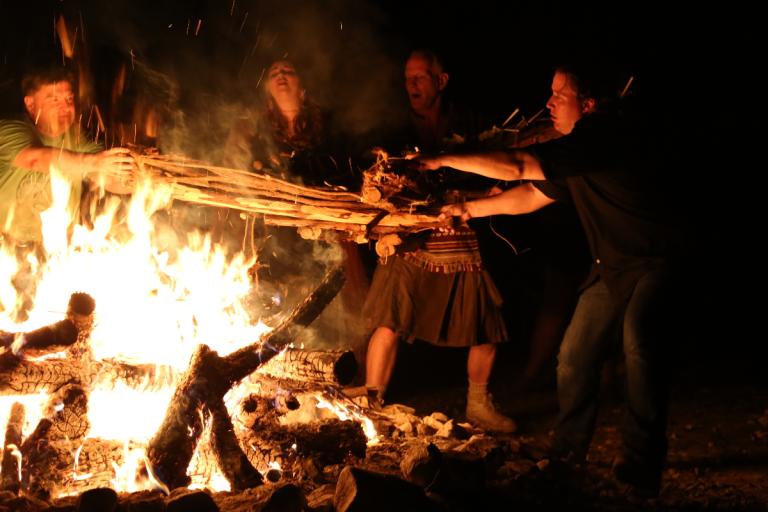 Gradually I got to know Her. I led and co-led rituals in Her honor, both with Denton CUUPS and with small private groups. At some point I added Her statue to my altar-shrine, and began including Her in my nightly prayers.
It was Brighid who asked (told) me to write my first book The Path of Paganism. She helped me with it – and also held me to my promise to get it finished.
The love of Brighid
I have experienced Her presence on many occasions. On one occasion I experienced Her in ecstatic communion.
I have never felt such a pure and complete expression of love in my entire life.
Like all such experiences, it is ineffable. Not because I'm forbidden to speak of it – quite the contrary – but because words are completely inadequate to describe what happened, and what it felt like. But I need to try, because the word "love" gets thrown around rather loosely in our contemporary society.
What I experienced was a deep and genuine concern for the well-being of myself, of the people gathered with me that night, of our community, and of the whole world. It was the hope that we would be happy and well. Not a cheap, idle hope but an empowering hope.
It was an honest regret that such well-being can never be fully realized, because of our conflicting desires and competing interests. It was a not-so-gentle reminder that while perfection is not possible, "better" is – and that we have an obligation to move as far in that direction as we possibly can.
Whatever else She may be, Brighid is a Goddess of Smithcraft. She has a forge, and an anvil, and a hammer. And She is quite happy to place each of us on that anvil, to rework and shape us into something beautiful and useful. Gold and silver are inherently beautiful, but how much more beautiful are pendants and rings and chalices?
That experience of Her was almost eight years ago, and I remember it like it was yesterday. I imagine I always will.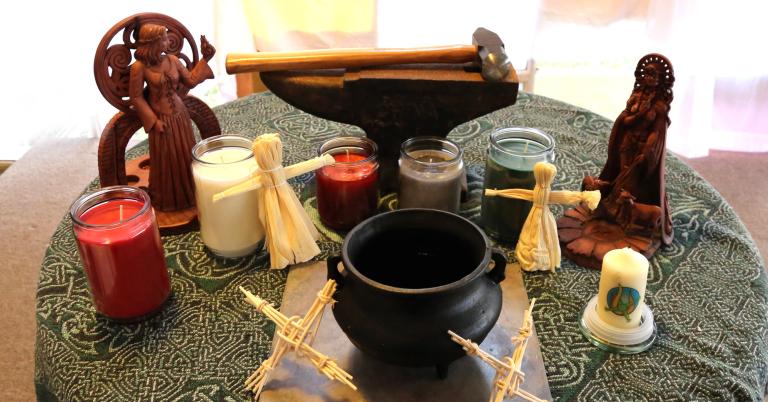 Imbolc is Brighid's Day
I am not serving as Her oracle in this post. It's not written at Her direction, though I hope it's clear it's written with Her inspiration. I have no message to relay, no calls to action, no invitations to the Forge.
For now.
My public celebration of Imbolc will be a little late this year. Denton CUUPS is holding our Imbolc circle on Saturday, February 4. But on February 1st I'll go outside (usually not a difficult thing here in Texas), pour an offering of good Irish whiskey in front of a rather special tree, and offer my thanks to Brighid for another year of Her presence and blessings.
And then I'll listen.
I may hear something important. I may hear something routine. I may hear nothing at all.
What I may or may not hear isn't important (unless it is, but that's a different post for a different time). What's important is that I pay honor to Brighid.
Because whatever else Imbolc may be, for me it is always Brighid's Day.
For Further Reading
8 Things to do for Imbolc as a Solitary Pagan
Imbolc – The Promise of Spring
Solas Bhride: A Goddess Speaks Softly in Many Forms