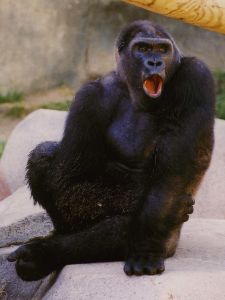 I believe that my beliefs about the qualities and nature of God are absolutely, 100% correct. I just don't think that what I think about God is correct. I know that it is. I know it with everything in my being. True knowledge of the true God is a crucible consuming all but what it creates: awe, gratitude, and unshakeable conviction.
Elemental logic dictates that being as perfectly right about God as I am means that everyone who persists in cleaving to beliefs about God different from mine is wrong. I take no pleasure in this fact; in truth, it is like an arrow ever piercing my breast. What—oh, what?—wouldn't I give for relief from the tortuous pain I suffer from awareness of how many do not share in the glorious knowledge of God that out of his blessed mercy He himself has bestowed upon me?
How profusely I weep for the unsaved; with what agony do I contemplate the fate of their poor, wretched souls.
But in the end—after I have exhausted myself bringing the water of life to the parched, sustenance to the starved, light to those still stumbling in the dark—I can naught but collapse spent to the ground, taking what meager comfort I can in the assuredness that there are, alas, none so blind as they who will not see.
We who know God have no choice but to choose our god over men. We most certainly do love each and every member of our race, but by that love are bound to love God more. About matters concerning God there can be no negotiation, no compromise, no reconfiguring or adjusting of the divine eternal paradigm. From such seeming charities do great heresies grow.
When it comes to God—which is to say that when it comes to humans; humans nature; the purpose of humans; the fate of humans; the human soul; human history; the afterlife; the cosmos; the earth; and everything imaginable concerning the relationship between Man and all that is grand, mysterious, and eternally important—we are perfectly right. And they are wrong.
We are right. They are wrong.
We are wise. They are ignorant.
We are guided by glorious righteousness. They are misguided by inglorious delusion.
We speak the truth. They speak heresy.
God is with us. God is away from them.
We were born in the right place, at the right time. Tragically, they were not.
God takes infinite pleasure in our children. He is bound by his nature to take, at best, limited pleasure in theirs.