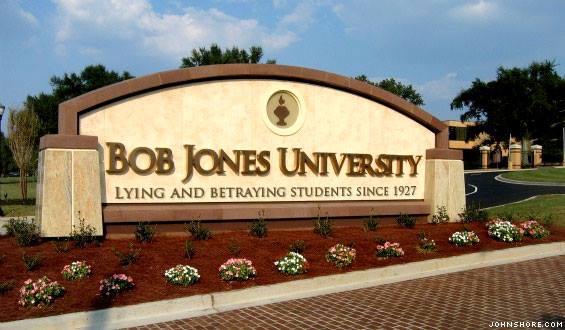 Hi, guys! You don't know me, but I'm … well, a blogger.
I was blogging about you just yesterday! (See Waiting for Bob Jones' Huge Gay Bomb to Drop—which, I know, is an obnoxious post title. Sorry about that. I was just having a little fun. And if there's one thing I know you guys enjoy, it's having fun! But not too much fun, right? Ha ha ha!)
When I heard last week that in each of your morning chapel services this week you'd be delivering sermons on homosexuality, I was so excited I just about bobbled my whole donut straight into my coffee! After all, the relationship between homosexuality and Christianity is one hot topic these days. But look who I'm telling! BJU is only the premier Christian fundamentalist college in the U.S.A. today. Who better to speak on this topic than you?
You have the attention of so many Christians! You're an authority on Christianity! Uncountable numbers of Christians really care what BJU has to say on this vital matter.
So that's why I wanted to let you guys know that something has gone wrong with your uploading of the audio file of yesterday's chapel sermon. I know, right? Technology! Who can understand it? Besides you guys, I mean. Because I know that within an hour or so of every single one of your daily chapel services, you never fail to post to this page the audio from that morning's service.
But here it is, a whole day and a half after yesterday's chapel time, and still no audio file of that sermon!
So I just wanted to let you know that a lot of people are out here, eagerly waiting to hear what you said yesterday about gay people.
Oh, gosh, look at the time!
I see that we're now waiting to hear what you've said twice about gay people and the Bible!
Clearly, someone in your organization has goofed. And we're sure a mistake is all it is. It's not like you wouldn't want the world to know exactly what you're telling some 3,500 young people about homosexuality, right? Of course you would! And of course you'd want all the parents of your wards to know what you're saying to them about such a sensitive and important topic, right? Of course right! You're proud Christians, proud of what you're saying! As the Bible tells us (fancy me, telling you what the Bible says!):
You are the light of the world. A city set on a hill cannot be hid. Nor do men light a lamp and put it under a bushel, but on a stand, and it gives light to all in the house. Let your light so shine before men, that they may see your good works and give glory to your Father who is in heaven. — Matthew 5: 24-16
For everyone who does wicked things hates the light and does not come to the light, lest his works should be exposed. But whoever does what is true comes to the light, so that it may be clearly seen that his works have been carried out in God.— John 3:20-21
Keep your conduct among the Gentiles honorable, so that when they speak against you as evildoers, they may see your good deeds and glorify God on the day of visitation. — 1 Peter 2:12
But if anyone walks in the night, he stumbles, because the light is not in him. — John 11:10
This is the message we have heard from him and proclaim to you, that God is light, and in him is no darkness at all. If we say we have fellowship with him while we walk in darkness, we lie and do not practice the truth. — 1 John 1:5-6
Follow-up post: Remember Christ's "The truth shall set you free?", Bob Jones University?