Meet David Stambaugh:
David was a child actor. Here he is as infielder Toby Whitewood in the 1976 hit movie The Bad News Bears:
Today David is associate pastor of Hollywood United Methodists Church. Like a great many UMC churches, Hollywood UMC is a reconciling congregation—meaning (taken from HUMC's website):
. . . a reconciling congregation invites gay, lesbian, bisexual and transgender persons to share our faith, our community life and our ministries. But it does not stop there. A reconciling congregation affirms the same for all persons without regard to race, color, national origin, gender, sexual orientation, marital status, age, economic status, or physical or mental condition.
How lovely is that? 🙂
Here's a picture of Hollywood United Methodist:
That 20-foot red ribbon, a show of support for people affected by HIV/AIDS, has been showing on UMC Hollywood church tower for twenty years.
Rev. Stambaugh is a long-time stalwart supporter of full LGBT rights. Here he is doing one of the best things that pastors get to do, which is marrying dedicated, loving couples:
Rev. Stambaugh also made a video for the Not All Like That (NALT) Christians Project:
(Last October David also
ordained me a pastor for the Progressive Christian Alliance
.)
In June 2014 Rev. Stambaugh is going to bicycle 545 miles, from San Francisco to Los Angeles, as part of AIDS Lifecycle's Ride to End AIDS 2014. The ride will benefit the Los Angeles Gay and Lesbian Center, which provides services such as:
Free HIV/AIDS care and medications for those most in need
Low-cost counseling and addiction-recovery services
HIV prevention programs
housing, food, clothing and support for homeless LGBT youth.
David is, to say the least, an avid cyclist. He would bicycle 545 just for the fun of it. Here he is, being all bicycle-y: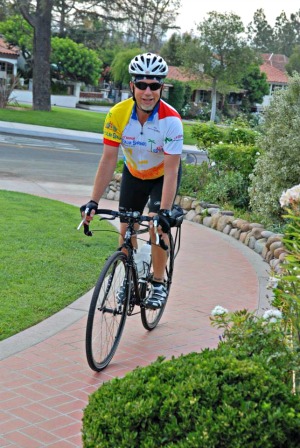 David's donation page for AIDS Lifecycle 2014 is here.
This is from the Why We Ride page of the AIDS Lifecycle website:
In California alone there are 151,000 people living with HIV. Nationally, 70 percent of all new infections occur in communities of color and people under the age of 25 are increasingly affected.

The costs associated with medical care and treatment for a person with HIV are about $20,000 per year. Access to life-saving drugs, clinical trials and state-of-the-art treatment helps those with the disease live a longer and better quality of life. AIDS/LifeCycle will help those living with HIV/AIDS gain greater independence and get the treatment and care they need. Prevention services geared towards high-risk populations will ensure that future generations will not experience the same level of loss that we have faced in the last two decades.

As the number of people living with HIV increases, so does the need for the services provided by the San Francisco AIDS Foundation and the L.A. Gay & Lesbian Center, the two agencies producing this event.
Please pitch in and sponsor the good Rev. David Stambaugh for his upcoming week-long bicycle ride. Any amount helps.
Please also share this post so as many as possible might help our friend David as he does his part to contribute to such a worthy cause.