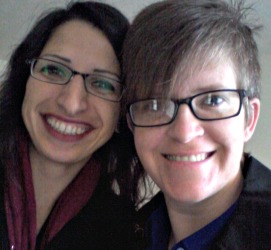 Yesterday I got in this awesome bit o' encouragement that I thought I'd share it with you (with the writer's permission, of course: she's the mega-cutey on the right above).
Things, friends, really do get better.
Hello there, Mr. John Shore. It's been quite a while since I emailed you, although I read your posts regularly. I was recently telling someone about your blog, and the fact that you had posted my "coming out letter to my parents" a couple of years ago [see A Coming Out Letter to Her Family], and it dawned on me that an update might be in order.

I doubt you remember, but I was in Kentucky, as was my family, finishing my degree. Degree is finally accomplished (yay!) and I have just moved to NYC, where I will wed the wife of my dreams next week. (eternal yay!) Although the majority of my family continues to be beautifully accepting [ 🙂 ], interestingly, part of my conservative family decided that they shouldn't be as accepting of me: they reconsidered my "lifestyle" choices, and recanted their support after two years. [ 🙁 ] Odd right? This has been a bit disheartening, but the peace and joy I now share with my soon-to-be-wife, and the overwhelming support of most of my family, has been wonderful.

Anyway, I write to say thank you and peace to you in this new year. The few times we spoke via email was a true source of encouragement to me and I continue to appreciate and respect your voice and representation of your faith and love for God. Keep it up! I'm always pointing people of faith in your direction.

If you are ever in NY, I'd be honored to buy you a drink!
Day before yesterday a friend of mine did the soft opening of a bar she and her husband have opened in Hell's Kitchen.
So that's two reasons God is clearly calling me to New York for cocktails.
And ignoring God is wrong.
New York, here I come!