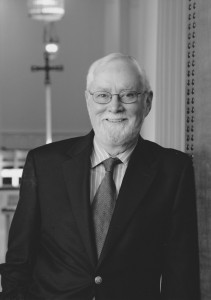 Last October Dr. Thomas Ogletree (above), a clergyman in the United Methodist Church (UMC), performed the wedding ceremony for his gay son.
UMC pastors are not supposed to marry gay couples, family members or otherwise. They're instead supposed to believe what their Book of Discipline (which is to the UMC approximately what the Tax Code Book is to the IRS) tells them to believe, which is that "homosexuality is incompatible with Christian teaching."
By marrying his gay son, Dr. Ogletree broke UMC law. And, predictably enough, he got in trouble for it. A formal complaint was filed against him, and ultimately Dr. Ogletree was told that he would have to face a UMC canonical trial for violating church rules.
That trial was supposed to take place today.
The problem with "disciplining" Tom Ogletree is that Tom Ogletree is an adult—and then some. Before retiring, Dr. Ogletree, 79, was dean of both the Yale Divinity School and Drew Theological Seminary. He is currently professor Emeritus of Theological Ethics at Yale. From 1978-81 he was director of graduate studies in religion at Vanderbilt University. He's the author of such books as The Use of the Bible in Christian Ethics and Hospitality to the Stranger: Dimensions of Moral Understanding. Since 1980, he has served on the editorial board of The Journal of Religious Ethics.
So, you know: telling Dr. Thomas Ogletree what he should or shouldn't think about homosexuality or gay marriage is like telling King Kong what he should or shouldn't think about bananas or tall buildings.
Too late. Already all over it.
Guess what happened this morning instead of the trial of Dr. Thomas Ogletree? The UMC bishop overseeing the trial—Bishop Martin D. McLee (pictured below)—dropped all charges against Dr. Ogletree. And Bishop McLee didn't just drop the charges, either. He turned them into a huge brass bell he used to ring what will likely be remembered as one of the more resonant death knells of the anti-gay policy of the largest mainline Christian denomination in the world.
Right now—literally, as I'm typing this—in the offices of the New York Conference of the United Methodist Church in White Plains, NY, Bishop McLee is calling for, and committing to, an absolute end to the censuring of any UMC pastor for performing gay weddings. It is the first time in history that a sitting United Methodist bishop has categorically declared that he will not prosecute pastors for ministering to LGBTQ people.
Said Bishop McLee:
As the Bishop of the New York Annual Conference, in consideration of my responsibility to provide spiritual, pastoral and temporal oversight for those committed to my care, I call for and commit to a cessation of church trials for conducting ceremonies which celebrate homosexual unions or performing same-gender wedding ceremonies and instead offer a process of theological, spiritual and ecclesiastical conversation.
Mark this day, my friends. For verily, it is a good one.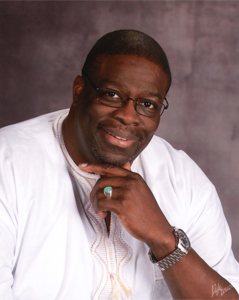 (Dr. Ogletree's legal defense was provided by Methodists Moving in New Directions, the first LGBT-affirming organization to join the Not All Like That (NALT) Christians Project.)