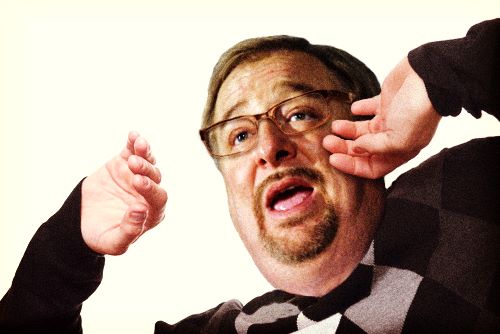 (Today's is a guest post from our friend Mike Moore*; it's an email he sent me [used with his permission, of course; links inserted by me]. Take it away, Mr. Mike!:)
John, it's 4 a.m.-ish, and I just had a dream.
I swear to God (who may or may not be personal, but let's not argue about that now), I swear to Jesus (who we can agree is awesome, period)—and I also swear that I am not hopped-up on cough syrup and Red Bull—that this dream is totally true.
It was a dream, so it's frickin' weird like dreams can be.
Fade in: I'm in a cluster of people who are all talking about God and Christianity. The cluster dissipates, and I'm left alone with a weird guy wearing tacky-but-Prada eyeglasses. He is obviously straight, but nonetheless asks me if I want to hit the bar and get a scotch.
Then the weird guy with tacky-but-Prada eyeglasses and I are at a bar getting our scotch on and chatting.
I suddenly realize that he looks very familiar, though I can't quite place him. With no small degree of panic I also realize that we are not, after all, in a bar. We're at the Humanum conference in Vatican City.
I see Tony Perkins, king of  the Family Research Council douchebags, looking smug and standing just a few feet away. I turn to my new scotch-drinking buddy, and ask him if he wants to blow the joint and join me for dinner at this awesome Italian restaurant down the street.
As we're heading out, a bunch of people start saying, "I love your work," to my new buddy with the tacky-but-Prada eyeglasses.
It clicks. I now realize that the dude is Rick Warren. [Rick Warren on gay marriage: 'The Church must not cave in']
So (me being me and all), I say to him, "Rick, I just want to say I've been married to an awesome guy for almost thirty years, and I want your respect."
"I can't do that," he replies. "It's not biblical. Scripture says—"
"Rick, stop. I know scripture. I went to Sunday school, I went to Hume Lake Christian Camp, where, if you haven't accepted Jesus by Thursday night, they threaten you, in excruciating and terror-inducing detail, with eternal damnation and hellfire. I went to Westmont College. Do not throw scripture at me."
So Rick holds his tongue (!).
As we're headed out the door of the Vatican City conference on our way to the Italian restaurant, I say to him, "Dude, you need to make room for everyone, and understand that scripture can be read and interpreted in numerous ways. You've got to make room for everyone, Rick. If you don't, then when the Rapture comes, you will be Left Behind."
Warren stops dead in his tracks, an "Oh, my God, what if he's right?" expression on his face. He's so scared that he's rendered speechless.
End of dream. I wake up. I'm super happy. Because I said the truth to Rick Warren, and he heard it.
When he realized that his cruel clinging to the condemnation of LGBT people would damn him forever, Rick Warren was stunned into silence.
It was only a dream, I know.
But I have a dream.
---
Previous guest posts of Mike's:
A Good Week to Hate Christians
Would You Confront a Pastor as This Man Did?
A gay reader confronts a Catholic Bishop at an airport 
---
Image courtesy of Photoshop ninja Dan Wilkinson of Cooling Twilight and Unfundamentalist Christians.
---
I'm the author of UNFAIR: Christians and the LGBT Question:
Paperback. Kindle. NookBook. Signed and inscribed by me according to your direction.