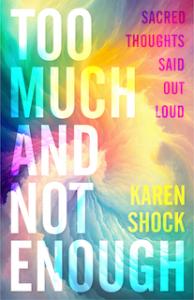 Less than a week out from my book release.
All.The.Feels.
One minute I am excited.
The next?
I want to crawl into a hole.
Under a table.
One minute time is flying by.
And the next?
Standing still.
My life.
Written down.
In book form.
For everyone to see.
Anyone can order it.
Sit in the privacy of their own home.
And read about me.
My thoughts.
My dreams.
My weaknesses.
My fears.
All out there.
Ready to be read.
And most of the time my brain is ready for it to be read.
I've been ready.
This endeavor has taken almost a full year.
And a lifetime.
It's like I'm giving birth.
Being induced next Tuesday.
April the 18th.
This baby is ready to come on out.
Meet the world.
Haha.
That's just it.
My thoughts go big.
"The world?"
What if only a few people buy it?
What if my life isn't really all that interesting?
Who the heck am I to think it is?
Who am I to think I have something worth reading?
Don't get your hopes up, Karen.
What goes up must come down.
Stay right here.
Be grateful for today.
No telling what tomorrow will bring.
No certainty in what will happen with this little book.
I mean…
She is cute though.
At least I think she is.
Of course I do.
She's mine.
I am bias.
These days are the vulnerable ones.
Just knowing I'm putting myself out there.
My work.
My life.
My story.
All out there on display.
Pretty much just asking to be judged.
Reviewed.
Talked about.
Or worse yet?
Not talked about.
What if no-one cares?
Deep breath.
There are things to do today.
A lawn to be mowed.
Windows to be cleaned.
Easter decor to be put away.
All while taking some big deep breaths.
No sense staring at the pot.
It will boil.
And my prayer while I'm mowing the lawn?
Is that when people do read my story?
They will relate more than judge.
And they will know they are not alone.
And they will learn to take deep breaths.
And be grateful for it all.
Yes…
For today…
Thankfully breathing deep.