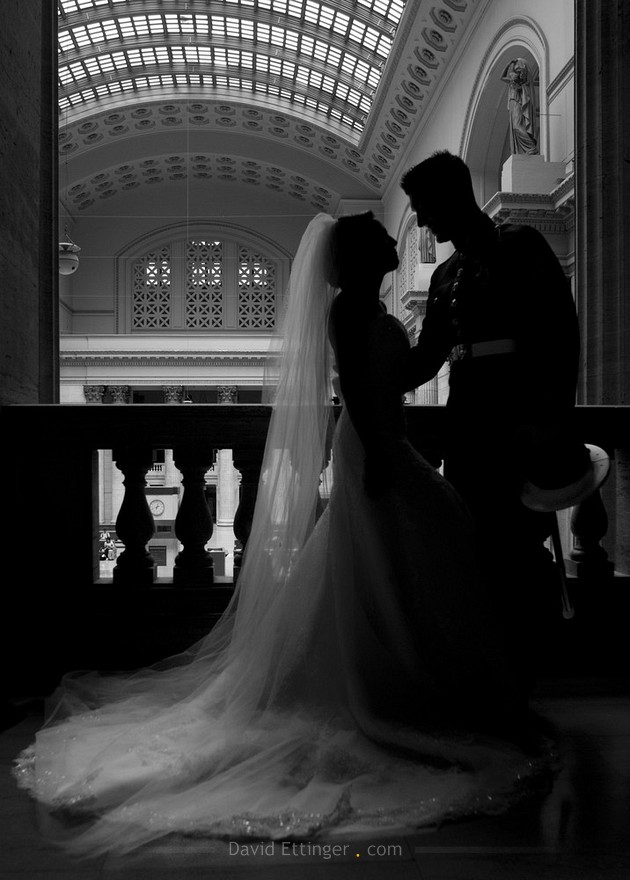 She's the first person at church to greet everyone by name. The Veteran's Wife commits the names of visitors to memory; just like she did that old hymn she's so fond of quoting:
God has not promised skies always blue,
Flower strewn pathways all our lives through;
God has not promised sun without rain,
Joy without sorrow, peace without pain.
God has not promised we shall not know
Toil and temptation, trouble and woe;
He has not told us we shall not bear
Many a burden, many a care.
God has not promised smooth roads and wide,
Swift, easy travel, needing no guide;
Never a mountain rocky and steep,
Never a river turbid and deep.
But God has promised strength for the day,
Rest for the labor, light for the way,
Grace for the trials, help from above,
Unfailing sympathy, undying love.
From the comfort of a blue lounger in the home she shares with her husband of sixty-six years, she recites that hymn word-for-word. A ceiling fan in the adjacent dining room sucks air through the screen door from the back porch, shaded and cooled by lush grape vines. In this arid land of wheat fields and watermelons, August days can wither a person.
The Veteran's Wife has woken from a Sunday afternoon nap without a single white hair out-of-place. She's wearing white linen pants, and a blue-flowered dress shirt, unbuttoned over a simple white top. There's a yellow-ribbon with a photo of her soldier granddaughter pinned to her blouse. The girl is serving a tour of duty in Iraq.
The Veteran's Wife has on a tinge of pink lipstick. She is girlish thin still, despite birthing five children – three boys and two girls. Her skin has aged in that way of gentle women, a few creases here and there, but nothing folded. She embodies a translucent beauty, a light that seeps from her pores, as if she'd captured the moon and swallowed it whole like a Sweet-tart.
There's a painting of an ocean wave hanging on the white brick of the fireplace, and a collection of dozens and dozens of tiny spoons hanging by the tall hutch, gifts from her husband's military travels.
Theirs was a wartime wedding. The year was 1945. She was 18 and newly graduated from high school.
"You couldn't get anything. Everything was rationed," she says. Her green eyes spark in recollection. "I borrowed a coupon for my shoes. They were white ankle-straps but made of canvas." She laughs at the thought of a girl wearing white canvas shoes to a fancy affair like a church wedding. "We even borrowed a gas coupon to go on our honeymoon."
The Veteran's Wife pushes up on the chair arms and says, "Here, lemme show you." She walks behind the couch and takes a wooden-framed photo off the wall. Surprised to find it so dusty, she says she's going to have to get after her cleaning lady. "She was just here on Friday."
"See why I fell for him?" she says, handing over her wedding portrait. "Everyone always said Harold looked like Rock Hudson or Jeff Chandler." The photo was taken at the florist because in those days they couldn't find a photographer to come to the church.
It's true, her groom was gorgeous. Wavy-thick hair and full lips, broad-shoulder and cut-jaw. And The Veteran's Wife was every bit the starlet, with shoulder-length dark-brunette hair and a waist so bitty even Scarlett O'Hara would have been envious.
You are compelled to ask, "Is everybody in your family so beautiful?"
"No," she's quick to say. "Our three boys were never as handsome as their father."
And you laugh because for all her nurturing ways, she does not indulge pretenses, hers or yours.
Had they stayed in Orange County, California where they'd both grown up, The Veteran's Wife and her man just might have had a career in movies. Their romance has certainly been the stuff of one.
They met as toddlers in the church nursery. Somewhere packed away in the house on the corner is a photo of the two of them from their preschool days at the Santa Ana Church of the Nazarene. She was the second-born girl of four children. Her parents' marriage had been an arranged affair.
"He was 36 and Mother was 18 when they married. It wasn't who she wanted to marry. She could have done better. Daddy ruled the roost. I don't think he ever appreciated mother. She had so many talents and was such a woman of faith."
But he was always a good provider.
"Daddy was a linotype operator. He went off to Chicago where he learned to do typesetting and how to repair machines. So he always had work even during the war. Especially then because the newspapers were always putting out Extras and Daddy had to typeset them."
When the war came along, all the women went to work.
"Mother became a riveter at Douglas Aircraft in Long Beach."
For a time, right after the devastating fire that destroyed the brand new home her daddy built with his own hammer and saw, they left Santa Ana and the Nazarene Church. They moved off to Orange City and attended a Mennonite Church. It was her daddy's decision. His brothers went there, and although he wasn't much of a church-going man himself, that fire had put him in a second-guessing frame of mind.
Oddly enough they'd been at the Santa Ana church for a Halloween Festival when the fire broke out. Burned up everything the young family owned, including all the laundry, which had been brought in from the clothes line and placed across the bed that very afternoon. The Veteran's Wife was only six but still remembers the flames shooting up from the house that her father built.
"We had two cars – a little Essex and a big Willys-Knight, a luxury car of its kind. The Willys-Knight was in the garage of that house. My brother's crib was in ashes. It was ll p.m when we got home and you could see the flames from two blocks away. Something went wrong with the wiring."
Harold's family had moved off, too. A lot further east, though. His daddy was a carpenter and a part-time preacher. They'd moved away for awhile, to Oklahoma, so his daddy could fill the pastorate at the Pilgrims Holiness Church. But when they returned to California they came right back to Santa Ana Church of the Nazarene, and when he saw her grown-up 14-year old self sashaying into church the way teen girls do, he turned to his buddy and announced, "That's the girl I'm going to marry."
Sure enough.
The Veteran's Wife had a crush on the boy across the street but that was nothing really.
"Puppy love," she says now, with a wave of her elegant hand. She has the hands of a painter, of a pianist, of a sculptor. Mother hands that have held books open, wiped blood from busted lips, soothed the fevered forehead, scraped the skin off more taters than she cares to count, and cupped the tears that flowed from her own broken-hearted prayers.
Her daddy didn't give a hoot if Harold was a church boy, he wasn't keen on his daughter dating anyone, especially not a fellow the likes of Harold. He was a little too smooth-talking, far too handsome and he had a hankering for hot rods.
"My parents argued quite a bit over it. Harold was the Fonzi of Tustin High. A real cool cat who drove a red Model A."
Their dates revolved around church. Both of them were there every time the doors opened. It seemed like the whole church family expected them to marry as soon as she graduated high school.
In 1941, the couple was chosen to play Mary and Joseph in the Christmas pageant. During practice one night, they went out to the car. Harold had made her a necklace from shells he'd collected diving off Catalina Island. He put that necklace on her as a sign to say, "This is my girl. We're going steady now." Moments later, the D.J. on the radio announced that Pearl Harbor had just been bombed.
She remembers the shock of it still. Complete and utter disbelief. How could this be? Who attacks the United States of America? And then the really important question – what would happen to their youth group?
Every boy went to war. They became a youth group of girls only. Even Harold, who had a bad enough heart murmur that he was turned down for service, joined the Merchant Marines.
"Our world changed that night," she says. She put her hand to her forehead as if the remembering of it all still pains her. "We were on the coast so we had block wardens come around, checking to make sure our homes were dark. We traded in our shades for dark green shades. We had to be in before dark, with no lights on. If there was a leakage of light, the warden would tell us and we'd have to pin it so no light showed. There were eight boys in Harold's family and seven went off to war. All of them came back."
She wonders why, even now, why some mothers like Harold's got all her boys back and others didn't. "Who can say why?"
Harold's mama was a praying woman. Once when drought hit Texas, she woke up little Harold from his slumber and had him go with her to the garden to pray for rain. Uneducated in ways of books except the Bible, she took the scriptures literally. So when she read "If two of you agree on earth concerning anything that they ask, it will be done by My Father in heaven." (Matthew 20:19), she believed that she had to have somebody with her when she was making a request from God.
The newspaper man came out and took her photo when the rains came. The only garden that got any wetness at all was hers. Maybe she should have prayed for the neighbors, too, heh?
It was the prayers of women like Harold's mama and her own mother that shaped her into the godly woman she became. The Veteran's Wife was 7-years old when she prayed her first prayer of faith. Leaning forward, she takes a sip of iced tea and continues.
"Pastor gave an altar call. I thought I was such a terrible sinner although the worst sin I had done at that age was poking holes in the oranges in my grandmother's orchard. We'd lie on the ground and squeeze the juice out and leave the orange hanging on the tree. My grandmother wondered why her oranges were dried up. I thought I was so sinful."
The world she and Harold grew up in didn't have all the temptations that their own children would face. Oh. Sure. They faced their wars and their own personal battles. She was a military wife, after all.
They'd married on a Sunday night, following the evening service. The war and his tour of duty with the Merchant Marines were coming to a close. She'd had everything ready to go, her dress, those shoes, and fake flowers from the florist. All she needed was him to come home.
There was very little warning. He just showed up one weekend, ready to marry. So they enlisted the help of the preacher, and the deacons and the church family. His brother came from L.A. wearing the exact same Brooks Brothers suit as the groom. So little to choose from during the war that required the whole country to sacrifice. Harold bought a car for $300 that turned out to be worth less than that. The gearshift came off in his hands as they readied to leave the church.
The plan had been to head to Lake Arrowhead but the car was sputtering so bad, Harold had to pull over. He found a rag in the gas tank. They made it as far as Arlington and spent the first night of their honeymoon there. The Veteran's Wife was sorely disappointed when the hotel clerk didn't even ask if they were married.
"I wanted somebody to challenge me on it," she says. "So I could say, Yes! We're married!"
They finally made it to Lake Arrowhead for a brief honeymoon but she still has the photo of her husband pouring water from his boot into the radiator of that car she calls The Lemon.
They moved a lot during those sixty-six years as Harold pursued a degree in civil engineering and a Masters in Business at Oklahoma State and then joined the Army. They did two stints at Fort Stewart, Georgia, a distasteful experience altogether for The Veteran's Wife. She missed California, her mom, her sisters.
But the hardest of all tours was the one she did when Harold was in Vietnam. Birthing babies did not come easy for her the way it had for Harold's mother. The Veteran's Wife was a bleeder. Harold had been on the East Coast when she'd had her second child. She had to take a cab to the hospital. But he was home with her, back in California again, when she gave birth to that last boy.
The birth liked to have killed her, she lost three pints of blood. Even the doctor, who was performing a hysterectomy and appendectomy following the traumatic birth, didn't think she was going to make it. Harold, her mama and her mother-in-law were in the nearby waiting room, praying fervently. The doctor said later that a presence of light came into the room and he just knew then that she was going to be okay.
Three weeks later Harold shipped out to Vietnam.
"It was so terrible," The Veteran's Wife says as she shakes her head in that disbelieving way. All the worry about Harold and all those kids to care for, and a new house with a lawn she had to water twice a day.
And tours in Vietnam aren't like today. She would write Harold once a week but only hear back from him about once a month. There was no email, no Skype, no instant messaging. Just old-fashioned red-and-white air mail letters.
"It was terrible. I was so very lonely."
Knowing that this was going to be her last child, The Veteran's Wife insisted on nursing the boy until he was seven months old. After she quit, he was hospitalized with pneumonia. She ended up hospitalized with fatigue and when the Red Cross tracked Harold down he was in the hospital in the Philippines with hepatitis.
Nobody escapes trying times, not even God-loving people. It took some practice before she learned to answer adversity with praise.
"When the fence is down and the cows are out, yet, will I praise the Lord," says The Veteran's Wife.
She's had a lot of experiences with that fence being down and those cows being out, literally and figuratively. There are times, even now, after all these years of walking in obedience to the God she serves, when this church lady feels like a failure.
Why? you ask. Stunned by the notion that a woman so saintly, a woman whose lifelong motto has been "Kill 'em with kindness" would ever feel like a failure. Not now. Not after all the surviving she has done.
"It's mostly disappointment over my children and their relationship with God. They didn't turn out like I wanted them to. They are coming around some and I appreciate that but I just had to be prayed over for a broken heart."
Two of the five have battled addictions. They are all clean now, though, thanks in no small part to the faithful prayers of their mama and daddy.
Still, it breaks a praying woman to see her children stray from the Lord she loves.
She wonders why, and sometimes, in the darkness, she blames herself. She knows that's not why – there's a reason why they call it a personal relationship with Jesus Christ. Still, there are times when all mothers fail to be who their children need them to be. A nurturing mother has the hardest of times forgiving herself those infractions. A nurturing mother always feels that she could have done better, should have done better. She has to learn to let go of her children. That's the hardest of all things for a nurturing mother to do.
Scriptures help. She often prays Habakkuk 3: 18-20 over her family, which now includes that granddaughter in Iraq and 19 other grandchildren and three great-grandchildren: From memory once again, she leans back into the lounger and quotes: For though the fig-tree shall not flourish, neither shall fruit be in the vines; the labor of the olive shall fail, and the fields shall yield no food, the flock shall be cut off from the fold, and there shall be no heard in the stalls, yet, I will rejoice in Jehovah. I will joy in the God of my salvation. Jehovah, the Lord, is my strength and he makes my feet like hinds' feet, and he will make me to walk upon my high places.
The promises of God for the children of God.
She's been clinging to the Word since August 8, 1972, when, out of desperation for a pot-smoking son, she beat a path to the altar again.
"I will never forget that date," she says. "That's the night I tore down to the altar and was showered with the joy of the Lord. I knew I had a real experience with God and I know he knew it, too."
From that point on she started devouring the Word.
"I had a Good News Bible, one of those paperback bibles that I took with me everywhere I went – to the swimming pool, to the commissary, to the dry cleaners, to the ball park."
As her own mother lay dying, she lifted her hand from her death bed and told The Veteran's Wife: "There are heavenly host hovering over us all the time. Right here."
She thinks often upon her mother's death-bed proclamation. "I pray for my children and wait upon the Lord. I remind him he's the only one who can help them and I'm happy to leave everything in his hands."
It helps to know that at all times a heavenly host is just an arm's reach away from our children.