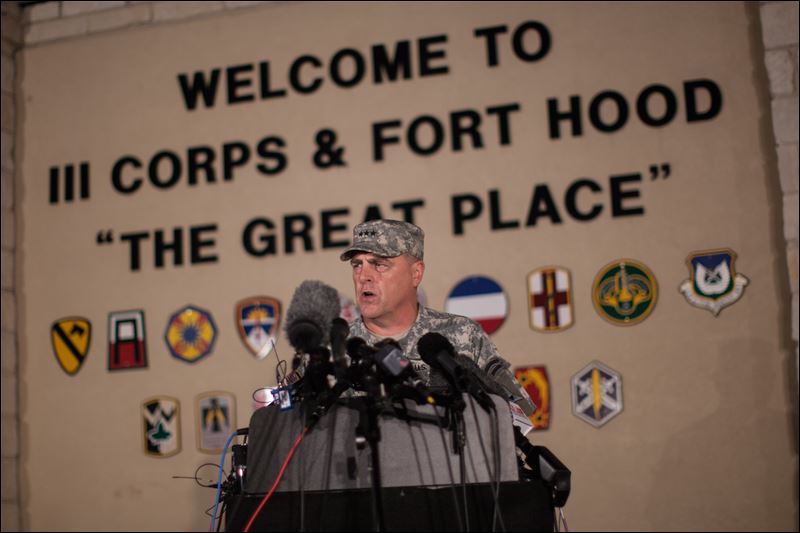 Not a direct precipitating factor.
That's the official word out of Fort Hood.
Lt. General Mark Milley said the shooter – Ivan Lopez – mental condition was not a direct precipitating factor. Lopez went on a rampage, killing his fellow soldiers, because of an escalating argument, Milley explained.
Lopez, 34, an Iraq War veteran, had requested a leave pass. The First Sergeant denied him that leave and then began to ream him out over a few things, perhaps deservedly so. Lopez responded by getting into his vehicle, taking the .45 calibre handgun he'd recently purchased and firing at anyone who got in his path. When it was over, Lopez had killed three fellow soldiers and injured 16 others.
Then this young father turned the gun on himself.
But the Army wants you – citizens of the US – to know this one thing: Ivan Lopez's mental condition had nothing whatsoever to do with the fact that he opened fire on his fellow soldiers. Men and women he had taken an oath to protect.
Ivan Lopez's mental condition was not a precipitating factor to the killing spree.
As one source explained: "It was all over a f—g leave pass."
That's it.
Just a regular old-fashioned heated argument between a soldier and his superior.
Nothing more.
Forget that Ivan Lopez had served in one more of those costly wars Congress wages willy-nilly.
Forget that Ivan Lopez was undergoing evaluation to determine if he was suffering from Post-Traumatic Stress Disorder.
The Army wants you to understand none of that matters.
The Army has long insisted that none of that matters.
The mental state of soldiers returning from war is really of very little concern to the Army.
The official word from Fort Hood, from Lt. Gen. Milley is that whatever issues Lopez had prior to the shooting did not in any way contribute to the shooting spree.
Lopez was simply pissed off that he didn't get what he wanted so he opened fire on his fellow soldiers.
But, trust the Army, 
Post-Traumatic wasn't at play here. 
Lopez's mental state had nothing to do with this, said Lt. Gen. Milley. It wasn't a mitigating factor. He was being treated for his behavior and mental health issues. Lopez had diagnosed himself with traumatic brain injury, but Milley insisted Lopez was never wounded in combat. 
Here's some other things the military wishes US citizens would just soon forget:
– Twenty-two soldiers a day are taking their own lives.
– One in five US soldiers suffered from depression, panic disorder or some other mental illness prior to enlisting in the military. Exceptions to military standards were made during the height of the wars in Iraq and Afghanistan when the military needed warm bodies who could carry a gun. This is a common practice that reaches far back in US history.
– A study by Ronald Kessler, Ph.D, of Harvard Medical School, Boston found that the most common disorders in soldiers included ADHD and intermittent explosive disorder. Almost 85 percent of those who self-identified as having had a mental health disorder reported that the problem began prior to joining the Army.
– Suicide rates for those who served in Iraq or Afghanistan doubled between 2004 and 2009, to more than 30 suicides per 100,000.
– Suicide rates for those never deployed tripled during the same time period.
No explanation for that is proffered, but the Army and Lt. Gen. Milley would probably want you to know that it has absolutely nothing to do with their mental state.
You can take the Army's word for it.
Or you can demand better treatment for our returning troops.
Karen Spears Zacharias is a Gold-Star daughter and author of After the Flag has been Folded.