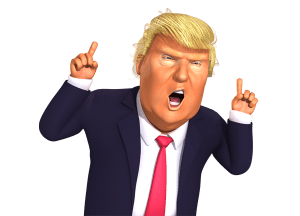 No joke! I've blogged about some of Donald Trump's phobias. He readily admits that he has at least one, that he is a clean freak. Recently, it became more known that he has a phobia for people throwing fruit at him. He said in one of his political rallies, in 2015, that "doing fruit," meaning throwing it, is "dangerous stuff." He further said, "If you see someone getting ready to throw a tomato, just knock the crap out of them, would you? A tomato, a pineapple, a lot of other things they throw. . . . Because if that happens, you can be killed if that happens." Some of the crazy stuff about this guy who was actually president of the USA, you couldn't make it up if you tried.
Now we learned three days ago that Trump also fears pies being thrown at him. Michael Cohen–Trump's former personal attorney and "fix it" man for then years–revealed this tidbit of information about his former boss while sitting for a deposition last year in one of the many lawsuits against Donald Trump. The case involves his body guard roughing up two peaceful demonstrators at Trump's supposed instruction.
At this deposition, Cohen said that in 2015, when Trump saw on TV Bill Gates, co-founder and former CEO of Microsoft, get a cream pie thrown in his face, "For some reason that upset Mr. Trump terribly. We were all instructed that if somebody was to ever throw anything at him, that if that person didn't end up in the hospital, we'd all be fired."
Cohen–who paid off the porn star Stormy for her silence at Trump's direction, turned against Trump, and went to prison for it–continued in his deposition, "It wasn't just one time. It was an ongoing and regular thing. As he [Trump] would go out to various different open venues, he would always remind Keith [Schiller] to keep his eyes open. He never would turn around and say, 'If anyone throws a rock or a bottle.' It's always a pie. He always brought up that pie thing."
So, Donald Trump fears getting fruit, such as tomatoes or bananas, thrown at him, but he also fears getting a cream pie in the face. Yet there has never been any admission by him and any report by the media that Donald Trump has ever been the victim of someone throwing fruit or a pie at him, let alone it hitting him.
Well, Trump fears fruit and pies getting thrown at him, yet he will speak tomorrow in my old hometown of Houston to the National Rifle Association, which has been one of his main political supporters. And Uvalde, Texas, just two days ago suffered an 18-year old gunman doing a mass shooting at a school of ten-year olds, killing 19 of them and two teachers with a handgun and assault rifle he had just purchased.
Donald Trump is sick in the head, being at least a narcissist! He should have canceled this appearance before the NRA. Oh, and they just announced that no one will be allowed to carry a gun into this rally. What about fruit or a luscious cream pie?