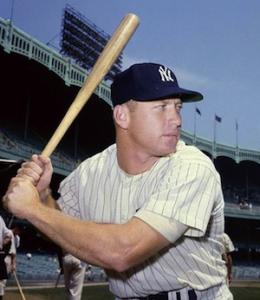 A mint condition, 1952 Topps Mickey Mantle baseball card just sold at Heritage Auction for a whopping $12.6 million, the highest amount ever of any sports card. The originally sold for either one penny or one nickel. Not a bad ROI–Return On Investment. Chris Ivy, the director of the auction, said, "We always knew this card would shatter records and expectations."
I'd like to hear what Mickey Mantle would say if he knew one of his baseball cards sold for $12.6 million. I'm sure he'd have something interesting to say about it, probably something funny.
I knew Mickey Mantle. He was a really nice guy. And he loved to play golf. During his retirement, Mickey lived in Dallas and was a member of Preston Trail Golf Course. That is where the PGA Tour used to conduct the Dallas Open. It was renamed the Byron Nelson Golf Classic in 1968. Mickey played golf at Preston Trail all the time. You could often find him either on the golf course, in the clubhouse grill, or maybe playing a little Gin Rummy in the locker room.
One day I was Mickey Mantle's bodyguard! No joke! Well, sort of. When I was a college freshman at the University of Houston, in 1960, there was a one-day celebrity golf exhibition at the new Champions Golf Club located on the north side of the City of Houston. It had been built by Houstonians and former PGA Tour stars Jimmy Demaret (3x Masters champ) and Jacky Burke (won 4 consecutive PGA Tour tournaments). Those two played 18 holes of golf at their new golf course in a single pairing with comedian Jerry Lewis and Yankees baseball star Mickey Mantle.
Whoever was running this show phoned our golf coach at UofH, Dave Williams, saying they wanted four boys from our golf team to be escorts for these participants. (I think it was actually a sixsome.) I was selected to be Mickey Mantle's escort. But I like to say I was Mickey Mantle's bodyguard. It just sounds better.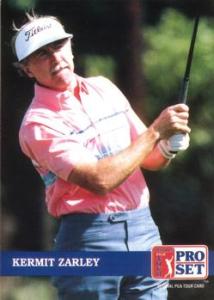 Mickey Mantle really made an impression on me with his golf swing. The Yankee slugger could hit a golf ball a long ways without swinging hard. I couldn't believe how smooth and simple he swung the golf club, yet the ball went so much farther than I thought it would go by watching him swing. It just showed me that efficiency in a golf swing produces more power than it looks.
The value of sports cards have been booming lately. Yet, I still wonder if mine will ever be worth more than a few dollars. I see it is now being sold by one website for $8.06. Pretty far back of $12.6 million.