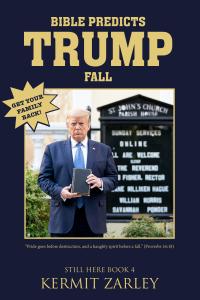 I blogged about the Trump presidency over 300 times while it was happening. In many of those posts, I quoted from the Bible's wisdom literature and sayings of Jesus, applying them to President Trump. The main one was, "Pride goes before destruction, and a haughty spirit before a fall" (Proverbs 16:18). I then strung more than half of those posts together to form most of my book, Bible Predicts Trump Fall.
I've never been that much of a political person. However, I have always been interested in what's happening in the world. As I have often said and sometimes written, "I've been a newspaper guy all of my life. But I haven't just read the sports page; I've also read the front page to learn what is happening in the world."
Yet, I voted almost always for Republicans during my life until recently. I began to change a few years after the turn of the century. Consequently, I wrote the following posts during Trump's presidency which are now in this book: "The Black White House Is Turning Me into a Democrat" (5/10/2017); "The Republican Party's Reputation Is Shot to Hell" (4/23/2019); "Republicans: Three Strikes and You're Out" (10/4/2019); "Republicans Will Do as Trump: Shoot Themselves in the Foot" (1/5/2021). Notice that that last post was the day before the Capitol Riot on January 6, 2021.
A new study has just been published in The Washington Post today and is reported in Newsweek entitled "Over a third of info shared by GOP candidates is misinformation: Report." This article relates that this new study is an analysis by two researchers at New York University–Maggie Macdonald and Megan A. Brown. Newsweek reports that their analysis shows, "During the 2020 election cycle, Republican congressional candidates shared links to unreliable news sources about 8 percent of the time, compared to a rate of less than 1 percent for Democratic candidates. In the current election cycle, however, Republicans have shared misinformation at a 36 percent rate, compared to 2 percent for Democrats."
In sum, two years ago Republican, congressional candidates shared media links involving misinformation about ten times more often than their Democratic counterparts did. But in this 2022 mid-term election cycle, Republicans have been doing that 18 times more than Democrats have. Thus, Republicans are sharing misinformation from media links at an astounding, and even increasing, rate compared to that of Democrats. All of this affirms what I was blogging about Republicans during the Trump presidency and is now in my book.
How did these two female researchers arrive at such conclusions that are devastating to the veracity, and thus integrity, of the Republican Party? They examined the Facebook posts of political candidates that contained quotes from websites during January to mid-July, 2020, as monitored by social media app Crowdtangle, and compared them to ratings of these websites by Newsguard, which evaluates the veracity of information generally posted by these websites. It sounds like a pretty compelling analysis which affirms what I've been saying.