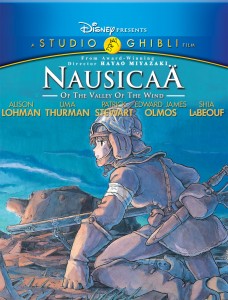 The pop culture website io9 has a post by Rob Bricken ranking the greatest characters from Hayao Miyazaki movies. It's a good list as these things go, but I would have included Captain Dola, the leader and mother of a gang of sky pirates in Castle in the Sky. She's formidable and funny, a hard-mannered airship captain with a soft heart who adores her treasure but loves her family and friends more.
Quibbles aside, my only serious criticism of the ranking is Bricken's description of Nausicaä as a not exactly complex savior of the world. Far from simple, the heroine of Nausicaä of the Valley of the Wind has remarkable breadth and depth of character. She's a skilled and beloved leader, a first class scientist, a capable engineer, a pilot and an explorer. In one of my favorite scenes, Nausicaä calms her friends' fears of a toxic jungle by removing her mask and momentarily exposing herself to the toxins. She's able to lead them to safety by showing them what they need to see–that they'll be all right.
Nausicaä is also a trained and ferocious warrior who, upon seeing her father murdered by invading soldiers, falls into a battle rage that would make Achilles' jaw drop. Heedless of the potential harm to herself or any retaliation the invaders might take against her people, Nausicaä brutally slays a roomful of soldiers and is about to continue the carnage when a wise friend, himself an accomplished swordsman, jumps between her and her enemies and, with quiet words, quells her anger. At the sight of the dead and of her friend's blood dripping from her sword, Nausicaä undergoes a radical moral transformation. She will no longer kill, and she will work to stop the killing of others, whether they are friend or foe.
Nausicaä knows first hand the efficiency of killing and what it can accomplish. She also too well knows the cost, both to the dead and to those who bring death. For her, that cost is too high. Instead of adopting the principle that violence is regrettable but sometimes justified, Nausicaä turns pacifist. She will seek harmony and peace between aggressors, even at the cost of her life, even with the risk to her people, even though her efforts seem absurd. She has faith in the impossible and she makes it happen. By the end, she could have easily failed, but she didn't. She risked everything, and she won. I'd say she's plenty complex, thank you very much.
FYI: I wrote about the religious themes of Nausicaä of the Valley of the Wind here.