Over the past few weeks, I've been — like most of you — in a whirlwind of Catholic news and my own busyness. While the eyes of the world were on the Conclave, election and installation of Pope Francis, I wanted to concentrate most of my blogging here on keeping up with that news.
But now it's time to share with you a very special experience I had attending the Mid-Atlantic Congress in Baltimore from March 7th through the 9th. It was my great honor to not only attend, but also to "live tweet" the events both on my personal account and for the official Mid-Atlantic Congress Twitter account.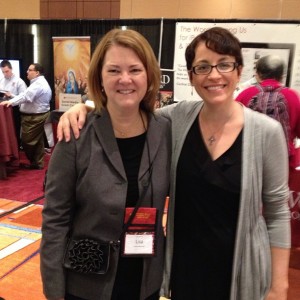 Now that I've returned home, I want to compliment my live tweets (centered here at the #MACongress hashtag) with a series of blog posts on the event. Over the next week, I will share a post for each of the sessions I attended to introduce you to the amazing speakers in attendance and to the themes they shared at this event for Catholic leaders.
Before we jump into those, I wanted to share some basic information about the scope of the event — for this purpose I'm going to share the official recap from the Association of Catholic Publishers, the organizing force behind the Mid-Atlantic Congress:
BALTIMORE, MD (March 15, 2013)—The 2013 Mid-Atlantic Congress (MAC) was hailed a success by its organizers and co-sponsors, the Association of Catholic Publishers (ACP) and the Department of Evangelization of the Archdiocese of Baltimore. Despite weather that shut down airports in Chicago and Baltimore as participants, speakers, and exhibitors were making their way to MAC, numbers were strong and registrants reaped the benefits of their diligent journey to the Baltimore Hilton.

"Though the predictions were ominous, we saw nothing but smiles of joy and heard sighs of relief as attendees were greeted by the hotel staff and MAC volunteers once they arrived," noted Therese Brown, executive director of the ACP and general coordinator of the MAC. "Those who persevered and made seemed very energized and renewed by the speakers, exhibitors, networking, and sessions."

One of the new elements of the MAC was a day-long session for bishops only led by new partner, Leadership Roundtable. Through a consultative process, the bishops identified those leadership and management topics that were of most interest to them. Facilitators from Roundtable led large and small group sessions. The bishops also had the opportunity to interact with the Congress participants during lunch and the afternoon's resource and networking time.

In the end, there were 1,300 people participating, representing 23 states and 55 dioceses.

The detailed final statistics (those who registered and showed up) are as follows.

| | |
| --- | --- |
| Attendees | Number |
| Registrants | 941 |
| Volunteers | 53 |
| Exhibitors | 229 |
| Speakers | 77 |
| TOTAL | 1,300 |

| | |
| --- | --- |
| Type of Attendees | Number |
| Parish leader | 645 |
| School leader | 91 |
| Diocesan leader | 120 |
| Organizational leader | 58 |
| Did not select a type | 194 |

Registration by state and diocese is as follows.

| | |
| --- | --- |
| State | Number |
| California | 1 |
| Connecticut | 7 |
| Delaware | 14 |
| District of Columbia | 38 |
| Florida | 7 |
| Illinois | 6 |
| Indiana | 3 |
| Kentucky | 1 |
| Manitoba | 1 |
| Maryland | 623 |
| Massachusetts | 6 |
| New Hampshire | 1 |
| New Jersey | 120 |
| New York | 74 |
| North Carolina | 22 |
| Ohio | 10 |
| Oklahoma | 2 |
| Ontario | 1 |
| Pennsylvania | 45 |
| South Carolina | 4 |
| Tennessee | 1 |
| Texas | 4 |
| Virginia | 103 |
| Washington | 1 |
| West Virginia | 47 |
| Wisconsin | 2 |