Greetings from New York! Sweet Tweets is late today — but not because of contributor and friend John Clem, the Director and Media Minister at Catholic Web Services (http://catholicws.com/). He had them in bright and early! It's late because this mom was out partying with her boys until 3:30 am. Not the hours I'm used to keeping, but so fun! I'm very happy for John's compilation of the best tweets of this week since I've missed so much while on vacation. Here are the highlights for of "not to be missed" stories from this past week (July 19 – July 26):
Papal Tweet: The measure of the greatness of a society is found in the way it treats those most in need, those who have nothing apart from their poverty. (Pope Francis)
Be part of a movie for WYD: The Social Movie (Aleteia). http://ow.ly/n8zgE
The Catholic Origins Of 5 Alcoholic Beverages | uCatholic http://ow.ly/n8ykM
Video: Heatwave calls Catholics into action (CNS) http://youtu.be/Be4KcoQ7gTk
Inspiring video: What It's Like to Have a Brother with Autism: by Spencer Timmes http://ow.ly/n9ayW
Gentlemen Don't Text and Eat | The Catholic Gentleman (Etiquette & Technology) http://ow.ly/n9ddR

New Website & Podcasts: CRADIO | Catholic Radio & Podcasts Online from Australia http://ow.ly/n9xjE
Dowload the Official Rio 2013 Liturgy & Prayer Book | World Youth Day Central http://ow.ly/n9xtx
Habitat for Humanity — Charlottesville | Call To Holiness http://ow.ly/nabKP
Pope Francis Forms Ground-Breaking New Lay Committee | Dating God http://ow.ly/nb48p
Music video is a hit with Pope Francis & the Swiss Guard | popenewstoday http://ow.ly/nb7lp
L'Arche has been led by 'beautiful, gentle hand of God,' says Vanier – The Catholic Weekly http://ow.ly/nbgPs http://ow.ly/nbh56

Who is Marshall McLuhan, and why should Catholics know him? | Inspired Angela http://ow.ly/nbQmQ
CNS STORY: During flight, pope talks about importance of giving young people jobs http://ow.ly/nbXVM http://ow.ly/i/2FJYD
Francis Responds to 3-Year-Old's Letter | ZENIT – The World Seen From Rome http://ow.ly/nc1kQ http://ow.ly/i/2FKHA
Brazilian family vineyards to provide wine for pope in Aparecida (Catholic Register) http://ow.ly/ncIQw
Medals help Brooklyn-Queens youth spread powerful message : Currents http://ow.ly/ncTtW http://praywiththepope.org/

Pope Francis: arrival speech in Rio (full text)–Vatican Radio http://ow.ly/ndlYk
What do Pope Francis, WYD, Aparecida, and the New Evangelization have in common? | Salt + Light Blog http://ow.ly/1ZQMys
Does Natural Family Planning work? Yes, it does (The Catholic Virginian) http://ow.ly/ndKeu
Photos: Pope Francis in Brazil – The Washington Post http://ow.ly/neEkf
Catholic Journalists Head to Rwanda (CRS-Faithworks) http://ow.ly/neGZG
Good Resource: Family Media Agreements – Faith and Safety http://ow.ly/nf0tg

Excellent Video: The Gift of Priesthood (Archdiocese of Cincinnati) http://youtu.be/FCWFKe5w-WA
Video: Opening report from Fr. Roderick in Rio for World Youth Day (SQPN) http://ow.ly/nfmOF
The Pope's Prophetic Option for the Poor – (Fr. Dwight Longenecker) Aleteia http://ow.ly/ http://ow.ly/i/2GBOQ
Holy smoke! The new pope tripled global Internet traffic. (Washington Post WonkBlog) http://ow.ly/nfpM3
Video: Vlog with Fr. Roderick giving a tour of the Press Center in Rio. http://youtu.be/SkcAbZiwndg
USCCB Blog: When Your Phone Becomes Your Prayer Book (Sister Mary Ann Walsh, RSM) http://ow.ly/ng1VA
Video: Cardinal Dolan – Does WYD Work? (CNS) http://youtu.be/HcndUVv6XkA
Pope 'deeply moved' by train crash in Spain :: Catholic News Agency (CNA) — Prayers for the victims and families. http://ow.ly/njtJO
Twiplomacy: Pope is most influential, second most-followed world leader on Twitter (CNS) http://ow.ly/njLQm http://ow.ly/i/2HJkM
Pope, Among Poor, Speaks of Social Justice | (Fr. James Martin, SJ) America Magazine http://ow.ly/njwkM
Video: Entire Welcoming Ceremony for World Youth Day 2013 #wyd2013http://ow.ly/nkGwy
Video being shown at WYD: World Youth Day Talk: Discovering your vocation (Fr. James Martin, SJ) http://ow.ly/nipCD
Now What?: Advice for After a Youth Conference – http://LifeTeen.com for Catholic Youth http://ow.ly/nfaR2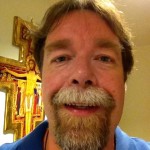 John Clem is the Director and Media Minister at Catholic Web Services (http://catholicws.com/). John is currently in formation to join the Secular Franciscan Order, and loves to share his talents in faith, technology, and journalism in service to the church. John also writes a blog entitled Call To Holiness (http://www.calltoholiness.us/). Follow John on Twitter at @Catholicwebs, on Facebook and at Google+.