This past week, we celebrated the 48th annual World Communications Day with a look again at the beautiful message of Pope Francis, which reads in part:
The Church needs to be concerned for, and present in, the world of communication, in order to dialogue with people today and to help them encounter Christ. She needs to be a Church at the side of others, capable of accompanying everyone along the way. The revolution taking place in communications media and in information technologies represents a great and thrilling challenge; may we respond to that challenge with fresh energy and imagination as we seek to share with others the beauty of God.
When I read this week's Sweet Tweets, so faithfully compiled each week by my friend John Clem, I again see an underscoring of this mission orientation of our efforts to use the tools of modern technology to share the truth of the Gospel. From teachers in classrooms mentoring their students to a beautiful nun winning a singing competition, the Church is full of folks walking at the side of others. It's tempting at times to cloister ourselves in our corners, away from some of the nastiness that goes on in the "real world". But when we do this, we miss the opportunity to encounter those perhaps most in need of Christ in their lives. And we also miss our chance to see the beauty of what they can teach us.
This week, let's seek true encounter in all its forms, reminding ourselves that the beauty we have to share is worth all of the energy and imagination we can muster!
Papal Tweet: "Thank you to all teachers: educating is an important mission, which draws young people to what is good, beautiful and true." (Pope Francis, June 3rd)
Pope Francis on 48th World Communications Day: Communications at the Service of an Authentic Culture of Encounter ow.ly/xuB2f

Catholic social media at the service of a culture of encounter | (Domenico Bettinelli) Bettnet.com ow.ly/xuGRD
Untangling the Catholic Web -w/FREE Internet Guide (OSV – Sarah Reinhard) ow.ly/xG8RJ
Re-Thinking the Mission of the Parish Website (Sister Susan Wolf, SND) ow.ly/xsiih
Answers 4 Catholics App – Apologetics on Hand (iPhone & Android) | CatholicMom.com ow.ly/xun9D
How New Media Can Enhance Our Lives |CatholicVote.org ow.ly/xwArC
Vatican Communications Chief Says Church Can't Ignore Social Media (Huff Post – Religion) ow.ly/xy6Ne

Prayers Answered: Kidnapped Italian priests, Canadian nun released from captivity (Vatican Radio) ow.ly/xuBnY
Pope, Patriarch Plan "Nicaea III"; Do You Remember What Happened at Nicaea I and II? (Kathy Schiffer – Patheos) ow.ly/xuRba
'Thou shalt not': Catholic teachers challenge morality clause in Archdiocese of Cincinnati –CNN.com ow.ly/xv1y0
Catholic Leaders Call for Preserving U.S. Food Aid, Oppose Cargo Preference Proposal (CRS) ow.ly/xwbpz
Pope Francis opens 37th National Convocation of the "Renewal in the Spirit" (News.va) ow.ly/xwdkV
Video: Ireland's papal nuncio opens up (CNS) youtu.be/AWPHu3TOiYM
Washington Climate Changers? | America Magazine ow.ly/xwuZu

Pope blames 'culture of comfort' for intentionally childless marriages (CNS) ow.ly/xwvub
Closing Marian month, pope says Mary is always ready to help (CNS) ow.ly/xwJYu
Former Firefighter's Guide to Living as a Hermit in the Modern World | NCRegister.com ow.ly/xxWfp
Tech News: Everything Apple Announced at WWDC 2014 (The Next Web) ow.ly/xyncZ
St. Anthony's Chapel — World's Largest collection of relics outside of The Vatican (OSV) ow.ly/xynLJ
New DVD Series from Fr. Robert Barron available for Pre-Order Priest, Prophet, King (Word On Fire) ow.ly/xzgeY
Scott Hahn's "Angels and Saints": Taking a Fresh Look at Aquinas | Billy Newton – Blog of the Courtier ow.ly/xzH68

All aboard! Pope greets children who take train ride to the Vatican (Rome Reports) ow.ly/xzG8X
Beautiful NEW WordPress Website for the Archdiocese of Denver | ArchDen.org ow.ly/xAqeJ
Video: Quality example of evangelization and stewardship video for a diocese (Archdiocese of Denver) vimeo.com/92151980
Philadelphia archdiocese files suit against HHS mandate :: Catholic News Agency (CNA)ow.ly/xANtE
Catholic and libertarian? Pope's top adviser says they're incompatible – The Washington Post ow.ly/xBI5w
Pope explains gift of piety during General Audience (Rome Reports) ow.ly/xBIrN
Catholic Communities Leading Fight Against Sexual Violence in Conflict | ZENIT – The World Seen From Rome ow.ly/xBIRT
Breaking: Jennifer Fulwiler to host her own show soon on The Catholic Channel on SiriusXM satellite radio ow.ly/xCUlk
Pope Francis Deeply Moved By Plight Of Juveniles Facing Life Imprisonment (Huff Post – Religion) ow.ly/xCULW
CATHOLICISM: The Pivotal Players – Palace of the Popes – (Fr. Barron – WOF) ow.ly/xCgPl
Sign-up for the National Migration Conference July 7-10 in Washington DC (USCCB) youtu.be/HvwAqftnwfI
U.K. moves a step closer to allowing three-parent babies (The Catholic Register) ow.ly/xDmRr
Chinese activist deplores Tiananmen Square cover up @ 25th Anniversary :: Catholic News Agency (CNA) ow.ly/xDCIk
Search For Alexis Prem Kumar, Kidnapped Jesuit Priest, Continues With Three Taliban Arrests In Afghanistan (AP) ow.ly/xFUUt
Monuments Men make their way to the Vatican (Rome Reports) ow.ly/xEG6B
Catholic Chaplain talks about the D-Day landings 70th anniversary (News.va) ow.ly/xFwee
Remembering 70th Anniversary with original BBC D-Day Reports (star readings) ow.ly/xG03I
Pope Francis shakes up Vatican's finance panel – John Allen – The Boston Globe ow.ly/xFqHB
Pentecost Sweet Tweets: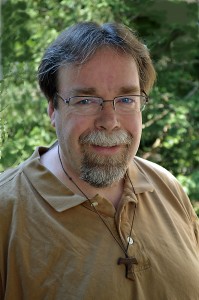 John Clem is the Director and Media Minister at Catholic Web Services (http://catholicws.com/). John is currently in formation to join the Secular Franciscan Order, and loves to share his talents in faith, technology, and journalism in service to the church. John also writes a blog entitled Call To Holiness (http://www.calltoholiness.us/). Follow John on Twitter at @Catholicwebs, on Facebook and at Google+.