As I work on this weeks Top Catholic Tweets, I've got CNN on in the background and am watching coverage of the situation in Baltimore. This week, we have seen that city–and others around the country–erupt with emotion. Today's announcement that six police officers have been charged in the death of Freddie Gray will surely prompt a variety of responses. We're reminded to continue to pray not only for justice in our own country, but for those lives lost and shattered in Nepal. As we view the news this week, let's remember that rather than simply being consumers of information, we must be prayer warriors.
Top Catholic Tweets for May 1, 2015
Papal Tweet: "

Amid so many problems, even grave, may we not lose our hope in the infinite mercy of God." (Pope Francis April 30th)

Check out Crowdsource funding to support Cultivate Coffee & Taphouse (Billy Kangas – Patheos)

ow.ly/M57G7

NEW Video: The Legacy of Cardinal Francis George [1937-2015] – (Fr. Robert Barron – Word On Fire)

ow.ly/M5mpt

Pulitzer Prize Awarded to "The Pope and Mussolini" by David I. Kertzer

ow.ly/M5ti3

Franciscan Media launches a tumblr website

ow.ly/M6ut8

(Quiz) Discover what Saint would like to be your friend! | Catholic Link

ow.ly/M76z1

Archbishop Joseph Naumann Replaces Finn, Signalling Change in Missouri Diocese | (NCR)

ow.ly/M76Yh

Transhumanism: Would You Agree to an Upgrade of Your Brain and Body? (Dr. Eugene Gan – Aleteia)

ow.ly/M78Km

Health and Mercy in Guyana (Catholic New Service)

ow.ly/M7x1M

Roman Run: 200 miles, 10 men, 1 mission – CNA Blog

ow.ly/M9bjn
Tech Tip: Wallpapers & Graphics shared every

Monday

from Word On Fire ow.ly/MbFZ8

Pope Francis poised to weigh in on climate change with major document (The Washington Post)

ow.ly/MbQ5Y
Ask a Franciscan: Is It a Sin Not to Be 'Green'? (Fr. Pat McCloskey, OFM – American Catholic) ow.ly/Mkrfy

High-level tweeting: Study confirms pope's Twitter influence (CNS)

ow.ly/MekUJ

Archdiocese of Washington To Welcome Pope Francis – details of visit and sign-up for updates with FlockNote alerts

ow.ly/MeoEl

No to nuclear weapons, yes to nuclear technology – the Holy See's stance :: Catholic News Agency (CNA)

ow.ly/MeA1V

Worker's Memorial Day April 28th (The Catholic-Labor Network)

ow.ly/MeX0h
Francis firmly backs equal pay for women, citing Christian 'radical equality' | National Catholic Reporter ow.ly/Mi1C2
Social Media Campaign: Mark Your Calendars: THANK A NUN DAY is

May 5th

| CatholicMom.com ow.ly/Mi1Yc
In Sister Mary Ann Walsh, both the Church and the media had a friend (John Allen -Crux) ow.ly/Midg1

Circus sustains religious devotion (CNS)

ow.ly/MfZPE

Vatican will put the poor and aged in the VIP seats at its charity concert | Crux ow.ly/MkwEA
Forum outlines strategies to end extreme poverty worldwide | National Catholic Reporter ow.ly/Mlwyo
NEW App: New Bible youth app launched in English & Spanish (Vatican Radio) ow.ly/MlFyg
Pope Francis planning to visit Fatima in 2017, with 100th Anniversary (CNA) ow.ly/MlM4t
Pope Francis appoints commission to reform Vatican media (CatholicHerald.co.uk) ow.ly/MlPgT
The Haunting Stories of 5 Saints Who Battled Demons | ChurchPOP ow.ly/MlR9B

More Christ-centered Movies on the Way – Aleteia

ow.ly/MlWyK
Franciscan Media Announces Jean Vanier 2015 Book Debuts ow.ly/MmsFX
Pope Francis' latest gift: A drone – CNA Blog ow.ly/MmtEo

Catholic Cuisine: Recipes for May ~ Month Dedicated to the Blessed Virgin Mary + Herbs associated with Mary

ow.ly/Mm3dL

SATIRE: New App CrapHom Locates Where Least Crappy Homily Going To Be Delivered In Area (Eye Of The Tiber)

ow.ly/MgZUD
In honor of May, the month of Mary: USCCB offering rosaries blessed by Pope Francis beginning

May 4th

ow.ly/MnFnJ

Seeking a soul mate: Scientists, leaders pin hopes on pope's encyclical (CNS)

ow.ly/MnDO9

Parish Apps – Yes, there is now an App for That | Catholic Tech Talk | Catholic Tech Talk

ow.ly/MnyL8

@

PCCS_VA: Share Your World Communications Day (

May 17th

) Resources with the Vatican (Lisa Hendey – Patheos) ow.ly/MntO2
Prayers for Nepal
Prayers for Baltimore
Year of the Consecrated Life
Year of the Consecrated Life: Notre Dame Seminary, New Orleans Video Promo 2015

ow.ly/M70RK

Year of the Consecrated Life: Meet Father Jack Welch (Order of Carmelites)

ow.ly/M7a8l

Year of the Consecrated Life – Franciscan Friars of the U.S. (Order of Friars Minor)

ow.ly/MmwZA
I'm grateful to my friend John Clem, O.F.S. for this week's Top Catholic Tweets: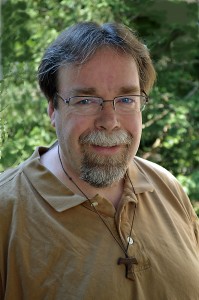 John Clem, O.F.S is the Director and Media Minister at Catholic Web Services (http://catholicws.com/). John is a professed member of the Secular Franciscan Order, and loves to share his talents in faith, technology, and journalism in service to the church. John also writes a blog entitled Call To Holiness (http://www.calltoholiness.us/). Follow John on Twitter at @Catholicwebs, on Facebook and at Google+.