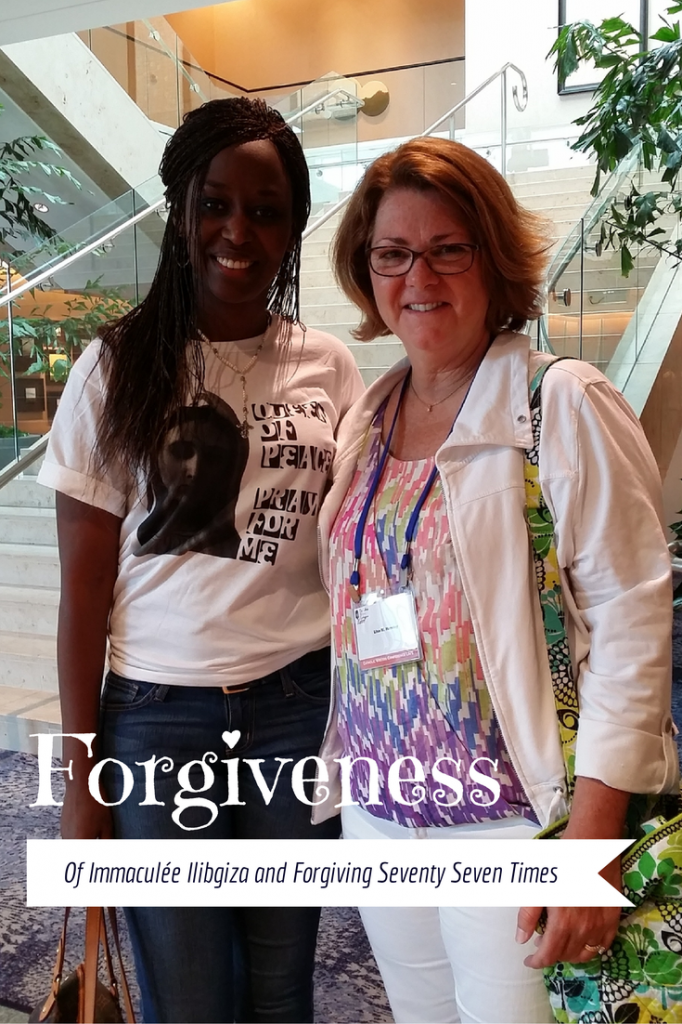 A few weeks ago, in Schaumburg, Illinois, I was speaking to a group of assembled Catholic bookstore owners and vendors when one of my favorite authors walked into the room.
If you've had the opportunity to hear her speak in person, you will know that Immaculée Ilibagiza is a strikingly beautiful woman. You'd also probably join me in agreeing that her physical beauty is only a tiny glimmer of the beauty that lies in this woman's heart.
So when she walked in to the room that morning, I noticed her immediately. Unfortunately for the folks in the audience that day at the Catholic Marketing Network meeting, I believe it was one of those "deer in the headlights" moments. I have heard this woman speak three times and although she doesn't know it, she has served as a mentor to me personally. So having her in the room during my talk both inspired and terrified me.
I was able to continue and conclude my presentation and had the chance to chat with her in person. I'm certain that my words to her are ones she hears frequently:
"I loved your book!"
"I'm so moved by your message!"
"Thank you for sharing your passion for our Blessed Mother!"
I tried not to be too effusive, but it's challenging to relay in a calm manner how much you admire someone like Immaculée both personally and professionally without using superlatives. And as I know from having heard her speak in the past, Immaculée leads with her humility and graciousness.
Later that same afternoon, I sat listening to Immaculée address that same conference room full of people. For an hour, she held their rapt attention with her own stories of surviving the genocide and her valiant message of forgiveness.
I listened with different ears that day — my perspective forever changed by my own travels to and writings on Rwanda. With a new, more intimate knowledge of the Genocide and its horrors, it became even more incredible to me to hear Immaculée speak so openly and genuinely about forgiveness.
Her words have stayed with me. And not to discount her message in any way, but now when I hear her speak or read her books, I know that she represents many nameless, voiceless Rwandans who have had to struggle to forgive unspeakable wrongs that have ravaged their lives and families.
Today, as I read the words of Matthew's gospel, I sent up a prayer for the work Immaculée is doing:
Peter approached Jesus and asked him,
"Lord, if my brother sins against me,
how often must I forgive him?
As many as seven times?"
Jesus answered, "I say to you, not seven times but seventy-seven times.
A little digging on the "seventy-seven" figure bears the following footnote:
Seventy-seven times: the Greek corresponds exactly to the LXX of Gn 4:24. There is probably an allusion, by contrast, to the limitless vengeance of Lamech in the Genesis text. In any case, what is demanded of the disciples is limitless forgiveness.
Jesus goes on to instruct the disciples with the parable of the unforgiving servant, concluding:
So will my heavenly Father do to you,
unless each of you forgives his brother from his heart.
We each struggle with our own petty grudges. Some of us — like Immaculée — have found a way to forgive the unthinkable. At times, we reserve our harshest lack of forgiveness for those closest to us, or even for ourselves.
If we are struggling to forgive anyone (ourselves included), we might do well to remember the words of Immaculée from her book Left to Tell: Discovering God Amidst the Rwandan Holocaust:
"I knew that my heart and mind would always be tempted to feel anger–to find blame and hate. But I resolved that when the negative feelings came upon me, I wouldn't wait for them to grow or fester. I would always turn immediately to the Source of all true power: I would turn to God and let His love and forgiveness protect and save me."
Forgive without limits.
And know God's love.
Your turn: Have you struggled to forgive a wrong done to you or a loved one? What has helped you to move towards forgiveness and healing?