Last week, when I was at the Catholic Marketing Network conference, I had the great privilege of signing and giving out the very first galley copies of my new book The Grace of Yes: Eight Virtues for Generous Living. The process of writing this book has truly changed the way I perceive the world around me. I seem to be constantly listening and watching for examples of "Yes" wisdom and acts that point to the beauty of a life lived generously.
I'm happy to report that they seem to be abundant. I'm also thrilled that Pope Francis is such a "Yes" advocate and teacher. Even in his tweets, our Holy Father points us to the grace of sharing our gifts with the world around us. Such was the case with three of his tweets this past week:
In a world so full of strife and suffering, we each need to be reminded that our small sacrifices and acts of love bring us closer to one another and to the God who has blessed us so greatly. May we each give God our worthy "Yes" this week!
As always, I'm grateful to John Clem, O.F.S. for compiling our Sweet Tweets:
Papal Tweet:  "

If you hoard material possessions, they will rob you of your soul." (Pope Francis Aug. 5th)

Life of a Catholic Librarian Blog ow.ly/zSvOk


Inspiring Parish Bulletins – Pt. 1 | Inspired Angela 

ow.ly/zSWCz

Diocese of Richmond mourning the loss of a great priest and apostle — Monsignor Chester Michael (1916-2014) RIP 

ow.ly/zTcyn

Pope at Angelus: compassion, generosity, gratitude (News.va) 

ow.ly/zTgXn

Pope Francis Chills With Jesuit Buddies For Feast Of St. Ignatius (PHOTOS) Huff Post Religion 

ow.ly/zTh15

The lavish homes of American archbishops (CNN) 

ow.ly/zU1my

Congressman Frank Wolf rips administration's silence on 'genocide' in Iraq :: Catholic News Agency (CNA) 

ow.ly/zU88n

Babe Ruth, an unlikely Catholic, was a giant both in appetite and charity | National Catholic Reporter 

ow.ly/zUmn5

Updated: Magis Center website — great source for materials on faith, reason, & science 

ow.ly/zUKky

Immigration protests surge in U.S. (CNS) 

ow.ly/zX8Wy

Furniture for the poor in Andes Mountains (CNS) 

ow.ly/zX9MG

He was an atheist, but he made a film about Jesus and dedicated it to John XXIII (Rome Reports) 

ow.ly/zXXXE

Graphic to share: Pope Francis' 10 Tips to Bring Joy in One's Life (from World Meeting of Families 2015) 

ow.ly/i/6slvj

The Story Behind the Feast Day of St. Mary Major and why it's important to Pope Francis (Rome Reports) 

ow.ly/zY7oo

ISRAEL-PALESTINE: An open letter to members of the international community regarding Gaza | PAX CHRISTI USA 

ow.ly/zY7Jc

Islamic extremists impose reign of terror on Iraq | National Catholic Reporter 

ow.ly/zZjY8

EWTN features The Shrine of Our Lady of Good Help – The Fathers of Mercy (only approved Marian apparition in USA) 

ow.ly/zZnzM

What We Fear Controls Us. A Meditation on the "Eighth Deadly Sin." « Archdiocese of Washington 

ow.ly/A0bGO

Catholic Schools | Now More Than Ever (USCCB) 

ow.ly/A0erW

God's Creation: The Rose of Jericho — known as the resurrection plant — from tumbleweed to a lush fern 

vimeo.com/25485145

NEW Video from Fr. Robert Barron: Heroic Priesthood – Holiness is Heroism –

BrandonVogt.com

 : 

ow.ly/A14MH

Pope to Youths: Don't let technology distract you from what's really important (Rome Reports) 

ow.ly/A16gh

Catholic groups unite to help Iraqis ousted by extremists :: Catholic News Agency (CNA) 

ow.ly/A179L

Jesus relied on women (Fr. James Martin, S.J. – CatholicTV) 

youtu.be/aIcnsEJubz4
Papal Trip To Korea 

August 13-18, 2014

 for 6th Asian Youth Day – EWTN coverage ow.ly/A1Dy4

10 Destinations for Spiritual R&R – Busted Halo 

ow.ly/A26K2

The Anniversary of Hiroshima: John Paul II and Fulton Sheen on the Bomb and Conversion | Catholic World Report 

ow.ly/A2bAo

CHILDREN AT OUR BORDER: National Humanitarian Vigil on August 9th | PAX CHRISTI USA 

ow.ly/A3J1N

ISIS Closes In On Christians in Dramatic Overnight Development – Aleteia 

ow.ly/A3SDp
US bishops ask parishes to pray for Iraq on 

August 17

 (Deacon Greg Kandra – Patheos )ow.ly/A5b9o

Law and morality in public discourse – (Archbishop Charles J. Chaput, O.F.M. Cap. – Catholic Philly) 

ow.ly/A5aWp

Competition for Amazon? Google and Barnes & Noble Unite to Take On Amazon –

NYTimes.com

 

ow.ly/A4Sf9

200th Anniversary of Jesuits' Restoration (Vatican Radio) 

ow.ly/A3Sq9

Don't ignore rural Catholics in America, advocate exhorts :: Catholic News Agency (CNA) 

ow.ly/A3R0C

Tech News: Apple patent application hints at Siri coming to the Mac – CNET 

ow.ly/A4Yfs

What Common Core can't fix | Catholic World Report – Russell Shaw 

ow.ly/A5a82

What Are Our Pets Really Saying? Perhaps they express the longing of all creation. « Archdiocese of Washington 

ow.ly/A3Gti

A new generation of mosaicists in Holy Land (Franciscan missionaries serving the Holy Land) 

ow.ly/A3EDW

A Defense of the Grotesque in Flannery O'Connor's Art – Crisis Magazine 

ow.ly/A4Y0y

Tech News: Pinterest launches messaging feature (USA Today) 

ow.ly/A4Yzg

In El Salvador, Signs of Faith and Joy | America Magazine 

ow.ly/A5kMd

Graphic to share: Jesus is my Superhero (Catholic Online) 

ow.ly/i/6tPS3

A summer stroll in the papal gardens (CNS) 

ow.ly/A4ZMH

Satire: Love thy neighbor as thy selfie

ow.ly/i/6tBE4

Papal Tweet:  "

I ask all men and women of goodwill to join me in praying for Iraqi Christians and all vulnerable populations." (Pope Francis Aug. 8th)

Pope Francis: appeal for Iraqi Christians (News.va) 

ow.ly/A6qod

Think on these things before you go to that porn site: An Appeal to Count the Personal Cost of Porn (ADW) 

ow.ly/A6piU

ACN on the humanitarian crisis in northern Iraq (News.va) 

ow.ly/A6o8V

Pope Francis appoints personal envoy to Iraq :: Catholic News Agency (CNA) 

ow.ly/A6y9H

Updated: 5 Things You Can Do Right Now as ISIS Threatens Iraqi Christians and Shiites (Elizabeth Scalia – Patheos) 

ow.ly/A6B2E

Carmelite Chronicles: The Missions and the Discalced Carmelites | Blog | Order of Carmelites 

ow.ly/A6x4x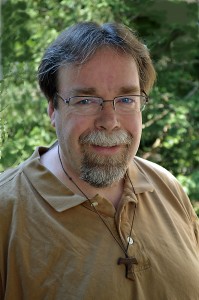 John Clem, O.F.S is the Director and Media Minister at Catholic Web Services (http://catholicws.com/). John is currently in formation to join the Secular Franciscan Order, and loves to share his talents in faith, technology, and journalism in service to the church.  John also writes a blog entitled Call To Holiness  (http://www.calltoholiness.us/). Follow John on Twitter at @Catholicwebs, on Facebook and at Google+.