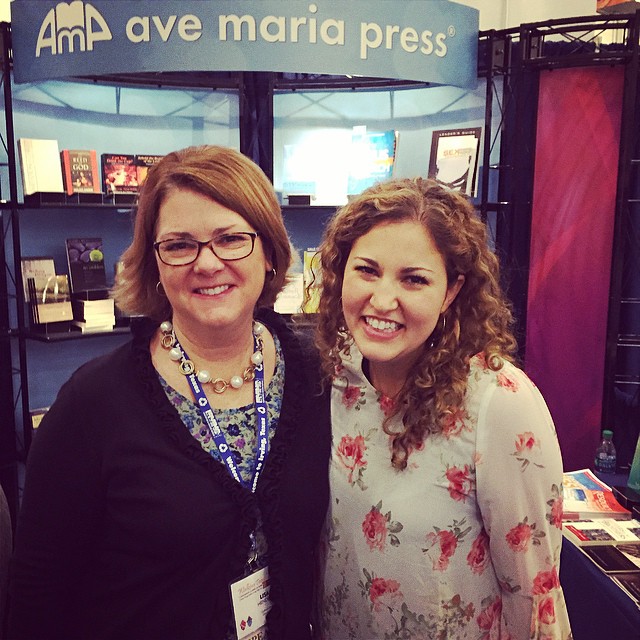 As I type this, I'm ensconced in a basement Starbucks in Chicago, still trying to figure out what time it is. My computer says one time, my phone another and my watch (remember those?) a third. Take your pick… It's been a busy but amazing week.
As I was sitting in the Dallas Fort Worth airport at 3:45 am this morning lamenting the lack of an open coffee shop, I paused to think about all the things that I didn't do in Dallas during my visit their this week.
Eat barbecue? Nope.
Try on boots or a cowboy hat? Um, not either of those.
Visit the Book Depository or the Cathedral? Unfortunately not.
But the truth is, my visit to Dallas (actually Irving, in the Diocese of Dallas) couldn't have been better. This is my fourth time to attend and present at the University of Dallas Ministry Conference. As the Dallas Morning News noted, this opportunity just keeps getting better and better!
By all estimates, the country's second largest Catholic ministry congress welcomed over 6,000 faith-filled souls this week. And while I may not have ticked off tourist destinations this week, I encountered some true superheroes:
I had the pleasure of learning from The Most Rev. J. Michael Miller, Archbishop of Vancouver, gave a stirring keynote on Evangelii Gaudium. Do yourself a favor and buy a copy here. I had never heard Archbishop Miller speak before. I can share that I'm now a huge fan. As a student of "The Joy of the Gospel", it was all I could do to contain myself as this shepherd broke open such a beautiful message of hope for over several thousand of his flock, doing so in a way that was clear, uplifting and filled with spirit.
I met Catholic school principals, deacons (and their wives), religious sisters, teachers and catechists, ministry volunteers of all ages, and so many priests I stopped counting. These were amazing people of all ages and backgrounds who gave up three days of their time to worship, to witness and to learn. One long term volunteer told me that she plans a year ahead to take the week off so that she can always come and help. Her story echoes so many of the cool folks I met who have made this a priority. I think that's why it's growing by leaps and bounds. It was a great honor to give my first "Grace of Yes" talk since the release of the book for this audience of amazing yes-sayers. To say that I was humbled to stand before them and share a bit of my story would be a major understatement.
I met several awesome members of the University of Dallas and Diocesan chancery staffs. Each was friendly, patient and filled with energy. I teased organizer Oscar Carranza, director of marketing and events for the university's School of Ministry, that he must certainly have a clone to have pulled off such a fantastic event. And while I don't think I formally met him, I sat in the room and watched Bishop Kevin Farrell (who tweets HERE) pause his work on his iPad to greet and interact with countless people. I do believe he spent the majority of those three days interacting with the faithful at the convention center. And he seemed to truly enjoy it!
Even our shuttle bus driver was cool – a "driving rodeo" champion! So while I didn't meet any cowboys, I can verify that I had several great conversations with a lady my age who is real "bus roadeo" contender!
I left Dallas this morning with a full heart and a deep desire to hurry back for a visit soon. This quote by author Pittacus Lore definitely holds true for Dallas:
"A place is only as good as the people you know in it. It's the people that make the place."
The people I met this week most certainly "made" Dallas for me.
And now, here are this week's Sweet Tweets, brought to us by John Clem, O.F.S.
Sweet Tweets October 24, 2014:
Papal Tweet: "

If faith is to be strong and healthy, it must be constantly nourished by the Word of God." (Pope Francis Oct. 21st)

Sanctuary Movement | Building the multifaith movement for justice (Groundswell)

ow.ly/CZKHH

Religious Liberty Threats: Two Recent Incidents of Raise Serious Concern and Show the Road Ahead May be Rocky (ADW)

ow.ly/D0fzW

Holy See: Space is the common heritage of all humanity (Vatican Radio)

ow.ly/D1z31

Catechesis – World Meeting of Families 2015 Preparatory Catechesis now available from OSV

ow.ly/CZFea

Internet's impact on families raised at Synod (News.va)

ow.ly/D1zgu

Prince of Jordan on conflicts in the Middle East: Nobody thinks about how wars ends (Rome Reports)

ow.ly/D2feB

Holy See to UN: Too many children denied "fundamental" right to life (News.va)

ow.ly/D1zBh

From Atheist Professor to Catholic: An Interview with Dr. Holly Ordway | Strange Notions

ow.ly/D2urB

Blessed Joseph Vaz will be proclaimed Saint

Jan. 14

(News.va) ow.ly/D2sJj

13 Common Phrases You Didn't Know Came From the Bible | ChurchPOP

ow.ly/D2wpg

Italy's Singing Nun Releases "Like a Virgin" Video – Aleteia

ow.ly/D34ix

Children of God: 30 Magical Photos of Children Playing Around The World (Earth Porm)

ow.ly/D3v1I

Despite decline in Catholicism, millions turn out for Brazilian celebration of Mary (Deacon Greg Kandra)

ow.ly/D3DPM

Being "A Church that Must Go Out" in the Digital Age (Lisa Hendey – Patheos)

ow.ly/D3H3J

You are the apple of God's eye. (That's not from a Hallmark greeting card, that's in the Bible…) Pat Gohn

ow.ly/D45UK

Catholic population rises in numbers (Rome Reports)

ow.ly/D5RFd

Catholic stance on ISIS threat (CNS)

ow.ly/D5SBa

The Friar Who Was Ordered to Skate – Brandon Vogt

ow.ly/D5T62

Possible treatment for paralysis? "This is more impressive than a man walking on the moon" (Deacon Greg Kandra)

ow.ly/D6avD

Dominicans to the Rescue: Saving Souls and Civilization in Iraq | Blog of the Courtier

ow.ly/D6bql

Photo Tip: 14 Amazingly Free Stock Photo Websites (Entrepreneur)

ow.ly/D6jEZ

On Faith & Fracking -Faith leaders from across NY talk about our role as guardians of the Creation (GrassrootsEnvEd)

ow.ly/D6lMT

The Rosary: The Best Prayer for Men (The Catholic Gentleman)

ow.ly/D6o9V

Vatican confirms Pope Francis to visit Turkey | (John Allen – Crux)

ow.ly/D6TvM

Enter the world of beatniks, hippies … and singing monks? | Carmel Communications

ow.ly/D6VFf

Cardinal Wuerl: Next synod to focus on traditional families (CNS)

ow.ly/D7ctT

My new book in production: 'Martin Sheen: Pilgrim on the Way' (Sister Rose Pacatte – Patheos)

ow.ly/D9HDV

Sweet treat for Pope in Swiss Guard recipe book – The Local

ow.ly/D9I4J

100 Years of the International Schoenstatt Movement – Aleteia

ow.ly/D9RLP

The "Titulus Crucis" sign of I.N.R.I., a true relic of Rome (Rome Reports)

ow.ly/DdzhQ

A Silent Priest is a Dead Priest – A Meditation on a Teaching of St. Gregory the Great « Archdiocese of Washington

ow.ly/DdARE

Notre Dame Professor Hits School President After Pro-Gay Policy – Aleteia

ow.ly/DdF3O
The Messy Synod on the Family | (Fr. Robert Barron – Word On Fire) ow.ly/DewUp

Ending

#Ebola

: How You and I Can Help (Lisa Hendey – Patheos)

ow.ly/DdOAY
The challenges of coal – Mountaintop removal mining poses economic dilemma for West Virginians (CNS) ow.ly/DeAD3
Pope Francis calls for abolishing death penalty and life imprisonment (CNS) ow.ly/DeCuk

How a reproductive health pioneer became an 'instant convert' reading Humanae Vitae :: Catholic News Agency (CNA) ow.ly/Dfdlx
Video of dancing American priests goes viral | Fox News ow.ly/Dfk4p
Ben Bradlee, the pope and me (Deacon Greg Kandra – Patheos) ow.ly/DfzBU
Only the Hearing is Safely Believed. A Meditation on How Faith Comes by Hearing, Powerfully Demonstrated in a "Video" ow.ly/Dg5gx
Olive harvest at Garden of Gethsemane unites faithful with Christ (CNS) ow.ly/DgbYB

The Great Busted Halo-ween Photo Contest! – (Busted Halo)

ow.ly/DdMOd

Halloween | Seasonal Feature | American Catholic

ow.ly/DgbUR
Francis is a Chemist; Chemists Seek Out Surprises (Elizabeth Scalia – Patheos) ow.ly/Dh73I

Vatican to UN: To combat extreme poverty we must eradicate inequality (News.va)

ow.ly/DhzL8

Vatican gives global communications group official stamp of approval :: Catholic News Agency (CNA)

ow.ly/Dl7AT

Fr. Stan Fortuna, CFR — photography from a Franciscan — frstanpix on Instagram

ow.ly/DlXXS

Sneak Peak at new book: Around the Table With the Catholic Foodie: Middle Eastern Cuisine by Liguori Publications

ow.ly/DlYbd
Saint John Paul II (first Feast Day Oct. 22nd)
Oct. 22 is the Feast of St. John Paul II | Saint of the Day | AmericanCatholic.org ow.ly/D82MH

Saint John Paul II and the Mysteries of Light: a musical meditation (Vatican Radio)

ow.ly/D6O7i

We Still Need St. John Paul II (Catholic Exchange)

ow.ly/D9FOk

Why Pope John Paul II is a Saint | (Fr. Robert Barron – Word On Fire)

ow.ly/D9Khk
Video George Weigel on Saint Pope John Paul II (51 min.) – (Mundelein Seminary) ow.ly/DdMmk

7 Key Points that made John Paul II "The Great Pope" (Rome Reports)

ow.ly/D9MZA

Totus Tuus: Marian Suffering and Pope St. John Paul II | Blog of the Courtier

ow.ly/Ddqat

Pope Francis on St. John Paul II (CNS)

ow.ly/DdzJC
We're 'just touching the surface' of St John Paul II's teachings :: Catholic News Agency (CNA) ow.ly/DgaNf

Saint John Paul II National Shrine Opens to join "Holy Trinity of Pilgrimage Sites" | Call To Holiness

ow.ly/DevJ9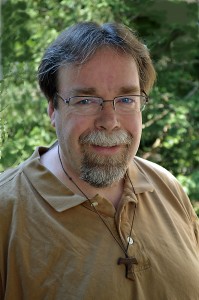 John Clem, O.F.S is the Director and Media Minister at Catholic Web Services (http://catholicws.com/). John is a professed member of the Secular Franciscan Order, and loves to share his talents in faith, technology, and journalism in service to the church. John also writes a blog entitled Call To Holiness (http://www.calltoholiness.us/). Follow John on Twitter at @Catholicwebs, on Facebook and at Google+.