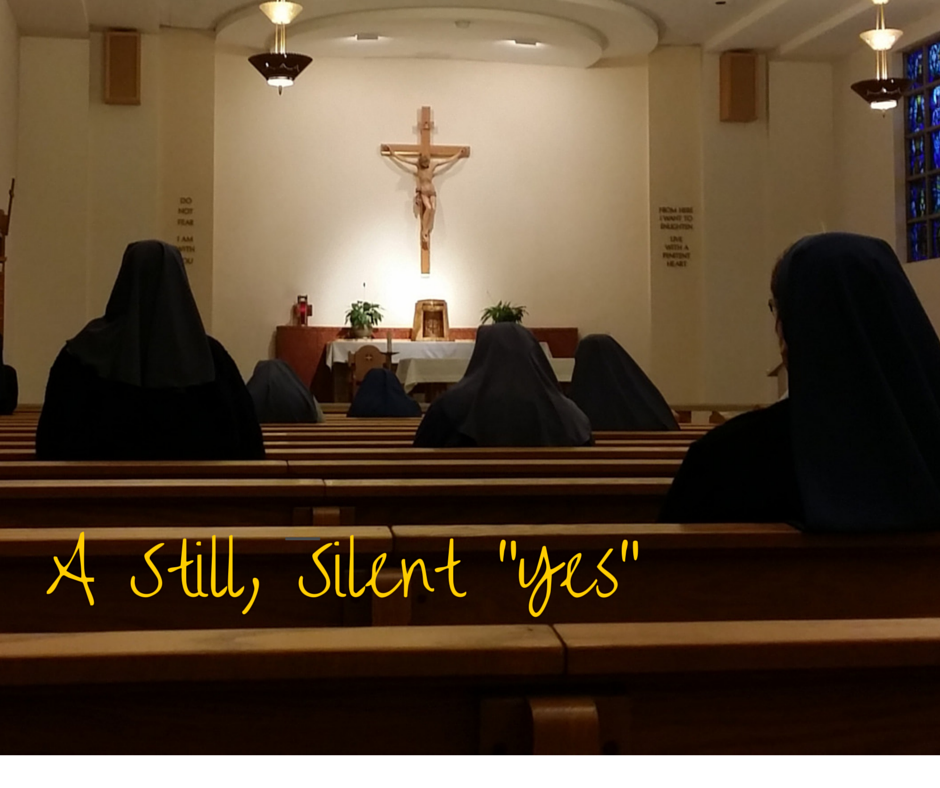 At some point this month, I am going to find or make time to write a long post about my experience of spending five days in the convent with the Daughters of St. Paul in Jamaica Plain, Massachusetts. I really am. Now that I've moved along to a busy catechetical conference in Northern California and am bunking in a lovely luxury hotel, I feel as though I'm just waking up from a long, luscious dream.
In so many ways, it was perfect that my stay at the convent coincided with our book launch tour for The Grace of Yes. Not only are the Daughters the epitome of "Yes, Lord!" mentality, but the place was stunningly calming. Amidst the busyness of interviews and commitments, it was beyond sublime to pace my days around prayer time with the sisters. The chapel, simple and silent, beckoned me multiple times a day. Jesus was waiting, watching, ready for me. All I had to do was accept that grace, venture a few steps and embrace the opportunity. When Pope Francis tweeted earlier this week the words, "There is so much noise in the world! May we learn to be silent in our hearts and before God," my mind immediately went to that chapel and that stunning silence.
One lesson the Daughters taught me is that I must–on a daily basis–reclaim silence in my days. And by silence, I mean not just a lack of outside sound. I'm also talking about teaching myself to still my brain before the Lord, to rest in God's loving embrace without mentally reviewing my to do list or pondering my next blog post idea.
There is so much noise in the world.
May I learn to be silent in my heart and before God.
I'm grateful to my friend John Clem, O.F.S. for this week's Sweet Tweets:
Papal Tweet: "

There is so much noise in the world! May we learn to be silent in our hearts and before God." (Pope Francis, Nov. 18th)

Schedule released for Pope Francis in Sri Lanka and the Philippines (Jan 2015) (Vatican Radio)

ow.ly/EgpNW

Jesuit Brother Guy Cosolmagno wins top science award – the Carl Sagan Medal (Vatican Radio)

ow.ly/Egqm8

Unveiled: a new Pre-Cana Program (Diocese of Richmond)

ow.ly/Ejfpk
Defending marriage at the Vatican (CNS) ow.ly/EjfSU

Food for the Soul: Heaven: Who's In and Who's Out? (Fr. Jack Peterson, Y.A.) ow.ly/EjgJB
Pope Francis' eight tips to improve family life (Rome Reports) ow.ly/EjOxS
Avoiding Absolutism | (Fr. Dan Horan, ofm – America Magazine) ow.ly/EmwSV
Franciscan Firars Serve the Hungry in Full-Service Restaurant (Arts & Faith – Loyola Press) ow.ly/EmxnC
CNN explores the priesthood: a review (Deacon Greg Kandra – Patheos) ow.ly/EmAhg
60 Minutes Video – Interview with Archbishop Sean O'Malley CBS.com ow.ly/EmQpU

Cardinal Sean O'Malley: Reflections on my '60 Minutes' interview. (The Boston Pilot) ow.ly/EzKnf

Father Blase Cupich to Take Over Archdiocese of Chicago (NBC

News.com

)

ow.ly/EmWVe
Pope confirms he will visit U.S. in September 2015 (CNS) ow.ly/EonTF
Interactive Map: Where Are the Hardest Places to Live in the U.S.? – NYTimes.com ow.ly/EpCgN

Pope Francis denounces "false compassion" behind abortion and euthanasia (Rome Reports)

ow.ly/EooEz

Creative video: Don't text at the dinner table — Pass The Salt – (Matthew Abeler)

ow.ly/EmQ5Z
What is "The Art of Accompaniment"? Some Concerns About Another Phrase Emerging From the Synod (Msgr. Pope – ADW) ow.ly/EpM8Z

Ireland returns to the Vatican | (John Allen – Crux)

ow.ly/EpLcn

11 Things to Do in St. Peter's Square (Epic Pew)

ow.ly/EpiNf

Pope Francis and the American Punk Rocker | Word On Fire

ow.ly/Et0Jm

Music: Ants Marching/Ode To Joy – 4 Guys, 3 min, 2 cellos, 1 piano – ThePianoGuys – YouTube

ow.ly/EjfwL

God's eye view of the Diocese of Richmond, Virginia

youtu.be/T3Uq_I3YveE

7 Life Lessons from Catholic Comedian Jim Gaffigan | ChurchPOP

ow.ly/EovlW

Music: For one young Catholic, music is an apostolate of beauty :: Catholic News Agency (CNA)

ow.ly/Ep8DU
7 Lessons from Jesus in the Blessed Sacrament (The Catholic Gentleman) ow.ly/ErgDw

Exploring Dali's Sacrament of the Last Supper (Billy Kangas – Patheos)

ow.ly/EpSc3
Movie: Vatican Museums filmed in HD-3D — coming to 500 theaters across America on

December 10th

ow.ly/EqxdT

FYI: The original Stan Lee comic book of Pope John Paul II (originally sold for $1.50 and now sells for $20) ow.ly/i/7Crzi
Mister Rogers and Me (video) – Aleteia ow.ly/ErkK1plus full documentary youtu.be/ZunXnhjBqzE
Vatican raises issue of misuse of armed drones at UN (Vatican Radio) ow.ly/EsCXU

Sr. Maria Kim's Vocation Story – Trailer – (Daughters of St. Paul – Spirit Juice Studios)

ow.ly/EroCI
James Martin and Ross Douthat on Pope Francis, the Synod and the Demands of Law and Mercy | America Magazine ow.ly/Euf0b

Pope Permits Ordination for Married Men in Eastern Catholic Churches in US, Other Countries – Aleteia ow.ly/Eumdi
Music: Pentatonix Hails Mary on New Christmas CD | CatholicVote.org ow.ly/Eun6Y
Catholic Impact: Community – Immaculate Conception Church (Archdiocese of Washington) ow.ly/EuonU
Reflection on Brotherly Care – (Peter Clem – Youth Apostles) ow.ly/EuzaZ
Catalog of Sin – All Items are in Stock, Free Shipping and Handling from the Supplier « Archdiocese of Washington ow.ly/EuNTw

New Chicago archbishop: Be authentic, leave your comfort zone :: Catholic News Agency (CNA) ow.ly/Evo6T
Joy to the World: An Interview with Dr. Scott Hahn [Video] | Word On Fire ow.ly/ExAjT
He Reigns! The Solemnity of Christ the King | (Fr. Robert Barron – Word On Fire) ow.ly/ExCRA
Exhibition on Saint Francis opens at the United Nations in New York (Vatican Radio) ow.ly/ExEz2
Pope Francis Raffles Off His Swag to Help the Poor (The Daily Beast) ow.ly/ExP15
November celebrates Black Catholic History Month: Black families and traditional marriage (CNS) ow.ly/ExWyo

The "Humanum" Videos: Extraordinary Short Films on Marriage and the Family (Brandon Vogt) ow.ly/ExYcr
Pope Francis calls for peace after series of Jerusalem attacks (Vatican Radio) ow.ly/EyUPC
Pope Francis offers a lesson from a ham and cheese sandwich :: Catholic News Agency (CNA) ow.ly/EyX9Q
What Would Jesus Eat? (Arts & Faith – Loyola Press) ow.ly/Ez0oV
NEW: YOUCAT confirmation book (Ignatius Press) YOUCAT confession coming soon ow.ly/Ez9Oy
Patriarch Sako: More international help and ground troops needed to defeat IS militants (Vatican Radio) ow.ly/EBmwd

CNS STORY: Rally with Thanksgiving theme last-minute plea for immigration order ow.ly/EBs5Z
Long Hidden, Vatican Painting Linked To Native Americans : The Two-Way : NPR ow.ly/EBzU6
Sweet Hour of Prayer! Or Not? How do You Experience Prayer? « Archdiocese of Washington ow.ly/EBAiK
Fr. Roderick Vonhogen lauches new Catholic video website — more languages coming — videos w/ English subtitles ow.ly/EBJf3
When the Virgin Mary Appeared in France – plus beautiful video about Our Lady of the Laus (Aleteia) ow.ly/EBR3T
Chances for encounter define upcoming "Year of the Consecrated Life" starting at Advent (OSV) ow.ly/ECbAp
Care for Creation: U.S. Climate Resilience Toolkit ow.ly/EChHm
Can We Cana? A Community to Support Catholic Marriages: No Better Aphrodisiac: Why NFP? (Karee Santos) ow.ly/ECNan
Videos on upcoming documentary about Thomas Merton w/Fr. Jim Martin, S.J. & Fr. Dan Horan, ofm ow.ly/ECTmY
Speaking for the hungry, Francis again critiques global market system | National Catholic Reporter ow.ly/ECW8J
Encountering God's Presence w/ Ministry Assignments – (Franciscan Friars – Holy Name Province) ow.ly/ECYRT

Catholic Cuisine: Thanksgiving Turkey Fruit & Veggie Platters

ow.ly/Ey5ew
The Official 2014 Catholic Christmas Gift Guide & Giveaway! – Catholic Sistas ow.ly/Ezbzd

Please help us to raise funds to help the poor and homeless with Greater Good Technology | Indiegogo

ow.ly/EpXL4
Advent Sweet Tweets:
Advent Resources from the Franciscans at AmericanCatholic.org ow.ly/ECXBU
Advent Resources from CatholicMom.com – with CRS Advent ideas, Advent Wreath hook-up + much more ow.ly/ED4TK

Advent Resources: Advent Calendar, Jesse Tree, Prayers, History, Reflections (EWTN)

ow.ly/ED3GT

7 Facts You May Not Have Known About Advent (EpicPew)

ow.ly/Ez93T

Podcast: The Break: Social Media for Shepherds and St. Nicholas (Fr. Roderick Vonhogen -SQPN.com)

ow.ly/El8rn

Simplify the Holidays – great resources (The Center for a New American Dream)

ow.ly/ErhzG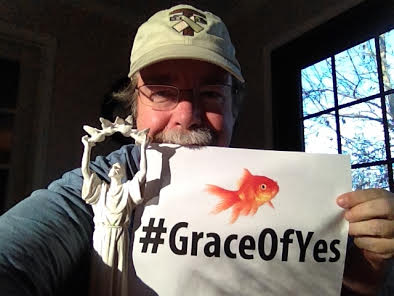 #GraceOfYes Sweet Tweets: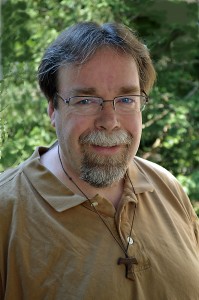 John Clem, O.F.S is the Director and Media Minister at Catholic Web Services (http://catholicws.com/). John is a professed member of the Secular Franciscan Order, and loves to share his talents in faith, technology, and journalism in service to the church. John also writes a blog entitled Call To Holiness (http://www.calltoholiness.us/). Follow John on Twitter at @Catholicwebs, on Facebook and at Google+.