Since last week's Sweet Tweets, I've been on the move. From Dallas, to Chicago, to Baltimore, to Morgan Hill in my home state of California. Each of those experiences deserves a blog post of its own. But today, mellowing out to my Matt Maher Pandora channel in front of a quiet fire in anticipation of attending Mass at my home parish, it all feels a million miles away. Watch for recaps of those adventures later in the week.
For now, on All Souls Day, I want to share a little experience I had yesterday. In giving my very first retreat on The Grace of Yes, I found myself facilitating small groups in a parish facility which contained the parish's Dia De los Muertos altar. The Catholic Star ran a great article which explains the significance of this beautiful tradition:
"In the second Eucharistic prayer, it says remember, remember, remember. We're always remembering," Father Eugene said. "And, we say at Eucharist that remembering isn't going back, but it's right now; Christ is present now. So on the Día de los Muertos, when they put all those pictures up, their loved ones are present there. . . . When they gather in the cemetery, their loved ones are present there, too."
Before our retreat began, one very special retreat attendee came and found me. She gently took my hand, led me to the altar and pointed at a photo of a beautiful young woman, her daughter. Honestly, it was all I could do to choke back my tears. I didn't hear the story of how this beautiful soul had departed — I only know that her death came far too soon. Without words to console her loved one, I could only stand and pray with her devoted mother for the repose of her soul. This daughter's presence was tangible for us all day long. I acutely felt her mother's grief, her love, her loss, and her hope for her daughter's soul.
Today, we remember that precious young woman and all of those who have gone before us. Today in a special way, we are united in spirit with them. May their souls, and all the souls of the faithful departed, through the mercy of God, rest in peace.
Thank you to my friend John Clem, O.F.S. for this week's Sweet Tweets:
Papal Tweet: "

May we help people to discover the joy of the Christian message: a message of love and mercy." (Pope Francis Oct. 28th)

And the 2014 Synod Oscar goes to … | (John Allen – Crux)

ow.ly/DomEX
English version of "Relatio Synodi" of the III Extraordinary General Assembly of the Synod of Bishops released ow.ly/DBjpH

Announcing the Grace of Yes Book Club – Jump In! |

CatholicMom.com

ow.ly/DoUVA

7 Things Every Protestant Should Know About Catholicism – Thirsting for Truth

ow.ly/Dpjrq

Video: Why the Devil is Pope Francis Talking about the Devil? (Fr. Thomas Rosica, CSB – America Magazine)

ow.ly/Dsh6m

Survivor of Rwandan genocide, Immaculee Ilibagiza meets Pope Francis – (Rome Reports)

ow.ly/DskHo

Pope Francis: There are three types of Christians – (Rome Reports)

ow.ly/DsloD

The Saint of the Sock Drawer | (Fr. James Martin, SJ – America Magazine)

ow.ly/DstXz

News: Catholic Web Services granted 501c3 tax exempt status by IRS! Become a Supporter!

ow.ly/DsFp8

VIDEO: Father Jonathan Morris on Freedom in the Moral Life (Christopher Closeup)

ow.ly/DsIsX

John Henry Newman at the Synod on the Family | (Fr. Robert Barron – Word On Fire)

ow.ly/DsVxG

An undocumented immigrant's dream deferred | The Washington Post

ow.ly/DtaE2

Dying man finds miracle in abandoned church – (WAVY TV 10)

ow.ly/DtpPE

NEW Website: Catholic Shrines in the Archdiocese of Philadelphia

ow.ly/DtCro

Cuba builds first new church in 55 years (USA Today)

ow.ly/DtGhn

What is the Meaning of the Cross So Loved by St. Francis? – Aleteia

ow.ly/DtP5I

On the Balance of Love and Correction, According to St. Gregory « Archdiocese of Washington

ow.ly/DvDiQ

The Official Catholic Bacon Blessing (The Catholic Gentleman)

ow.ly/DvGjq

Seeking an ecumenical pope – The Orientale Lumen Foundation (CNS)

ow.ly/DvHpd

9 Ways to Restore All Things in Christ (Sam Guzman – Catholic Exchange)

ow.ly/DvHz2

Franciscan Monastery 1st Annual Video Contest – (Holy Land Franciscans)

ow.ly/DvKG8

Music strikes a chord in El Salvador – (CNS)

ow.ly/DvL4Z

The Silence of Friendship | (Br. Innocent Smith, OP – Word On Fire)

ow.ly/DvLCq

Syrian Christians, building cemeteries instead of schools :: Catholic News Agency (CNA)

ow.ly/DvO4k

Pope asks for prayers for Mexican students who were burned alive (Vatican Radio)

ow.ly/DvQ5c

Would You Baptize Aliens?: An Interview with Two Vatican Astronomers – Brandon Vogt

ow.ly/Dw4H3

Congressman Frank Wolf: An Appreciation – (George Weigel – Aleteia)

ow.ly/DwEPn

Pope Francis prays to end Ebola (CNS)

ow.ly/Dx6Sf

The Rome Experience – a cultural and spiritual pilgrimage for diocesan seminarians (Spirit Juice Studios)

ow.ly/Dx85W

God's Beauty on Trans-Siberian railway: Seat 22 — Trans-Siberian Odyssey (Stanislas Giroux)

ow.ly/Dxcr9

God's Beauty on America's High Plains: Stormscapes 2 (Nicholas Wegner)

ow.ly/DxfTn

Elton John Tells Crowd of Stars and Donors: "Pope Francis is My Hero–Make Him a Saint Already!" | Showbiz411

ow.ly/DxrHY

How Catholics Changed America: An Interview with Emily Stimpson | Word On Fire

ow.ly/Dzb8F

New lights in the Sistine Chapel allows visitors to see it like never before (Rome Reports)

ow.ly/DzzGW

Catholic Cuisine: Recipes for November ~ Month Dedicated to the Holy Souls

ow.ly/DzQGb

Video: Thomas Aquinas and the Argument from Motion | (Fr. Robert Barron – Word On Fire)

ow.ly/DAYYL

Vatican astronomer yawns at frenzy over Pope's Big Bang words :: Catholic News Agency (CNA)

ow.ly/DAZiZ
The gifts of women en route to Rome | (Jennifer Mertens – National Catholic Reporter) ow.ly/DBhcg

Ukraine's family tragedy (CNS)

ow.ly/DBfD3
#NunTrouble

(It's All About That Bus) – Nuns on the Bus encouraging participation in election (Network Lobby)

ow.ly/DBdH5

Forming Consciences for Faithful Citizenship (USCCB)

ow.ly/DBeb5

The Mighty Oak (Quercus spp.), A Garden Catechism (Margaret Realy, Obl. OSB – Patheos)

ow.ly/DCzyG

What the Media Got Wrong about Pope Francis and Evolution | Strange Notions

ow.ly/DCGac

Official says Catholic cemeteries have 'huge opportunity to evangelize' (CNS)

ow.ly/DCGP0

Reminder: Turn your clocks back one hour on Saturday Night.

ow.ly/i/7pYl2

Court Grants Injunction to Ave Maria University in HHS Mandate Case – Aleteia

ow.ly/DCJ7s

Pope at Angelus: Pray for the world's forgotten souls (News.va)

ow.ly/DGGgp

The lively history of the Vatican Teutonic cemetery – CNA Blog

ow.ly/DGaRD

Catholic Techie John Clem |

CatholicMom.com

ow.ly/DGFSK

'Waking the Camino: Six Ways to Santiago" gets theatrical release (Sister Rose Pacatte – Patheos)

ow.ly/DGaGM
National Vocation Awareness Week (

November 2-8, 2014

) – USCCB ow.ly/DG8zJ
Halloween – All Saints Feast Day – All Souls Feast Day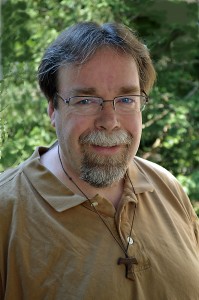 John Clem, O.F.S is the Director and Media Minister at Catholic Web Services (http://catholicws.com/). John is a professed member of the Secular Franciscan Order, and loves to share his talents in faith, technology, and journalism in service to the church. John also writes a blog entitled Call To Holiness (http://www.calltoholiness.us/). Follow John on Twitter at @Catholicwebs, on Facebook and at Google+.