What do you think of when you hear the word "poor"?
I was praying about this when I read Pope Francis' tweet from earlier this week. In it, he challenged me, "the Church is called to draw near to every person, beginning with the poorest and those who suffer."
I was praying about it when I read on Facebook about a pastor who had impersonated a homeless man, and when I read a clarification of that story on Snopes. I asked myself why it is so easy to hit "like" on an inspirational post on Facebook and then drive past a homeless person in my community without even a glance in their direction.
Then I asked myself about the people I know who are "poor" but have four walls around them and a roof over their head. The addicts, those trapped in abusive marriages or struggling just to keep their checkbook balanced every month. I was starting to feel a major sense of anxiety come on, when suddenly I re-read the tweet.
The papal tweet doesn't say, "Solve poverty, Lisa". It invites me, as a member of the Body of Christ, to "draw near to the poor".
…to acknowledge
…to pray for
…to serve
…to love
That's my homework. To draw near.
I'm grateful to my friend John Clem, O.F.S. for this week's Sweet Tweets:
Sweet Tweets December 5th, 2014
Papal Tweet:  "

The Church is called to draw near to every person, beginning with the poorest and those who suffer." (Pope Francis Dec. 2nd)

Bishops, Others Applaud Obama Plan on Immigrants | America Magazine 

ow.ly/EFZQJ
Cardinal Sean O'Malley Applauds Obama's Immigration Plan (CBS Boston) ow.ly/EL9X7

Bill Murray On 18th Century Saints, Pope John XXIII, & The Latin Mass (uCatholic) 

ow.ly/EG32g

Mother of autistic child: Let's focus on the ability, not the disabilities of autism (Rome Reports) 

ow.ly/EG4gs
Pope: break down the stigma burdening those with autism :: Catholic News Agency (CNA) ow.ly/ELule

10 Things Pope Francis Should Do in Philly | (Fr. James Martin – America Magazine) 

ow.ly/EGLpT

Video: If Jesus Is the King, Then You're Not | (Christopher Stefanick – ChurchPOP) 

ow.ly/EKm1Y

Five myths about Pope Francis (The Washington Post) 

ow.ly/EKmWH

Online For Life: Using technology to save lives (Rome Reports) 

ow.ly/EKnzK

Paralyzed Vet Surprises Bride With First Dance (GodVine) 

ow.ly/EKocv

Capuchin Cafe – a new ministry of Capuchin College & Friary | Call To Holiness 

ow.ly/ELgLZ

Bishops Endorse Ex-Episcopalian and Champion of the Poor Fr. Paul Wattson for Sainthood – Aleteia 

ow.ly/ELqWc
Why the Crackdown? Christians Now Outnumber Communists in China (Aleteia) ow.ly/ENgc9
For The New CDW (Congregation for Divine Worship and the Discipline of the Sacraments) -Whispers in the Loggia ow.ly/EOlfX
The Loneliest Choice – Puzzling through suicide's sorrowful mystery (America Magazine) ow.ly/EOmk9
The Ebola panic's spiritual roots – Monsignor Robert Vitello, health advisor Caritas Internationalis (CNS) ow.ly/EP5Fh

Pope to Europe: Get your social and spiritual house in order (John Allen – Crux) ow.ly/ERqQ1
Pope Francis: Address to European Parliament – Full Text (Vatican Radio) ow.ly/EU6Mn

Short Papal Visit to Strasbourg is full of Color (Rome Reports) 

ow.ly/ERrWr
Care for Creation:  Renew This World | America Magazine ow.ly/ERsow
Archbishop Carlson responds to Grand Jury decision in Ferguson (Archdiocese of St. Louis) ow.ly/ERPy7
Police officer leans on Catholic faith during Ferguson crisis (CNS) ow.ly/FekLL

Priest sees Ferguson as ground zero where change can be made in society | (CNS) ow.ly/Fnmzd

Thank God for the Little, Mysterious Pleasure of Yawning! « Archdiocese of Washington 

ow.ly/EU5LB

Tech Tip — NEW App soon to be released iOS & Android: Catholic Words & Games 

ow.ly/ERM9x
5 Tips on Prayer with St. Thomas Aquinas | Dominicana Blog ow.ly/FdWfJ

America Loves Catholicism: As Seen in Place Names Everywhere « Archdiocese of Washington 

ow.ly/ERN2y
CNS STORY: First world day against human trafficking set for 

February 8th

 ow.ly/EW1tU

Rick Warren on Catholicism (CNS) ow.ly/EW4c3

Music Video: Matt Maher – Because He Lives (Amen) – YouTube 

ow.ly/EPM2a
Children's book takes kids on an adventure in Assisi (Rome Reports) ow.ly/ERGer

As we prepare for Advent: Evangomercial from Catholics Come Home — keeping Christ in Christmas. 

vimeo.com/102679231
Holy Father's calendar for December 2014 and January 2015 (News.va) ow.ly/EZk7y
Infographic: Pope Francis' visit to Turkey (Nov. 28 – 30) – Vatican Information Service ow.ly/i/7JZg9

Pope Francis: Interreligious dialogue can help end forms of fundamentalism (News.va) ow.ly/F28mP
Pope Francis becomes the fourth Pope to visit the Hagia Sophia in Istanbul (Rome Reports) ow.ly/F4lnw
Pope Francis & Patriarch Bartholomew sign joint declaration (Vatican Radio) ow.ly/F5Rgy
Worth a thousand words: "Peter and Andrew" (Deacon Greg Kandra – Patheos) ow.ly/F69CL
Pope Francis' Turkey Voyage One of Peace & Reconciliation | (NCRegister) ow.ly/F9TXE
Pope reflects on his recent trip to Turkey (Rome Reports) ow.ly/FhvUk

Turkish Muslims 'deeply appreciated' papal visit :: Catholic News Agency (CNA) ow.ly/FnWIR

Young Syrian refugee tells Pope, 'pray for us and pray for peace' :: Catholic News Agency (CNA) 

ow.ly/FbkaP

'Dire situation': WFP cuts food vouchers for Syrian refugees (CNS Blog) 

ow.ly/FbjQH
World's faith leaders sign up to stamp out modern slavery (Vatican Radio) ow.ly/Fei1R

Children of St. Gianna scheduled to attend festivities (OSV) 

ow.ly/F7kvg
35th Anniversary in naming of St. Francis of Assisi as patron saint of Ecology – Franciscans for Ecology ow.ly/F9cpU

Pope issues letter for Year of Consecrated Life Vatican Radio (Vatican Radio) 

ow.ly/F4lHb
Presentation of the Logo for the Year of Consecrated Life – Consecrated Life in today's Church (Vatican) ow.ly/F4E9y

Mystics of the Church: Miraculous story of Claude Newman & his conversion through the intercession of the Virgin Mary 

ow.ly/EZHiU

Cyber-Shopping: 10 Great Christmas Gifts from Monks and Nuns – Aleteia 

ow.ly/EVpY1
BEST Gouda Chesse from Cistercian Sisters at Our Lady of the Angels Monstery in Crozet, Virginia — please support ow.ly/EVDg5

Music Flashback: The Mass in F Minor (Jan. 1968) by The Electric Prunes 

ow.ly/ENd1i
Catch of the day: what one fisherman found in the bottom of a Maryland lake is miraculous (Deacon Greg Kandra) ow.ly/EW0yG
NEW TV Show: The Sisterhood: Becoming Nuns Tues. 

10pm ET

 (Lifetime.com) ow.ly/F4F0m
Jesus & Apostles Mainstream: Official Trailer: A.D. the Series – Coming to NBC – Easter 2015 ow.ly/F9FHC
Faithful hold vigil for climate change at UN Summit in Lima, Peru (CNS) ow.ly/Fc494

Great resource for Advent & Christmas: Find the Perfect Gift (Archdiocese of Washington) 

ow.ly/F1Z5T
Largest Franciscan church & resting place of 3rd Order Franciscan Michelangelo using Kickstarter (CNS Blog) ow.ly/F9qh3
The Unknown Catholic Genocide: War of the Vendée (Regina Magazine) ow.ly/FeU6C

Prayers needed: American Atheists launch provocative campaign in religious Deep South (The Telegraph) 

ow.ly/Feuqr
Good Times for Dogs, Not So Good for Babies – A Reflection on the Perversity of Modern Culture (Msgr. Charles Pope) ow.ly/FfHet

'Holy freedom' as one united family: the World Meeting of Families hymn :: Catholic News Agency (CNA) 

ow.ly/FexqO
Brilliant! Random Acts of Pasta – resourcefulness using Olive Garden to feed the homeless ow.ly/FfKUO

Official Video: Silent Night (Live) – Pentatonix – YouTube 

ow.ly/F55P4
O Come, Emmanuel – (Piano/Cello) – ThePianoGuys – YouTube ow.ly/FgweH

Advent Conspiracy – Christmas can still change the world 

ow.ly/F2bEE
Advent Calendar & Resources from USCCB ow.ly/F5S1N

Advent wreath — history & meaning (Rome Reports) ow.ly/F9hrj
The Power of St. Nicholas (Part 1) Dutch with subtitles (Fr. Roderick Vonhogen – trideo) ow.ly/FhvkJ
Pope Francis: A Guide to God's Time (Cindy Wooden & Paul Haring – CNS) ow.ly/Fj58c

Who is Isaiah and why is his central message so critical today? « Archdiocese of Washington 

ow.ly/FhyLO

Video: Unity sought at Israel tree lighting (CNS) 

ow.ly/Fgtmf
Silent Voices | Peter J. Leithart | First Things ow.ly/Fnlgu

Satire: Pope Francis Attends Outdoor Mass In Cutoff Denim Vestments (The Onion) 

ow.ly/FfCzP
#Amazing #Giveaway for Subscribers to AmazingCatechists.com (Lisa Mladinich – Patheos) ow.ly/FhxcI
Brooklyn launches hip new ad campaign for Christmas (Deacon Greg Kandra – Patheos) ow.ly/FhJQP
Vatican conference to show Haiti 'not forgotten' after quake (CNS) ow.ly/Fow9U

50 Photographs that Shout Loud and Clear that Life Does Not End with a… | (Catholic Link) 

ow.ly/FknlK
Poetry on God: YHWHproject.org Words by Sh'maya on Vimeo ow.ly/FnH3A

Catholic Cuisine: Recipes for December ~ Month Dedicated to the Divine Infancy 

ow.ly/EMHUX
Weary Souls Rejoice! (Elizabeth Tichvon – Catholic365.com) ow.ly/Fkero
Advent Meditation (Lisa Martinez – Closed Doors Open Windows) ow.ly/FkfKM

St. Francis and Christmas (Barbara Beckwith – OSV) 

ow.ly/Fj82m
Music Video: Prayers for peace needed in many places -Beautiful version of Prayer of St. Francis (Sarah McLachlan) – ow.ly/FkseD
A Christmas Version of Leonard Cohen's Hallelujah- (Fadi peter) ow.ly/FouIB

The feel-good video of the season, from those generous blue elves at WestJet (Deacon Greg Kandra) 

ow.ly/FgxCH
Video: Priesthood (Christopher Stefanick) ow.ly/FkwoV

Satire: Pope's New Crossgaurd Lightsaber Crosier Stirring Up Controversy With Liturgical Purists (Eye of the Tiber) 

ow.ly/FkbTe

QUIZ: Which Nativity Character Are You? (ChurchPOP) ow.ly/FlXav
Mary's impact on full display – National Museum of Women in the Arts in Washington DC (CNS) ow.ly/FovpM
Win a trip to the March for Life in Washington DC (March for Life) ow.ly/FoPXq

Advent and the Drama of Light and Darkness. « Archdiocese of Washington 

ow.ly/FoO0B
St. Nicholas Center ::: Discovering the Truth About Santa Claus (Feast of St. Nicholas 

Dec. 6th

) ow.ly/FmiCt
St. Peter's Basilica Used to Be Lit with Thousands of Candles Every Christmas | ChurchPOP ow.ly/Fmmni

We need your support! Please help fund Greater Good Technology 

Indiegogo campaign 

ow.ly/F9VLs until Christmas

Pope Francis: the role of women in theology (News.va) 

ow.ly/Fq5cz

OFFICIAL HYMN for Year of the Consecrated Life: Wake the world with dawning joy – (Steven Warner composer) 

ow.ly/Fq4m0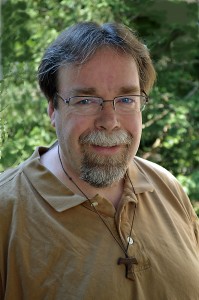 John Clem, O.F.S is the Director and Media Minister at Catholic Web Services (http://catholicws.com/). John is a professed member of the Secular Franciscan Order, and loves to share his talents in faith, technology, and journalism in service to the church.  John also writes a blog entitled Call To Holiness  (http://www.calltoholiness.us/). Follow John on Twitter at @Catholicwebs, on Facebook and at Google+.