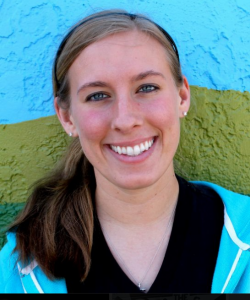 Taylor Culver is a recent graduate of Northwestern College, interning with us this summer in Chicago.
One of the greatest challenges for me in reconciling the components of faith and sexuality was finding a balance between having a concrete answer and living despite the questions I had and still have. As our associate director, Michael Kimpan says, "We are a culture obsessed with answers." This need for certainty can quickly become consuming, and we open ourselves up to the possibility of drowning in our own desire to figure out what the right answer is to questions that we may never know the answer to.
I found this happening in my own life when I began the hard work of reconciliation. I just assumed that the right answer was out there, and I just had to find it. But if there were a right answer, why would the country and everyone around me be so divided? If there were a clear answer, wouldn't it be easy to convince people, to convince myself? This is true for a number of politically charged questions. There is no simple answer. So what do we do? How do we be so sure about things that seem so gray? Do we need to be sure about these things?
In my last blog post I mentioned a quote by a professor from Northwestern College, and I'm going to mention another quote that I heard from a different professor that I think fits this context well. I heard it first in my capstone faith integration course for my Psychology major.
The professor said, "The only thing we can be absolutely certain of is that we are wrong about most things."
I remember being so humbled after I heard that for the first time. Can you imagine if we started living by this quote as a culture? As a country? As a Christian community? If our attitude could shift from one of intellectual and moral superiority to one of humility and acknowledgement that we may be wrong, our interactions with others who are different from us would look drastically different. If we approached the questions of the world not with conquest in mind but with humility, we might discover that this search for answering questions in a right and wrong way has, in fact, led to the many divisions we have today.
Maybe if we lived in this humility we could recognize that the most important thing about being a human being, a politician, a Christian, etc. isn't that we have the right answer or the best answer. If our pursuit of an answer or our answer itself drives us away from the two greatest commandments: loving God and loving others, then maybe we should reconsider whether or not this answer is so important. Maybe when we stop being consumed with having right answers, we can finally love others where they are at, we can love without having an agenda, we can love because we share the identity of being created in the image of God.
I'm not suggesting that we should not or cannot have answers. We need some framework and foundation for living, but maybe we shouldn't determine the character or quality of an individual by the answer they give or don't give to big controversial questions. In my short life, I have realized that people's experiences hold more meaning than the concrete answers we find in the news, books, and other sources.
Samantha Bender, an intern at To Write Love on Her Arms, says this in her recent blog post:
"Sometimes, people deserve something other than my carefully crafted explanations can provide. Sometimes, circumstances are more profound, more intricate, than we could imagine.

"Because the world and all its complexities—its wars, famines, genocides, tragic events, and natural disasters—deserve more than simple explanations.

"Because humanity, in all its beauty and devastation, deserves more than concrete answers. Our lives call us to cast aside our simple answers and to look for the stars behind the dark clouds, even if that means we have to sit there for a while."

– Samantha Bender, TWLOHA intern 2013
So let's rest and be okay with not knowing, with living in the gray; it just might be in this space that we can finally find peace. Maybe this reformation away from having concrete answers will be a space where we can all, as a united body, experience the fruits of the spirit.
When I found this peace, when I lived the questions, when I lived despite not having an answer, I found something new and beautiful about God that I never knew I was looking for. I found that God did not require that I have all the answers, but rather God was inviting me to trust and love God and God's people despite uncertainties. I discovered that these two things were more important than any answer.
Much love.