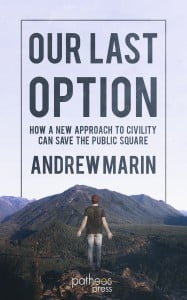 I just got word that my ebook, Our Last Option: How a New Approach to Civility can Save the Public Square, is the Patheos Book Club's book of the month. Check out the interview I did with Patheos editor Kathleen Mulhern about the impetus behind Our Last Option and how to make pluralism work.
You can also read the Preface, Introduction, and Chapter 1 of Our Last Option for free, here.
I hope you enjoy the interview and excerpt, and download a copy today! You can purchase it really inexpensive right now on iBooks, Amazon US, Amazon UK, and Barnes & Noble.
Merry Christmas and Much love.
Andrew