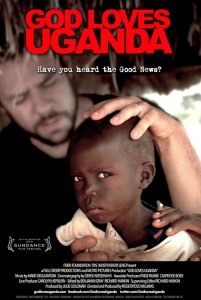 We told you Wednesday about your invitation to see God Loves Uganda, and we linked to the trailer so you could check it out for yourself.
So today, briefly, here's a bit more background:
What is the film about?
From the God Loves Uganda site:  God Loves Uganda explores the role of the American evangelical movement in Uganda, where American missionaries have been credited with both creating schools and hospitals and promoting dangerous religious bigotry. The film follows evangelical leaders in America and Uganda along with politicians and missionaries as they attempt the radical task of eliminating "sexual sin" and converting Ugandans to fundamentalist Christianity.
As an American influenced bill to make homosexuality punishable by death wins widespread support, tension in Uganda mounts and an atmosphere of murderous hatred takes hold. The film reveals the conflicting motives of faith and greed, ecstasy and egotism, among Ugandan ministers, American evangelical leaders and the foot soldiers of a theology that sees Uganda as a test case, ground zero in a battle not for millions,  but billions of souls.
(More here: http://www.godlovesuganda.com/film/story/)
 Why is The Marin Foundation bringing it to us?
As our TMF's Associate Director Michael Kimpan posted recently in his blog, we're showing the film and providing space for a discussion afterward to ask, in what ways can evangelicals who do not support the criminalization of homosexuality abroad – regardless of their theological perspectives on issues surrounding faith and sexuality – encourage their leaders and faith communities to not create and foster environments ripe for the exportation of this type of ideology?
therefore, our purpose in showing the film is twofold :: first, to educate individuals unaware of the broad picture of the situation in uganda (and by extension, russia, zambia and elsewhere); and second, to prompt a thoughtful and christlike response which does indeed distance conservative evangelicals from the extreme position taken by those presented in the film.

When do I meet up with you all for the screening?  
Great question.  As we mentioned on Wednesday, our private screening (to which you have just been invited) takes place next week Friday, September 27 at 7:15 pm at Chicago Filmmakers, located 5243 N Clark, Chicago
 Tickets can be purchased at the door– suggested donation: $10.
For more details or to RSVP, contact Melinda:  melinda@themarinfoundation.org
And if you're going to be around beforehand and want to join us for dinner, please do:  Jerry's Sandwiches on 5419 N Clark St.   at 5:15 pm — we'd be happy to save you a seat!
Much love!