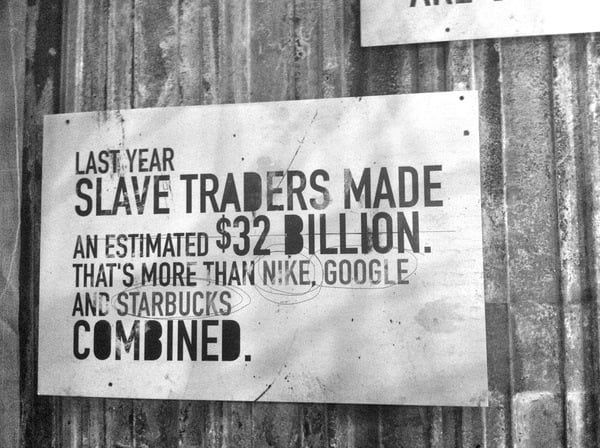 Yesterday, individuals, organizations, and communities across the United States celebrated National Human Trafikking Awareness Day.  Established in 2007, the day comes just a week and a half into what has been declared National Slavery and Human Trafficking Prevention Month, a time when communities rally together to raise awareness about modern day slavery and what it looks like.    
Our friends over at Traffick Free recently posted a blog with information about four different kinds of trafficking that exist today:
Organ Trade
"Trafficked hearts sell for $1.5 million apiece…  The industry has grown so large that you can now purchase organs online. Donor victims are typically poor individuals from developing countries, like China, India, and the Philippines. Recipients are wealthy persons from developed countries like the United States, Canada, and Israel.  There are three potential ways, according the United Nations Global Initiative to Fight Human Trafficking, for trafficking of organs to occur. Some victims are forced or deceived into giving up organs. Others are promised payment for their organs but are then taken advantage of and receive only some payment or no payment at all. Finally, some undergo surgery for an unrelated, and often fabricated, condition during which other organs are harvested without their knowledge."

Forced Marriage
"Getting accurate statistics or taking effective action against forced marriage is difficult because, in the United States, we lack of a clear definition of what it is. We also lack a recognition for this to be an issue outside of South Asia, the Middle East, or Africa. Federally, the only mention of "forced marriage" is in regard to providing safe haven for victims looking to escape from another country…  For example, in Minnesota the law protects persons under 18 only if parent or guardian consent is not given for the marriage. This ignores the frequent involvement of family in instances of forced marriage. "
Commercial Sex
"The largest number of human trafficking cases involve sex trafficking. US citizens, foreign nationals, women, men, children, and LGBTQ individuals can all be potential victims of commercial sex. Certain groups are especially susceptible of being targeted. Sex traffickers most often prey on runaway and homeless youth; victims of domestic violence, sexual assault, war or conflict, or social discrimination…  Our goal at Traffick Free is to provide a 24-hour drop-in center as a way to 'stand in the gap' for the over 24,000 women and girls being trafficked in Chicagoland." 

Labor
"There are an estimated 14.2 million people, according to the International Labor Organization, trapped in forced labor industries such as agriculture, construction, domestic work, and manufacturing. Also according to the ILO, for every 1 victim of sex trafficking, there are 9 victims of labor trafficking. These millions work long hours for little to no pay. They suffer physical and psychological control and believe they have no option but to continue working for their employer. "
(To read the full content of Traffick Free's post by Sangeeta Sunny, click here)
Last year, we spent a Living in the Tension evening focused on learning more about human trafficking and specifically sex trafficking, focusing on how at risk our LGBTQ youth are of being trafficked.   Current statistics hold that approximately 46% of homeless LGBTQ youth report running away from home in response to their family's rejection of their sexual orientation, and that within 48 hours of running away, 1 in 3 homeless youth will be recruited by a trafficker into commercial sexual exploitation.  (Stats from Human Trafficking Search)
The statistics can be disheartening, but there are ways you can engage in combating human trafficking– locally, nationally, and abroad.    Many organizations are fighting human trafficking and offer different ways you can help.    Our friends at Traffick Free are creating a drop-in shelter in Chicagoland that will serve as a place for the 24,000 sexually exploited women and girls in our area (read more about that project by clicking here).  And the US Department of State offers a list of 20 ways to help fight human trafficking.  We'll leave you with a few ideas from their list (full list here): 
1. Learn the red flags that may indicate human trafficking and ask follow up questions so that you can help identify a potential trafficking victim. Human trafficking awareness training is available for individuals, businesses, first responders, law enforcement, and federal employees.

3. Be a conscientious consumer. Discover your Slavery Footprint, and check out the Department of Labor's List of Goods Produced by Child Labor or Forced Labor. Encourage companies, including your own, to take steps to investigate and eliminate slavery and human trafficking in their supply chains and to publish the information for consumer awareness.

10. Organize a fundraiser and donate the proceeds to an anti-trafficking organization.

11. Host an awareness event to watch and discuss a recent human trafficking documentary. On a larger scale, host a human trafficking film festival.

12. Encourage your local schools to partner with students and include the issue of modern day slavery in their curriculum. As a parent, educator, or school administrator, be aware of how traffickers target school-aged children.

16. Businesses: Provide internships, job skills training, and/or jobs to trafficking survivors. Consumers: Purchase items made by trafficking survivors such as from Jewel Girls or Made by Survivors.

17. Students: Take action on your campus. Join or establish a university or secondary school club to raise awareness about human trafficking and initiate action throughout your local community. Consider doing one of your research papers on a topic concerning human trafficking. Professors: Request that human trafficking be an issue included in university curriculum. Increase scholarship about human trafficking by publishing an article, teaching a class, or hosting a symposium.

18. Law Enforcement Officials: Join or start a local human trafficking task force.

19. Mental Health or Medical Providers: Extend low-cost or free services to human trafficking victims assisted by nearby anti-trafficking organizations. Train your staff on how to identify the indicators of human trafficking and assist victims.

20. Attorneys: Look for signs of human trafficking among your clients. Offer pro-bono services to trafficking victims or anti-trafficking organizations. Learn about and offer to human trafficking victims the legal benefits for which they are eligible. Assist anti-trafficking NGOs with capacity building and legal work.
Much love!