Note: I did not think to take pictures while in this process, because I did not realize at the time that this was going to turn into a post, so the images below are comparative ones I found online.
Yesterday I did something that I feel like is a sort of metaphor for my life.
You see, I was cleaning out my closet and found a dress I haven't worn in years. Not since I left, actually. And looking at it, I knew there was no way I'd ever wear it again. It was a frumpy 1980s floral thrift store type dress. It fell to my ankles, it had foofy sleeves and shoulder pads and a ruffly neckline and odd darts at the waist.
It looked something like this: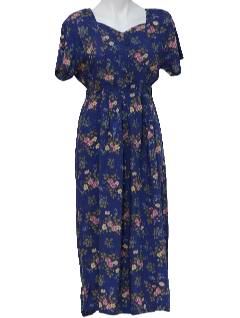 Looking at that dress, I saw my life as it was before. The yards of clothing, the old fashioned styles. There was more, though. The dress had buttons that ended at the knee, and it was open in the front below that point. As I looked at the dress, I noticed that I had sewed the opening closed all the way down to the bottom, so as to keep from showing my calves. And there was pride in that dress, too. Pride at being different, pride at being old fashioned and modest, and pride at being better than others because of it. That dress? That was me.
Last night, I ripped out the stitches I had placed below the row of buttons in an effort to ensure my modesty. I tore out the shoulder pads. I cut out the sleeves and the ruffly neckline. I let out the strange darts at the waist, and cut two feet off the bottom of the dress. I redid the hem and finished the armholes and fashioned spaghetti straps. I lowered the neckline in the back and refinished the neckline in the front, lower and without the stupid ruffle. The result looks something like this:
This is my life today. Light, free, open, unafraid. And yet, just as this dress is still technically the same dress it was before, made of the same material, I am still the same person, at my core. But I have cut so much out, undone so much stitching, and refashioned so many things that the result is almost unrecognizable. Just like I remade this dress, even so I have remade my life.