I wrote last week about House Joint Resolution no. 92 in Virginia. This resolution would call for a study of Virginia's religious exemption, which allows parents to homeschool without being subject to the state's homeschool oversight or requirements. As written, the law requires that both parent and child have a religious objection to school attendance in order to be granted an exemption. In practice, as highlighted by a Washington Post article on formerly homeschooled student Josh Powell, it appears that many districts do not ask the child's beliefs or desires when granting the exemption. This was the impetus for Delegate Rust's proposal of HJ 92.
If you want to support HJ 92, you can sign the change.org petition, which includes phone numbers and talking points. You can also read more about it in the Coalition for Responsible Home Education's release, Virginia: House Joint Resolution no. 92. But my focus here is not so much on that resolution as on something that resolution has brought to the fore. Namely, there has been some activity on Delegate Rust's facebook page related to HJ 92, and a conversation there has highlighted an ongoing problem I and other homeschool alums face when we engage in activism in favor of basic oversight and accountability for homeschooling. The conversation started with homeschool parents asking Rust to withdraw HJ 92.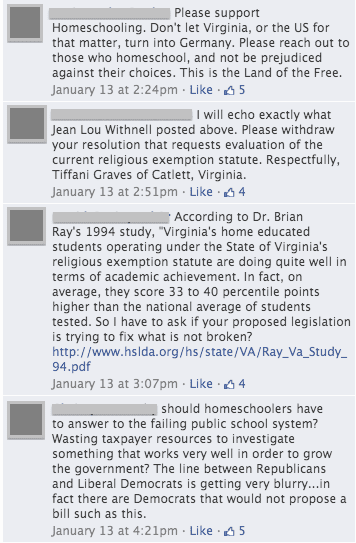 But soon, the comments changed as homeschool alums entered the conversation in support of HJ 92. Some of the names were ones I knew, those of fellow bloggers or individuals who have had their stories told in news articles on the problems of abuse and neglect in homeschool settings or on the growing activism of young adults who were formerly homeschooled.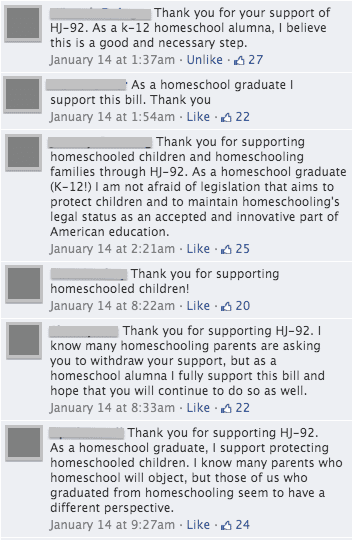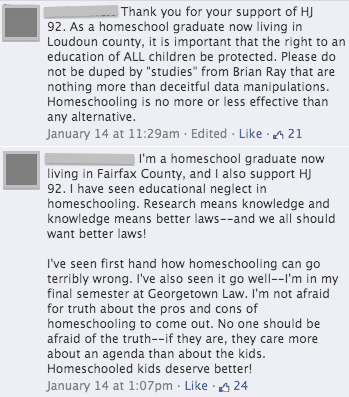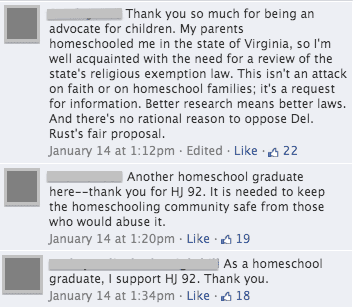 Here is how the homeschool parents commenting on this thread responded: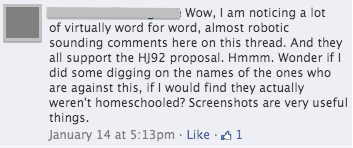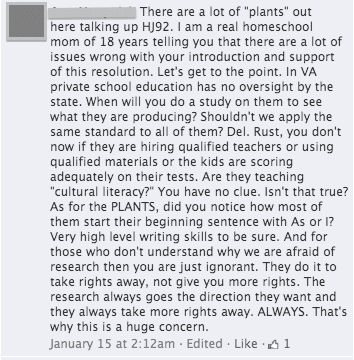 These homeschool parents responded by calling the homeschool alums who were commenting fakes and "plants." This is not the first time I have seen this sort of response to homeschool alum activism from homeschool parents. I've watched a homeschool father tell a homeschool alum that he (the alum) could not have been homeschooled, because if he had been he would understand that government oversight is always evil. I've watched homeschool alums belittled, head patted, and worse. I've seen homeschool parents make it clear that they will never take homeschool alums seriously—that they will always see them as homeschooled children, and never as adults on an even footing.
Of course, not all homeschool parents have responded to homeschool alum activism with disbelief or derision. Some have responded positively and with understanding, and positive dialogue has taken place. Some homeschool parents have written testimonials in favor of homeschool accountability. But enough responses have fallen into the broader categories of disbelief or derision to constitute a troubling pattern.
By and large, these homeschool alums are not anti-homeschooling. Instead, they are speaking from their experiences and the experiences of others to call for reform to support the wellbeing and interests of current and future homeschooled students. This is something new. The common narrative I have seen among HSLDA affiliated homeschool parents is that those who favor oversight of homeschooling are, at core, simply upset that homeschool parents are able to remove their children from the cultural "brainwashing" of public schools. And extreme phrasing aside, there may be some educators or academics who do take this position. But this is not the position of homeschool alums engaged in recent activism, and I think this is confusing to homeschool parents, especially those in HSLDA's orbit. What they're seeing here is new, and it doesn't fit their current narratives. And that's confusing.
But for homeschool alums like myself, it is frustrating. It is frustrating to be told that you are a fake or a "plant." It is frustrating to be told you have motives you don't actually have. It is frustrating to be treated as a child even as an adult. But we're not going away. We really were homeschooled, many of us by local or regional homeschool leaders or in families that were well respected in our homeschool communities. We believe in our activism. We are not anti-homeschooling, we are pro-accountability. We are here to stay, and one day, I hope, homeschool parents like those engaged in conversation on Delegate Rust's facebook page will accept that.
For more on homeschool alum activism, see:
Homeschool Alumni Reaching Out
Coalition for Responsible Home Education