I was struck by a recent post by fellow homeschool alum Leon Brooks-West.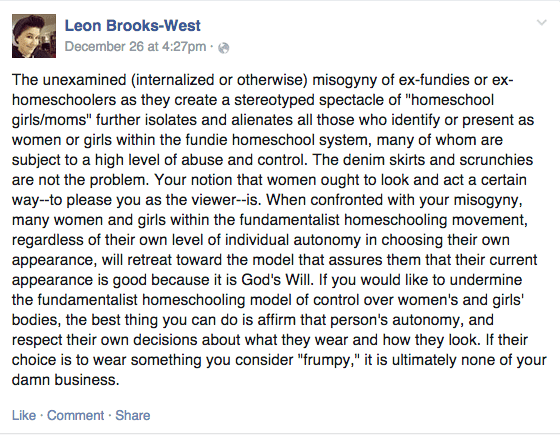 Text here:
The unexamined (internalized or otherwise) misogyny of ex-fundies or ex-homeschoolers as they create a stereotyped spectacle of "homeschool girls/moms" further isolates and alienates all those who identify or present as women or girls within the fundie homeschool system, many of whom are subject to a high level of abuse and control. The denim skirts and scrunchies are not the problem. Your notion that women ought to look and act a certain way—to please you as the viewer—is. When confronted with your misogyny, many women and girls within the fundamentalist homeschooling movement, regardless of their own level of individual autonomy in choosing their own appearance, will retreat toward the model that assures them that their current appearance is good because it is God's Will. If you would like to undermine the fundamentalist homeschooling model of control over women's and girls' bodies, the best thing you can do is affirm that person's autonomy, and respect their own decisions about what they wear and how they look. If their choice is to wear something you consider "frumpy," it is ultimately none of your damn business.
I have to agree with Leon completely. When I first left home to college, I dressed in a manner that now makes me cringe to remember. I had no idea of fashion at all, and I mostly wore long drab dresses that were about as fitted as sacks. There are moments I wish I weren't blogging under a pseudonym, so that I could show you pictures. I wore dresses with the huge bib collars, or covered in floral print—at college.
Do you know what mockery of my clothing choices accomplished? Nothing. Actually, strike that—mockery of my clothing choices pushed me further into the arms of the subculture I had grown up in. After all, in that subculture I was praised for my clothing choices. I was seen as a woman of honor. And beyond this, being mocked or derided or whispered about for my clothing choices served as confirmation for me that those outside my subculture were as cruel and unkind as I'd been taught to see them.
But I want to take this a step farther, because it's not enough to talk about mocking "fundies" for their clothing choices. We also need to talk about snark more generally. Snark and other forms of mockery are frequently talked about as weapons, and they certainly can be that. But snark and mockery can also be used as weapons against those who are themselves victimized.
The idea that religion victimizes its adherents is a common theme on many atheist blogs, yet I've noticed that those who believe this are frequently willing to snark at and mock the religious nevertheless. But if we hold that religion victimizes its adherents, how does snarking at or mocking those adherents—who are themselves victimized—make any sense?
I don't believe that religion always victimizes its adherents, but I absolutely understand that religion can and in some cases does do real harm to its adherents—after all, I've lived it. And when it comes to the patriarchal homeschool subculture in which I grew up—well, let's just say that it's is very hard to grow up in that subculture and not be victimized in some way.
What about the parents in this subculture? Should they be open targets for snark and mockery? It's not that simple. First, an increasing number of parents in this subculture today were also raised in it. Second, as a result of the patriarchal framework of this subculture, even grown women are expected to be obedient to their male authorities—whether father or husband—and as a result, their independent decision making may be limited. Third, if you think you can mock or snark at the parents without their children feeling it (and personally), you are badly mistaken.
I asked Leon what they thought about snark against parents in the subculture we grew up in, and this is what they had to say:
I'm not against it, but it probably depends on context. I think snark used as a "truth to power" form of "punching up" can be effective, especially if victims or survivors use it to empower themselves. But I think when snark crosses the line into deriving personal entertainment from abusive or oppressive or bigoted actions or words, and making them a spectacle simply because we have characterized that particular iteration as especially "weird" or "stupid" or "insane," we have to ask ourselves how this helps victims. Because ultimately abusers aren't wrong because they're "crazy" or "stupid," but because they threaten the safety and health and autonomy of real human beings.
Leon told me they used quotation marks around words like "stupid" or "crazy" because they are ableist. Leon challenged me to think about how ex-fundamentalists with mental illnesses might feel upon hearing people deride "crazy fundies." I appreciated the distinction that the problem is not people who are "stupid" or "crazy" but rather beliefs and leaders who threaten people's safety, health, and autonomy.
I've heard atheists defend the value of snark and mockery by saying that it was snark and mockery that made them rethink and reassess their beliefs. While I will not deny their experiences, I would note that my own experience was quite different. I responded badly to snark and mockery, and was only able to listen to criticism when those making it treated me as a valued human being rather than as a curiosity or object of derision. Indeed, snark and mockery only made me hold the beliefs of my subculture closer, affirming what I had been taught about being persecuted for my beliefs and in the process making those beliefs stronger. 
I wonder if there may be a difference between snark aimed at the beliefs of a subculture—beliefs that cause harm and do damage—and snark aimed at the people who hold those beliefs. Perhaps there isn't a clear distinction here, but it's worth considering. Can we draw a line between mocking a belief and mocking the people holding it? At the very least, it is a question we should start asking ourselves.
Next time you engage in snark or mockery, pause for a moment and think about whether you are snarking at a belief or a person. Consider also whether you are snarking at a victim or an oppressor. Finally, ask yourself whether you are centering the health and safety of victims and those who are marginalized, or whether you are instead centering your own desire for entertainment.