While writing Tuesday's post—in which I covered Tatsha Robertson's insightful Essence article about crisis pregnancy centers masquerading as simple medical clinics—I grew curious.
Robertson centered her article on the story of Dartricia Rollins, who miscarried after an unwitting visit to an anti-abortion pregnancy care center gave her incorrect information about the gestational age of her pregnancy. However, Robertson did not state the name of the clinic Rollins visited. Still, she said the clinic was located in Marietta, Georgia. How many such clinics could there be there? Could I find it?
As it happens, there is only one pregnancy care center in Marietta, Georgia: First Care Women's Clinic. I followed scrutiny of the center's website by locating its nonprofit paperwork and perusing reviews of the clinic on google. The story I found was fascinating—and perfectly illustrative of the story Robertson told in her article: that of anti-abortion centers increasingly advertising themselves as legitimate medical clinics.
The clinic's website is utterly fascinating.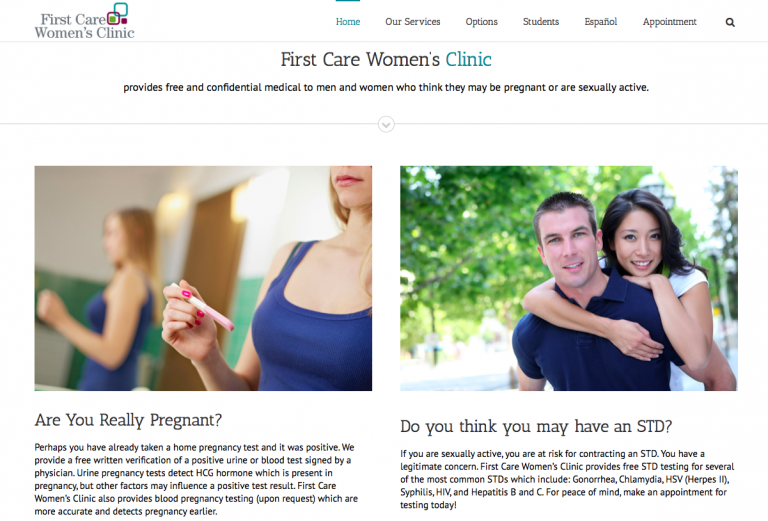 Nowhere does the website state that the clinic is a Christian outfit.
The website advertises pregnancy tests—including both urine tests and blood tests—as well as STD testing and ultrasounds. It states that if a blood test is necessary, "A Certified Medical Assistant or Registered Nurse will obtain a blood specimen," and that "Ultrasounds are administered by trained Registered Nurses or certified sonographers." However, there is no list of staff anywhere on the site. Indeed, no one's name shows up anywhere on the site.
Trying comparing this stark lack of information with the information provided on the websites of legitimate medical clinics. There's a big difference. First Choice Primary Care in Macon, Georgia, offers a variety of medical services, and a complete list of physicians and nurse practitioners. Good Samaritan Health Center of Cobb County, which like First Care Women's Clinic is located in Marietta, Georgia, also offers a variety of services and a list of personnel.
Good Samaritan offers a good point of comparison for another reason—like First Care Women's Clinic, Good Samaritan has a religious affiliation. However, unlike First Care, Good Samaritan is upfront about its religious affiliation and its mission for existence. Also unlike First Care, Good Samaritan offers a wide variety of healthcare services.
Both First Care and Good Samaritan are nonprofit organizations. Good Samaritan lists its board of directors and leadership on its website; First Care does not. To find who is actually running First Care, you have to leave their website.
The Evangelical Council for Financial Accountability includes a listing for First Care. In that listing, First Care's "Ministry Description" is listed as follows:
First Care Women's Clinic is an evangelical Christian non-profit organization that provides free medical services that sexually active and pregnant women and their partners are seeking. These services include free urine and blood pregnancy testing, ultrasounds, and STD testing, STD treatment. As we render medical services, we are also providing confidential consultations that allow us to minister the gospel, educate men and women about abortion, sexual purity, and life skills, provide support services and support referrals, practical assistance, mentoring programs, and on-going emotional support.
This mission statement is nowhere on First Care's website.
Nowhere.
Guess what else? First Care Women's Clinic was originally named Cobb Pregnancy Services. The name was changed at some point, likely to disguise the focus on pregnancy and make it seem more like a generic medical clinic. The clinic's facebook page, still called Cobb Pregnancy Services, points supporters to something else—a second website.
You heard that right, my friends! A second website.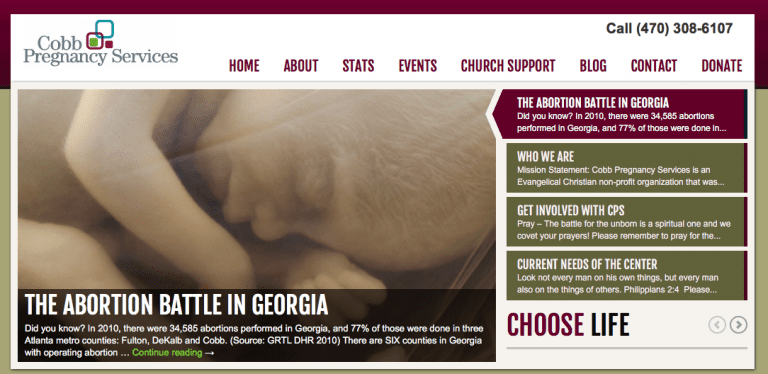 This second website lists the organization's board. It also reveals the center's mission statement, which is featured alongside information about "the abortion battle in Georgia" and calls for donations:
Cobb Pregnancy Services is an Evangelical Christian non-profit organization that was established to reduce abortion by giving the support and information that people need to choose life.
Again, none of this is listed on the First Care Women's Clinic website anywhere. It suddenly occurs to me that changing the name of the clinic might have been about more than portraying it as a more general women's clinic—it may also have been about disgusting the connection between the physical clinic and the purpose of the nonprofit that runs it.
Interestingly, this second website also lists medical staff—two RNs, one sonographer (RDMS), and one Medical Assistant (CMA). Yet if you look at the "get involved" page, you find a call for volunteers, including RNs and LPNs "To be nurse on duty during office hours administering pregnancy tests and scheduling ultrasounds" and "Certified sonographers (RDMS) to administer limited ultrasounds." I am curious whether the clinic has any paid medical providers on staff—if these are volunteers, their hours at the clinic are likely limited. I failed to find an answer.
This leads us to the last thing to example: First Care's google reviews. We have already ascertained that the center portrays itself as a simple medical clinic in its website directing people to make an appointment, and as a religious anti-abortion ministry in its filings with the IRS and its website for supporters, where it solicits donors and volunteers. What, then, happens when people walk through its doors? A lot, it seems.
I should start by noting that there are positive reviews on the organizations' google page. "I love my experience every time I go there," wrote one individual. "The staff are very courteous and extremely professional." "I love this place… their love is obvious and the care for each person who comes thru their doors is stellar," writes another. Some of the reviewers, however, appear to be reviewing the mission, and not the clinic: "These folks literally save multiple lives each day. What other way could you possibly do a better work? Saving and changing lives EVERY SINGLE DAY!"
And not all visitors are so sanguine.
This is a Christian-based organization that will push their agenda on you without your consent. You don't get a chance to give your consent because they don't advertise themselves as what they actually are: a manipulative group of people aiming to talk women out of abortions through lies, pushing their beliefs onto you, and giving misleading information. Even if you are not considering abortion and make that clear to them, as I did, they will find something to shame and judge you for if you are honest about yourself when you answer their questions. Susan the "counselor" told me exactly what god thought about my choices when I told her I was not married but that my boyfriend and I were trying to get pregnant ("fornicating" is what she incorrectly labeled it.) I believe in god and I told her as much when she asked me (not that it's any of her business), but she still wasted no time in belittling me about my beliefs, all the while fake-smiling and insisting that she wasn't judging me. While the other staff members are nice and welcoming, no one in this place is a trained medical professional, probably because people who practice legitimate scientific medicine aren't in the business of lying to people about medical procedures to further their own agenda. They advertise that they offer blood tests, but it's just a urine test, the same kind you can buy in any store. Save yourself the unnecessary grief and shame and just go buy a test, if you can. I don't understand how places like this are even allowed to operate.
First Care actually replied to this review, insisting that "All medical information and procedures are performed by professional medical staff" and that "We currently have four RNs, a Certified Medical Assistant, and a Certified Sonographer, along with a physician who oversees the clinic." I'm curious, if that is true, how the above commenter missed it—surely it shouldn't be that hard to know whether or not the person you are seen by is a nurse.
I'm unsure how seriously to take the center's continued appeals to having medical professionals on staff. Their second website for supporters does not list a physician, and the meaning of "oversees" is likely extremely wide. As for those RNs—are they volunteers present only on a part-time basis? An RN is an RN, but First Care's response makes it sound like they're referencing full-time staff members, which is likely impossible given their financial reports.
The above reviewer was not the only to outline her experience in detail. Here's another similarly scathing review:
If you think you are going to come here, take a pregnancy test, and leave, you are sadly mistaken. I came here with my best guy friend and my 7mth old baby (friend is not baby's father) for an 11:50am appointment, I kid you not I didn't leave until around 3pm. First a nurse took me to give a urine sample, then I waited in the lobby thinking she was going to come back with my results. A few minutes after I sat down, another woman came to the door and called my name. She took me to the back in a small room and started asking me questions. This woman was very rude, asking me VERY personal questions (like what age did I start having sex and how many partners have I had?!) then she started asking me about religion, that's when I realized this was a christian organization. Her tone and the way she was coming off was almost like she thought she was better or judging me. I was very close to cursing this woman out and leaving without my results. She finally left the room after about an HOUR and the nurse came back and finally gave me my results. The nurse then told me the "counselor" would be back with me shortly. I almost thought about leaving and reporting this woman but everyone there is volunteering. The counselor from before then came back and started to tell me her sob story about how she had an abortion and found Christ after. These people will definitely try to shove the bible down your throat. She then proceeded to try to show me a video of an abortion procedure being done (are you serious??!) I declined and left the room. Very unpleasant experience. Also my best guy friend that I came with was watching my baby in the lobby and he said a man came up to him also asking him personal questions and when he tried to walk away, the man FOLLOWED him and kept asking questions! Do not recommend this place, if you are trying to get out of paying for a pregnancy test, please reconsider.
Note the confusion present once again—this reviewer, too, had no idea this was a Christian organization until she was actually in the clinic. Again, contrast that with the Good Samaritan clinic, which does not hide its religious affiliation.
It appears that Rollins, the individual in Robertson's article, is not the only one to have received misinformation from the clinic:
The staff is super sweet. HOWEVER, they told me I was pregnant and had a positive pregnancy test. So the next day I am at work and I start bleeding. I'm thinking I am pregnant so I go to the emergency room. I have to take half a day off of work, spend X amount of money in medical bills, all for the blood test and ultrasound to come back and say I'm NOT pregnant and the bleeding is the start of my cycle! False positives are common with home pregnancy tests, but clinics like these should have the best, for you most likely go see them to CONFIRM the results of a home test. Wait it out and see your OBGYN. A lot less judging and preaching to you about how you have sinned.
Yeah. That apparently happened.
Other reviewers echoed the same theme of not knowing that it was a Christian clinic, and feeling mislead both by that and by finding that proffered services were not what they had been promised:
My fiancee and I found this place online, it was the first result when searching for "cobb county health department pregnancy test". We saw that it was free, so we went under the assumption that it was a some kind of pseudo-governmental outfit. We went for our appointment and noticed something on the Patient Application. There was a spot to be filled out for Religion. By the by, we are strict monotheists and adhere to the Torah. We shrugged, filled in "Noachide", and waited to be seen. While the nurses were very professional, we wound up being preached to by the Counselor. This we tried to deflect with politeness, which typically works in these situations, though this was not appreciated and the preaching continued. The most appalling thing to my fiancee and I who were raised in, more-or-less, Catholic families, was when the "Counselor" told us that Catholicism was not a Christian religion. Very poor behavior on her part, and the meeting ended with a prayer in Jesus' name which we bore with all good humor. On the whole, I would not recommend this place as their resources seem to be divided too much in favor of ensuring folks share their beliefs.

. . .

BEWARE- Fist off id like to say that this is a misleading and miseducated organization. Before I was told my results of whether I was pregnant or not I was taken into a room with a "counselor" and was asked a bunch of personal questions about my opinion on abortion and given a sob story about her personal life experiences which was fine and okay until she pushed her beliefs on me. This is when I came to realize that this was a Christian organization. The woman then goes on to ask me my beliefs and if I went to church. Which I do not because Saturday is the Sabbath not sunday and I don't listen to someone else sing and speak from their heart I just read the bible myself. Anyhow she then asks me if I think I would go to heaven or hell…..I knew from this question alone things were about to take a spiral turn down so I answered and said heaven and she then tells me…get this….that im not married so I would go to hell. UNREAL. I have been with my boyfriend for four years this was in no manner a case of me being an adulterer or harlot and he is the second man I have given myself to in all my 22 years of life. I then asked her to show me where in the bible it says that…it says that its no where and for this woman who is supposed to be "professional" to insist such a thing is appalling. This place should be shut down. and on top of that all it is a urine test. You can do that at home folks. It was a complete waste of my time and I do not appreciate the lack of professionalism with this place.
What I find most striking about all of this is the number of women apparently visiting First Care because they want to confirm that they are pregnant, and not because they are in any way abortion-minded. As Robinson explained in her article on crisis pregnancy centers more broadly, women who do not have health insurance may be attracted to a free clinic that will confirm their pregnancy before applying for Medicaid, in order to gain access to an OBGYN.
Centers like First Choice do not appear to know what to do with women who come to them for non-abortive reasons. These reviews—and Rollins' story, assuming that this was the same clinic—all suggest that centers like these run on autopilot, giving every woman who comes to them—even those only interested in keeping their baby—a fear-driven anti-abortion lecture. It's not about providing medical care; it's about dissuading women from abortion, whether they were headed in that direction or not. And yet—they are advertising medical care and medical care alone.
Unfortunately, due to a recent Supreme Court ruling on the topic, it is unlikely that there is much if anything at all that can be done about such rampant deceptive advertising. But if I could send a message to these centers, it would be this: First, if you are going to be a medical center you need to do it right and not cut corners. And second, be honest in your advertising! No, really. Being honest wouldn't be the end—in fact, it might be another avenue.
A few years ago, I spent some time volunteering at Planned Parenthood. While there I spoke with many women who had come to seek abortions. Some of them would have liked to keep their pregnancies, but didn't feel that they could. When this happened, we did what we could to find them resources, but the biggest roadblocks were often the hardest to solve—paying for childcare, finding housing, finishing school, fear of being kicked out by family.
Why not run a local nonprofit dedicated to helping women who have wanted pregnancies but are in a tight spot keep those pregnancies? And drop the guilt and shaming—shaming women for having sex or being unmarried is not conducive to convincing women to keep their pregnancies. It just reminds them that if they keep their pregnancy, their family or neighbors or people just like you will look at them like they're wearing a scarlet A.
But you know what? In the end, First Care may be able to erase its connection to Cobb Pregnancy Center and keep its mission off of its public website, but it can't delete the google reviews left by a growing number of angry visitors.
I have a Patreon! Please support my writing!